Due to extreme poverty, Renu's Devi's family could not afford to give her an education and sent her to marry Indradev Mahto, who already had four children. For years, Renu took care of housekeeping, her four step-children and her ailing mother-in-law while her husband and son migrated to Panipat, Haryana, for half the year to work. Renu longed to give her son and step-children an education, but with the family bringing in a limited income, things seemed hopeless.
Renu's life began to turn around when she joined Kasturba Mahila Mandal, a Self-Help Group (SHG) supported by Heifer. Heifer International has been working in India to alleviate poverty and empower the people in various communities through trainings like Renu's SHG. Heifer works to teach people about things like farming and animal husbandry, all while improving their leadership skills. Renu received training like this through her SHG, which allowed her to save about 40 cents per month in a group fund. She also received management training, where she came to understand the importance of group management and small savings.
Renu eventually decided to open a grocery store, and was given a 950-Rupee or $16 loan to help start her business. In the past, Renu sold vegetables in a rented shop. After talking to the owner, she acquired it at a rate of $3.3 per month. With her loan from the SHG and money from her own savings, Renu started her store and increased her income from $1.6 to $2.5 per day.
With her increased income, Renu was able to buy more products for her store and improve her farming equipment so her family could grow better produce on their field. Mahto came back from working and was in awe of Renu's efforts, helping her to grow their vegetables and, as demand increased, helped to include another shop to the store that included tea and snacks. During the festive season her shop's income recorded more than $20.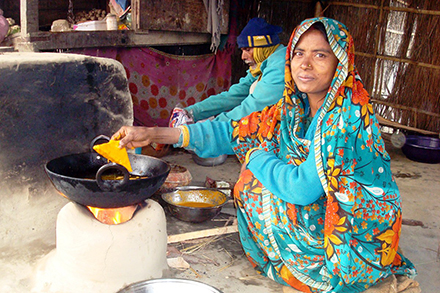 These days, Renu's shop has a stock of around $83.33. She has saved $133 in her own account, and has also paid back her loan to the SHG fund. Renu's journey has also encouraged other villagers to open their own shops.
With the help of the SHG, Renu has brought back happiness for herself and her family. Now that Renu is bringing in a steady income for herself and her family, her husband and son no longer migrate to Haryana for wages, and Renu hopes to fulfill her desire of reading and writing for herself and for her children.
Stories and Photos Submitted by: Heifer India