Lewaa Sansan is a housewife in the Naafa community of Ghana, and a member of the Naafa Handi Women's Group. When she is not farming, she usually sells fried bean cakes to increase her family's income. Her husband depends on income he makes from the sale of binne, a drum which he carves and sells. The family goes through very hard times during the farming off-season.
Before the TUNA Women's Empowerment and Sustainable Livelihoods Development Project, or TUWELDEP, was started in Naafa, the Handi Women's Group benefitted from a pig project. The group received a total of 10 pigs they collectively managed. Unfortunately, there was an outbreak of African swine fever that swept through the community, killing all of the pigs. Lewaa's hopes of earning an income from the pig sales were dashed and her family's investments were lost.
When TUWELDEP started in Naafa, Lewaa was recommended by others in her community. She went through all of the mandatory training sessions and was one of the first to complete them, later completing the construction of a livestock housing unit and was given five goats.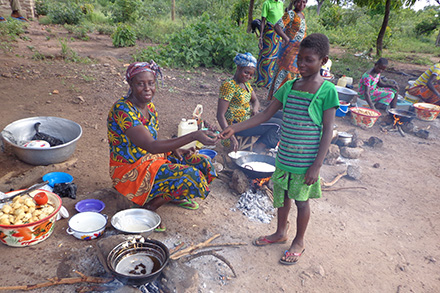 Lewaa applied the knowledge and skills she had acquired from the livestock management training sessions to her own livestock. Within a year, her goats produced six offspring. She fulfilled her Passing on the Gift™ obligation in full, becoming the first and only member of the group to have fulfilled her obligation within the first year of the project.
"I was deeply affected by the misfortune my group suffered when we lost all our pigs," Lewaa explained. "This time around, I challenged myself to follow all the pieces of advice that were passed on to us so that the past could never be repeated. I made better use of the services of the veterinary technical officer, inviting him over regularly to visit my animals. I made sure that the animals had enough food and water at all times."
Earlier this year, Lewaa sold a male buck and was able to pay the school fees for five of her children. She also bought beans for her fried bean-cake business. The sale of the buck enabled her family to meet financial commitments without resorting to borrowing. They did not have to sell food or any other assets to meet their needs, which greatly improved their food and income situation. Lewaa and her family see livestock farming as a way of life. The family expressed appreciation to Heifer Ghana for not only "giving us fish, but teaching us how to fish for ourselves."


Story and Photos courtesy of Heifer Ghana.