One of the most fun and satisfying ways to recycle is to upcycle. In other words, make something cool and useful out of something that was previously on its way to the landfill. For example, perhaps you're mourning a pair of worn-out heels. And maybe you're thinking about throwing that box of old comics away. Don't! Make these awesome comic book heels instead! You know you want to try it. Do it for the Earth!
What You Need:
Shoes (with a smooth, hard surface)
Comics (If you're like me, you have reservations about cutting up comic books. Use bargain basement comics that you, or anyone else who might be the actual owner of the comics, aren't attached to.)
scissors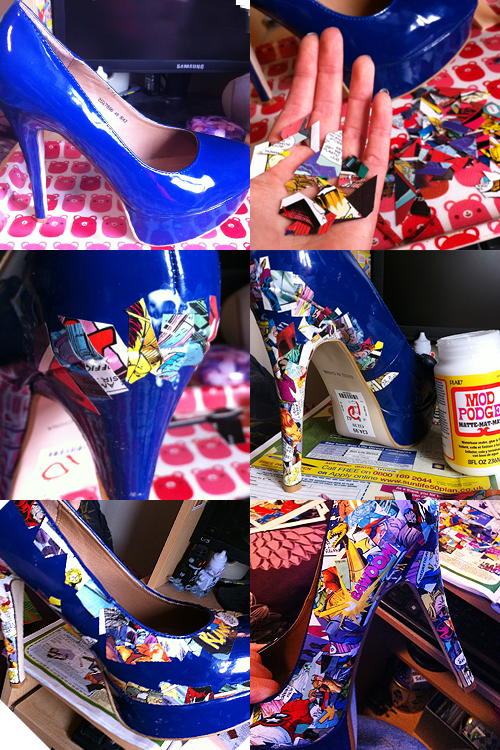 Follow These Steps:
Cut out pieces of the comic book. You'll want small, thinner strips for the edges and heel of your shoe, bigger scenes to fill in the middle, and fine-cut speech bubbles or characters to feature prominently.
Use your Mod Podge to glue your comic book pieces to the shoe.
When your shoe is covered to your liking, coat in matte or gloss Mod Podge and leave to dry overnight. Once dry, apply another coat and let dry for another 24 hours.
Wear with the knowledge that Captain Planet would be proud.
Tutorial and images from
ironspy
. Check out her post for more tips and details!
Not really a comic book gal? No problem, make them to reflect
whatever you're into
!
Okay, so a découpage heel won't exactly save the entire world. But you can do more--check out how you can help Heifer International
care for the Earth
and
empower women
around the world.