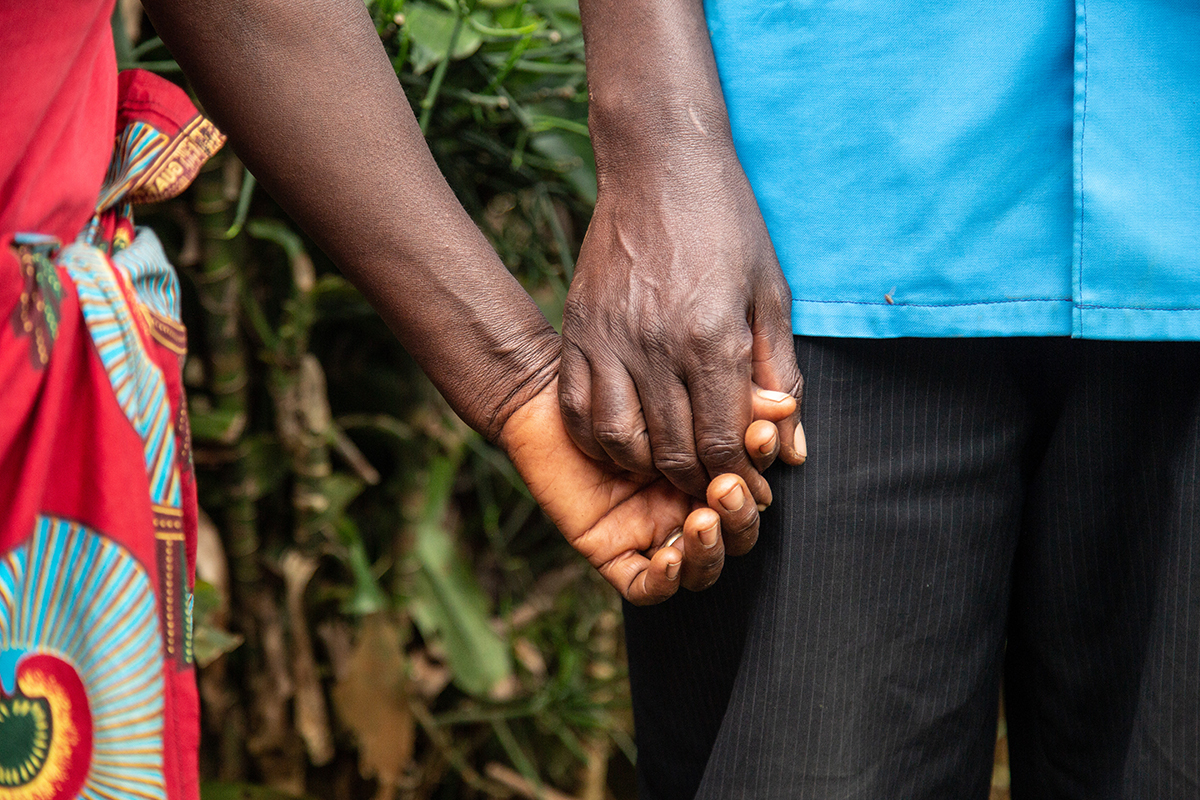 KARAMBI VILLAGE, Rwanda -- When asked to describe his relationship with his wife, Sibomana Boniface, 56, simply says, "We are one." And that certainly appears to be true. Sibomana and Nyandwi Beatha, 55, have been married for decades and have a successful farm, a beautiful clay brick house nestled in Rwanda's green hills and six grown children. They are at ease with one another and communicate freely and honestly.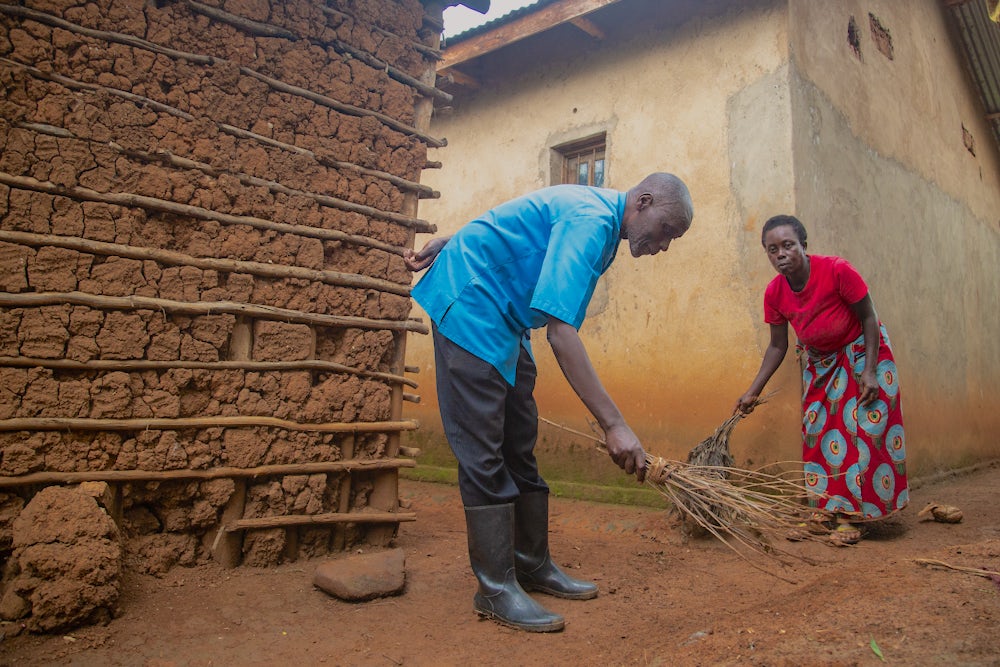 This wasn't always the case. "Before joining Heifer, I was just drinking … alcohol without caring about anything," Sibomana said. And Nyandwi can attest. She had no help from her husband caring for their farm, their home or their children. "I was considered as a slave," she said. Any crops she managed to harvest went to feed their family, and she was constantly looking for small jobs to pay her children's school fees and keep the house in order. Life was a constant struggle.
Sibomana openly admits that, during that time, he knew life was difficult for his wife, but he didn't care. "I would just come back home asking for food and if I'm told there is no food I would even beat her." Despite his expectations for a home-cooked meal, Sibomana didn't contribute to the family finances or the farm. Instead, he used any income he earned to date other women and go to bars.
"After we received training from Heifer he now sits down with the family and we share advice. Before Heifer there was no communication." Nyandwi Beatha, Heifer Rwanda Project Participant
When Sibomana was approached by a neighbor in 2016 and told that Heifer International was asking for volunteers to join a new kind of group, he agreed. He assumed that he would get a cow. He heard about Heifer before and knew farmers in neighboring villages joined projects and got livestock for their troubles. With a price tag of up to 2 million Rwandan Francs (over $2,000 USD) he certainly couldn't afford to buy a cow for himself. So, why not see what Heifer was about? He and Nyandwi went together to their first meeting.
To their surprise, they didn't find a cow or even the promise of one. They found that the group only offered Heifer trainings. Though disappointed, Sibomana decided to stay in the group because he suspected that, if he stuck it out, he'd be rewarded with the cow he sought at the end of it all. "My target to join Heifer was to have access to a cow. We did not know about these trainings and if someone would have told me about [them], I would not have attended."
Three Keys to Success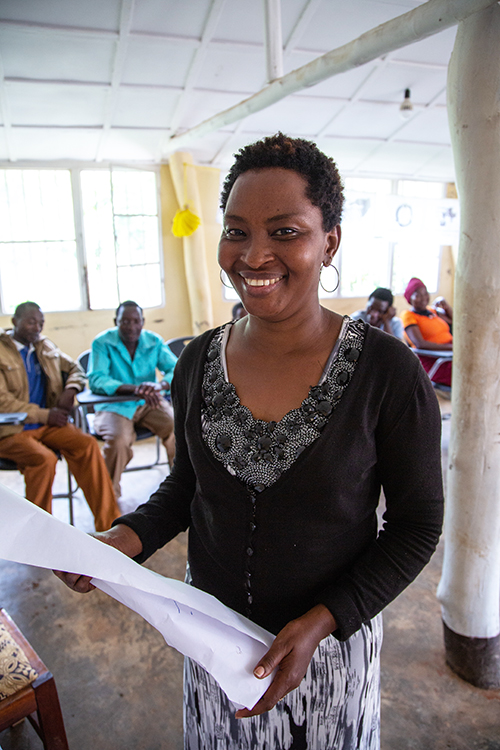 Nyandwi and Sibomana didn't know it, but they had joined a new breed of Heifer program called a Passing on the Gift project. Unlike a traditional Heifer project which partners education and training with gifts of livestock and other assets, this new model nixes the animal gift. Instead of providing tangible assets, Heifer helps communities form groups of men and women who are willing to work together to improve their circumstances.
Once a group is formed, members set group-wide goals and the trainings begin. Armed with new knowledge, skills and a shift in perspective, project participants pursue sustained, multi-generational change that benefits entire communities. As opposed to struggling alone towards an unattainable goal, farmers mired in poverty can combine their talents and resources and do things they never saw possible, like purchasing their own livestock, setting up their own kitchen gardens or even providing their communities with a well. Then, once their goals are achieved, they encourage people to form new groups and pass on their trainings, knowledge and expertise.
At the head of these trainings is Heifer Rwanda Social Capital Manager Xaverine Uwimana. Education is the first goal for any project, she said. "Most of the time, these people, they grow up in their village, they don't go to school and they get married when they are still very young and they have many children. So, those things they make them to continue to be very poor." After education and training, a sense of ownership and responsibility is the next goal. Because this new generation of projects in Rwanda don't always include any gifts of animals, it's easier for farmers to feel full ownership over their own successes. "In the past, we [Heifer] gave them what we wanted to give them. Now, it's them getting what they want."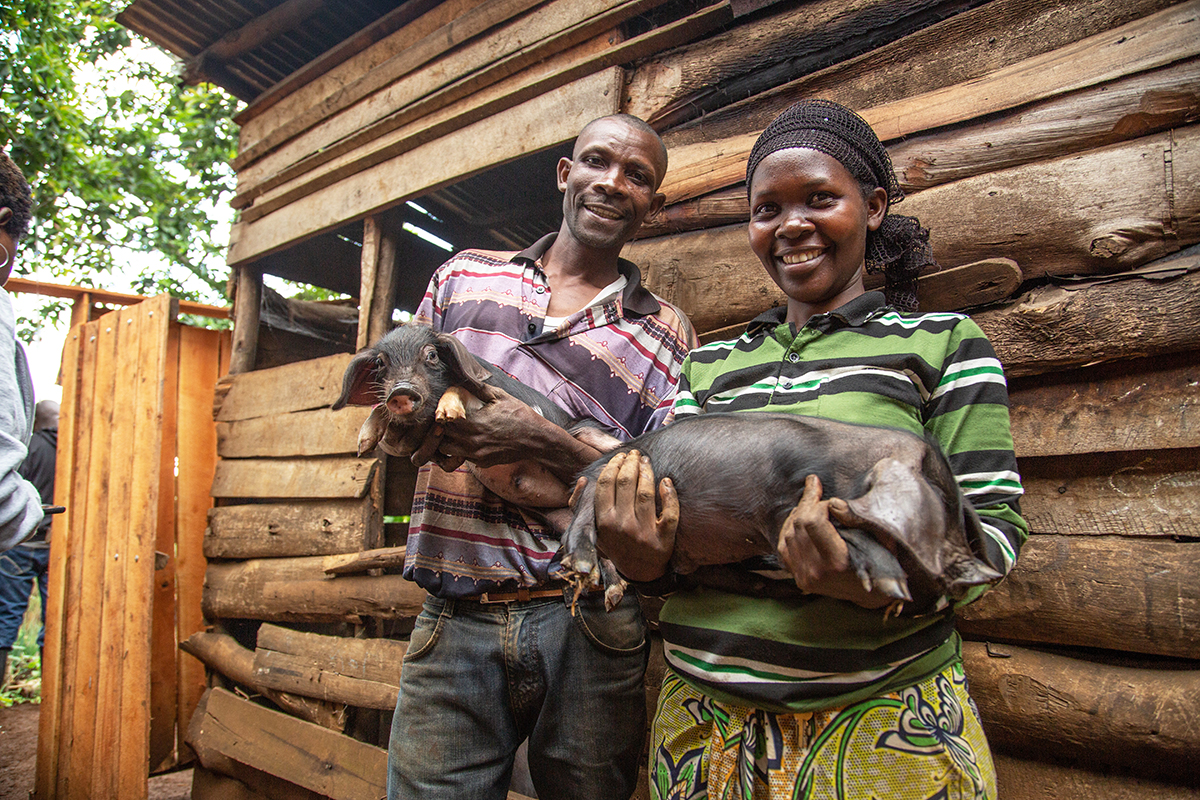 Uwimana knows Heifer projects without the heifer -- or any other animal -- mark a big shift from the model we're all used to. She also knows this new model works. In less than two years the Rwandan farmers in these EPOG projects, once too poor to buy their own livestock, bought 884 pigs. "Those people, they came from zero and today they have 884 pigs. It's so impressive! So, I know they are going to make a cooperative and they are going to sell their pigs in everywhere in the country or outside the country," Uwimana said.
In addition to education and ownership, the next component of success is gender equity. Women shoulder the vast majority of the house and farm work in traditional rural Rwandan households. For projects to succeed, men must do their part and challenge their own gender bias while women must learn their own value.
Gender equity trainings go like this. Uwimana opens with two questions: "What do you think of men?" And, "What do you think about women?" Answers from men and women are usually the same, Uwimana said. Men are strong and powerful, while women are weak and "just there to get married." She follows this up with more queries: "Who tends to your farms?" Women. "Who raises your children?" Women. "Who cares for your homes?" Women. And so it goes. Through these questions, men start to realize all the work and responsibility women shoulder. They begin questioning their view of women as inferior to men.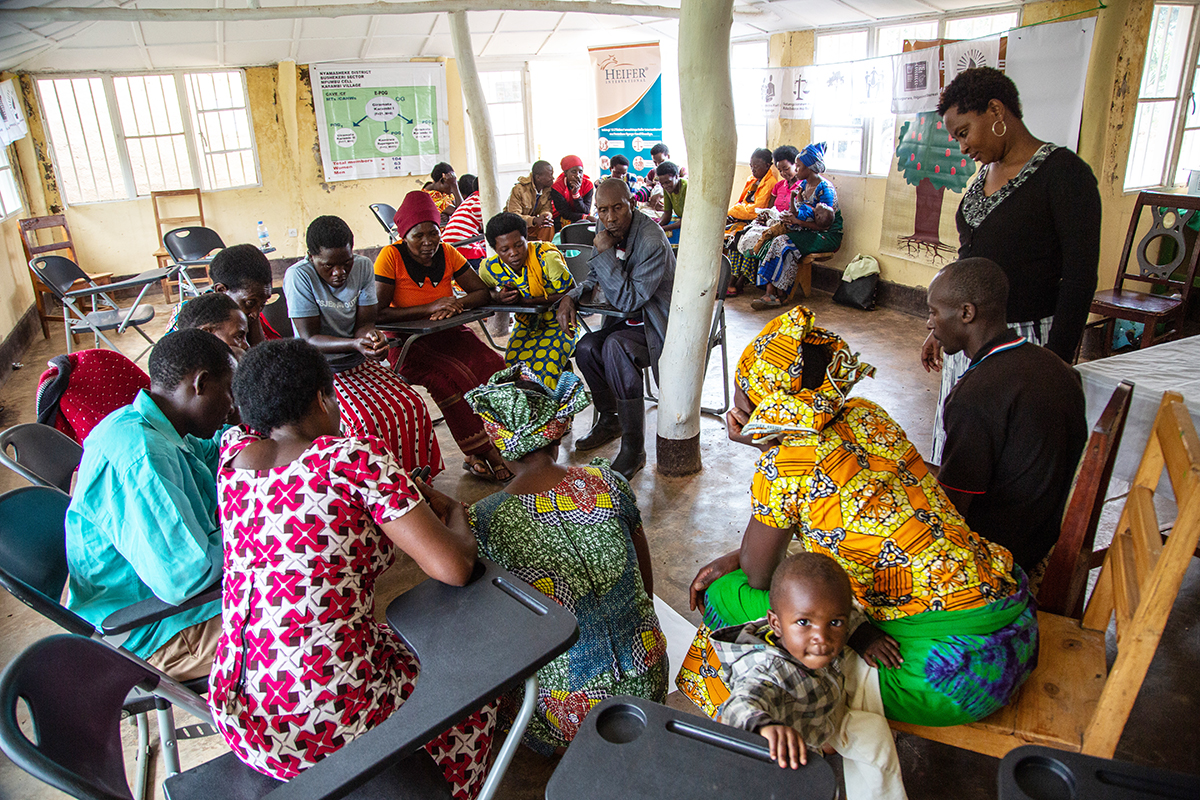 Uwimana said, " [Y]ou ask what he thinks about women, he said he used to think a woman is a slave, for sure. And a woman used to think she is a slave also…because of the background, because of the education, because of the culture, because of how they're brought up, so that is why you have to help them to change their mind, to change the way they see a woman, to change the way they see a man. They just have to see themselves as human beings who have the same opportunities so that they can work together to complete each other."
This realization is key, Uwimana said, because unless men step up to help with daily work and responsibilities, their families will remain mired in poverty. "I think that we keep on being poor because most of the work is done by a woman. A woman in the house, most of the time she is pregnant and when she is pregnant, sometimes she is carrying another baby and she is the one to clean, she is the one to cook food and that time when she is carrying a baby and she is pregnant, she is also weak, she can't do much. Men, who are very strong, most of them they are not working and they are the ones who are free and can do a lot. So, they expect women to produce most of the things and yet they don't have time."
A Dawning Realization
It was questions posed during gender equity trainings that made Sibomana re-evaluate his relationship with his wife. Nyandwi started to notice a difference immediately. He started coming home earlier, he began to help with the farm work and, shockingly, he began sitting down with her to discuss their finances, asking her opinion and listening to what she had to say.
"If [men and women] change their behaviors it will change the way they treat each other. It will change the way they raise their children…and that will change the society." Xaverine Uwimana, Heifer Rwanda
"One specific thing I chose was to give my wife space for discussion and for advice. The second thing would be to sit with my family and make a plan and not go astray. So, once we plan something, we work together so that we achieve our expectations," Sibomana said.
Together, Sibomana and Nyandwi have built a farm and a partnership to be proud of. They have a large fish pond that provides them with protein to eat or sell and four newly-purchased acres of fertile farmland. Not only has their nutrition improved, but newfound food security makes them feel stronger. "Nutrition aside, we are strong because there is food security in our home … we have 100 kg (about 220 lbs) of beans in the house, stored." They have also harvested and dried almost one ton of cassava, which they will take to market in October. Sibomana credits his family's newfound success to his partnership with his wife. "There is significant change because we work together in the farm and once we harvest we know the value of the harvest. Before, we would cheat each other on the financial side. "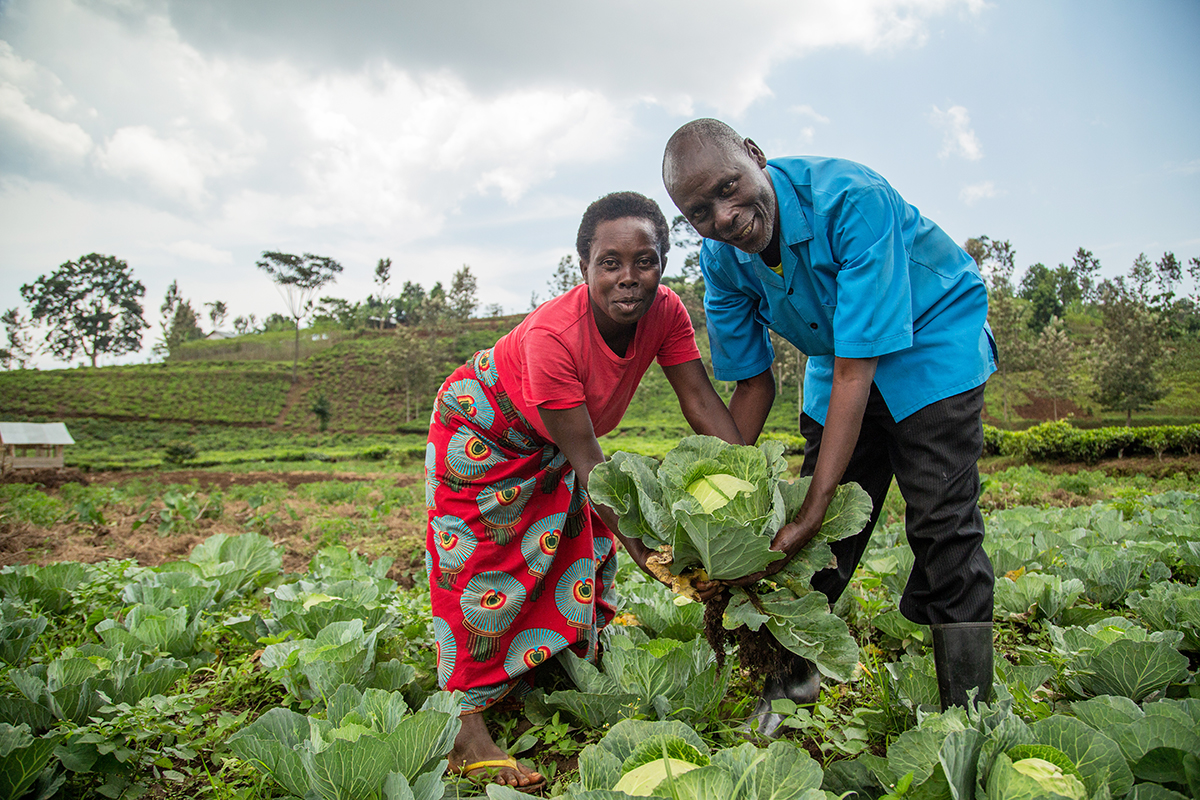 Also gone are the days where Nyandwi toils in the fields alone. She explained, "Before, I would go alone on the farm and when I was harvesting I would just have the harvest for family consumption only. But now, as we work together, when he is even busy he gives me someone, a casual worker, to help me so we take some food home but the rest is for the market."
In addition to changing his personal relationship with his wife, Sibomana is passionate about sharing his newfound view on equality with the others in his community. He said, " I do teach others about this because I want to become a model of change…I'm also a leader of opinion. So, I do all of that in a way of sensitizing other people to change." He and Nyandwi both consider themselves advisors for their community and are ready to share an unflinching account of their past relationship with anyone who will benefit from hearing it. They also know that, with the skills they have learned and the newfound group, nothing is beyond their reach, not the cow they originally wanted or even a car.
For Xaverine Uwimana couples like Sibomana and Nyandwi, alongside countless others involved in Heifer Rwanda's EPOG project, aren't just individual stories of success. They are a rising force that could change the very fabric of the country. She said, "If [men and women] change their behaviors it will change the way they treat each other. It will change the way they raise their children…and that will change the society."


---