"Welcome to our humble palace" are not words you'd expect to hear from a shy mother of nine whose home was destroyed just four months ago in the wake of Typhoon Haiyan. But that is how we were greeted—her name is Susana and you first met her back in November right after the storm wreaked havoc across the Philippine islands.
She and her husband showed us around. The "palace" they're referring to is a newly reconstructed house made of galvanized iron sheets. The Talle family is among the 1,010 families in Heifer projects who received food packs and roofing materials as part of Heifer International's immediate response to the storm after Typhoon Haiyan ravaged the area on November 8, 2013.
They are members of the Sustainable Livelihood Enterprises for the Marginal Farmers in Calubian, Leytegroup.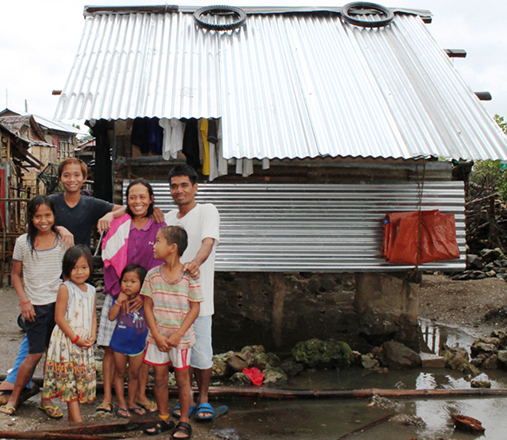 Rebuilding their home was fast and systematic. Other project families organized themselves into "reconstruction clusters" and took turns helping to rebuild each other's houses. It usually takes about four days to rebuild one house.

While project families were organizing themselves to help each other, Heifer and our local partners were also organizing other NGOs in the area to support the rebuilding efforts.
One of Heifer's local partner NGOs (RDI-Leyte) was able to access three chainsaws (worth about 60,000 pesos or $1,300) from other international organizations doing relief in the area. This was a huge asset. The saws were used to cut coconut trunks and large trees toppled by the storm. The salvaged lumber was used as additional materials for the house and animal shed reconstruction.
The United Nations Development Program (UNDP), Christian Aid and Save the Children also pitched in toward the effort through their "food for work" program. This program pays a daily wage of 300 pesos, or about $7, for up to 10 days so that laborers can buy food for themselves while working on rebuilding homes, animal sheds and common facilities.
The Philippines' National Disaster Risk Reduction and Management Council (NDRRMC) reported that super typhoon Haiyan damaged more than 1.1 million houses and impacted over 3.4 million families (more than 16 million individuals) in the wake of the storm. Even through January 2014, there are still nearly 21,000 families still living in evacuation centers—which are usually overcrowded and unfit for healthy living conditions.
But those who were part of the Heifer project were better prepared.
Heifer Philippines pioneered the Community Managed Disaster Risk Reduction training four years ago after Heifer identified the exposed island nation as its number one country of concern in terms of natural disasters. Part of the training is saving money, along with securing livestock, water, firewood and feed, harvesting crops for food, and safeguarding important papers.
As of February 2014—just three months after Haiyan—there were 534 newly reconstructed houses and 484 newly reconstructed animal sheds for project families both in the Calubian area and another project in the Ormoc area.
Heifer teaches that, oftentimes, the scale of natural disasters prevent responders from getting to the scene for days. Families, then, need to be ready and equipped.
And the Talle family was ready.
Susanna continued to show us around her home, clearly appreciative, "So, this is how it feels to have galvanized iron as a roof, I think it looks good. Even if it rains at night we can now sleep peacefully. Heifer did not only put roof on our heads but Heifer gave us back our dignity amidst this chaos and poverty."
Help other farmers be prepared for when disasters strike by giving to Heifer's Disaster Rehabilitation Fund.
Story and Photos: Nieva Pernites, Program Officer, Heifer Philippines and Rico Locaba, Regional Program Manager, Heifer Philippines