Editor's note: This post was written by Heifer's USA Program Officer Larissa Barry.
Last month, I had the pleasure of attending on Heifer's behalf a public conference hosted by the University of Vermont (UVM) called Leading the Necessary [r]Evolution for Sustainable Food Systems. The conference was held on the beautiful UVM campus in Burlington, Vermont on Thursday, June 28, 2012. I was there as a part of a two-week long program called The Breakthrough Leaders Program for Sustainable Food Systems along with 27 other inspired and inspiring folks from across the country.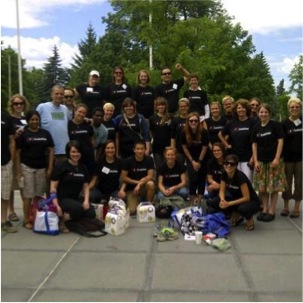 The day brought over 200 participants from across the state and region to a TED-style series of presentations from dynamic speakers from across the country. Covering a range of topics and their relationship to our food systems from venture capitalism, to finding your personal story, to community supported fisheries, to developing new wheat varieties for the New England climate.
There were two speakers who moved me. The first was "Sustainable" Steve Ritz. Steve is a part of the Green Bronx Machine that works with youth in the South Bronx to incorporate growing green walls and roofs into school curriculum in one of the toughest neighborhoods in the United States. He talked, extremely rapidly and passionately (not unlike his TEDx talk), about giving kids healthy alternatives, stating that the South Bronx is the kind of place where "questions of kids getting arrested isn't about if, it's about when." Against this backdrop, he has seen kids learn how to install green walls and roofs where they can earn $17/hours for good work, and earning a living wage is a big part of what keeps them motivated. As Steve says, "now that makes dollars and a whole lot of sense." They also grow food for the school, local shelters and farmer's market in the community which bring healthy produce into what is generally considered a food desert.
Steve's philosophy and what keeps him going every day is that "it's easier to educate children then it is to fix broken men." I was inspired by his passion and dedication to the kids in his neighborhood and to seeing them overcome their circumstance and reconnect with their community through growing.
The second speaker whose words had a profound effect was Corie Pierce, a mother and farmer, co-owning and running Bread and Butter Farm in Shelburne, VT just a few minutes from downtown Burlington. Her story about her love for the land and her passion for farming, her journey and her family reminded me of why I work to support family farmers both through my work at Heifer and in my personal life. I'm moved by Corie's confidence in her life's work and I aspire to have the deep level of connection she feels to the Earth and working the soil. As a treat, her partner, folk musician Chris Dorman also joined us for a performance – the words haunt me still:
"the land on which we stand is the only thing we have

that can withstand the weight of our lives.

So learn to treat the land like you treat your own two hands,

honor its strength, cherish the gifts it holds" – Chris Dorman