Poverty in the U.S.: The Stories You Don't Hear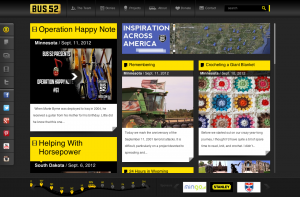 It's easy to become mired in hunger and poverty statistics. As people the world over struggle with economic stagnation, and more and more people slip below the poverty line, it's not often that stories of hope and happiness make the airwaves. So I was particularly struck by a story I saw on The Huffington Post last week which highlighted the work of Bus 52.
Bus 52 is a documentary film project led by five young people who are traveling the United States on a converted school bus. Their aim is to tell the stories of people and/or organizations who are having a positive impact in their communities. While they don't focus solely on what's being done to combat hunger here at home, the article in the Huffington Post focused on that subject in particular. And I have to say, it was nice to hear some positives for a change.
Take the Generous Garden Project in South Carolina, for example. Local Bo Cable started an organic garden for the folks of Greenville after he saw a need in the area and after noticing that food banks had a dearth of fresh vegetables. "We just give it away," Cable says in the Bus 52 video. "No questions asked."
There are a number of other projects highlighted like the free cafe for the needy run by student volunteers at The University of Kansas, or the urban farming project run by Nat Turner in the Lower Ninth Ward of New Orleans. All admirable, and all reminiscent of how Heifer is working to help achieve food security and grow agricultural jobs through our domestic projects.
So take a minute to remind yourself that there's a need right here at home, and another to be inspired by all the things that are being done in communities just like yours.
Is there a happy story in your community that maybe we don't know about? Tell us!