Seventy-five years ago, farmer and Church of the Brethren member Dan West started the organization that is now Heifer International. After his volunteer service in the Spanish Civil War, West returned determined to create a lasting solution to the rampant hunger he saw among refugees. His plan: instead of giving a cup of milk, donate a cow.
Writer and historian Peggy Reiff Miller can't remember a time when she didn't know about Heifer. When she was a child and West was in his 60s, the two were members of the Church of the Brethren in congregations in Illinois and Indiana respectively. Miller remembers West's involvement as a leader in regional youth events.
"[Heifer] was always a part of our knowledge," Miller said. "We just grew up with it."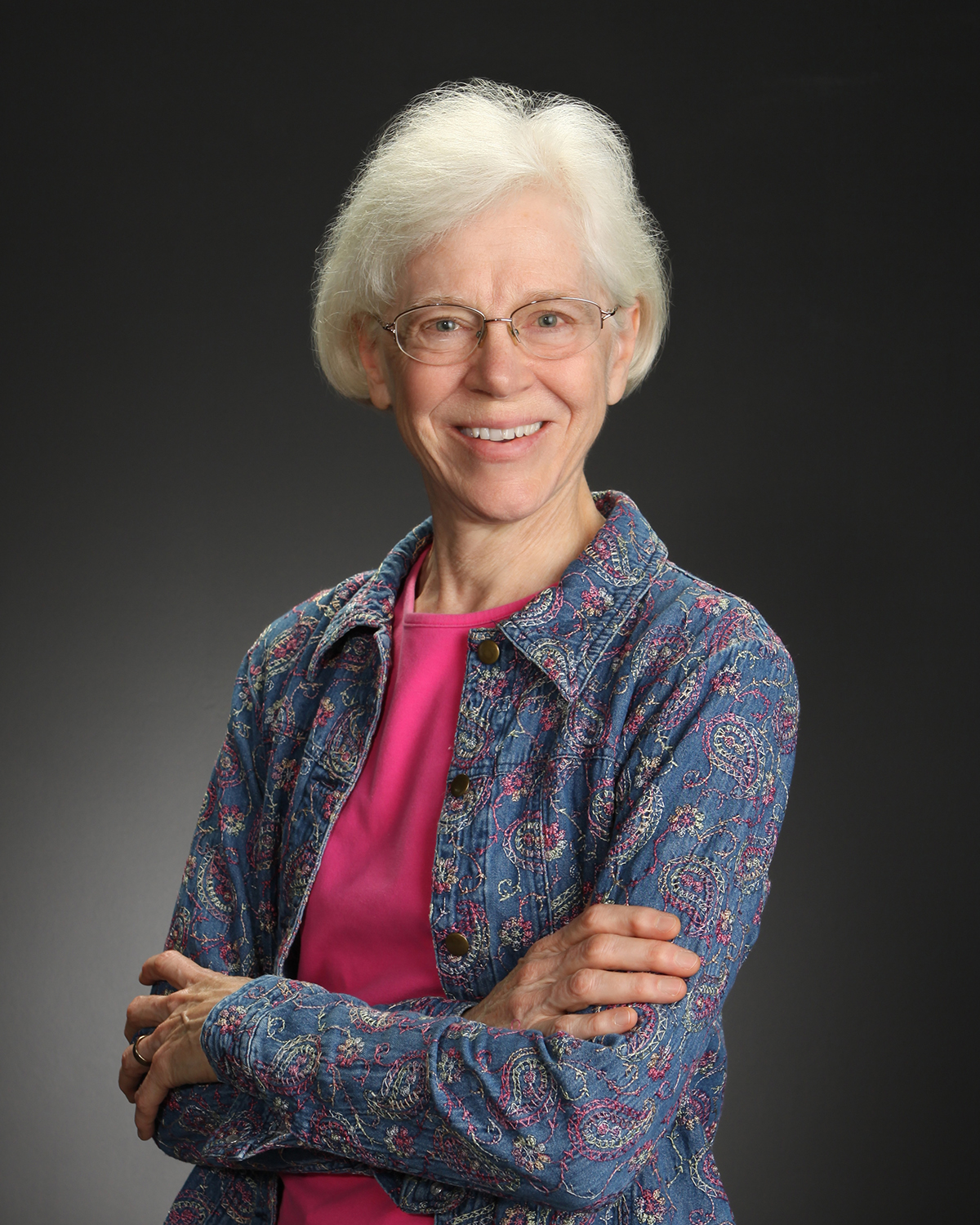 Later in life, Miller discovered that her grandfather served as a seagoing cowboy, men and a few women who volunteered to tend to the livestock shipped from the U.S. to other countries by the United Nations Relief and Rehabilitation Administration and then Heifer Project (now Heifer International) after World War II.
"I didn't know until after he died, actually," Miller said. "He died around 1969. Some years after that, I don't even remember when, my father gave me an envelope of grandpa's pictures from his trip. I knew there were some Polish dolls in grandpa's attic that we played with when I was a kid. And he had a cane, a wooden, carved cane from Poland. So those pictures really put it all together for me. Because at that time, I knew about seagoing cowboys and was kind of curious about the history."
Those photos pushed Miller to dig into the story of the seagoing cowboys, to try and find out what her grandfather's experience was like.
"I started interviewing men who I had knew had been cowboys," she said. "And one cowboy led to another and another, and, you know, the history just draws you in. And I realized that you couldn't tell the seagoing cowboys story without also telling the Heifer Project story. Because the two histories are intertwined."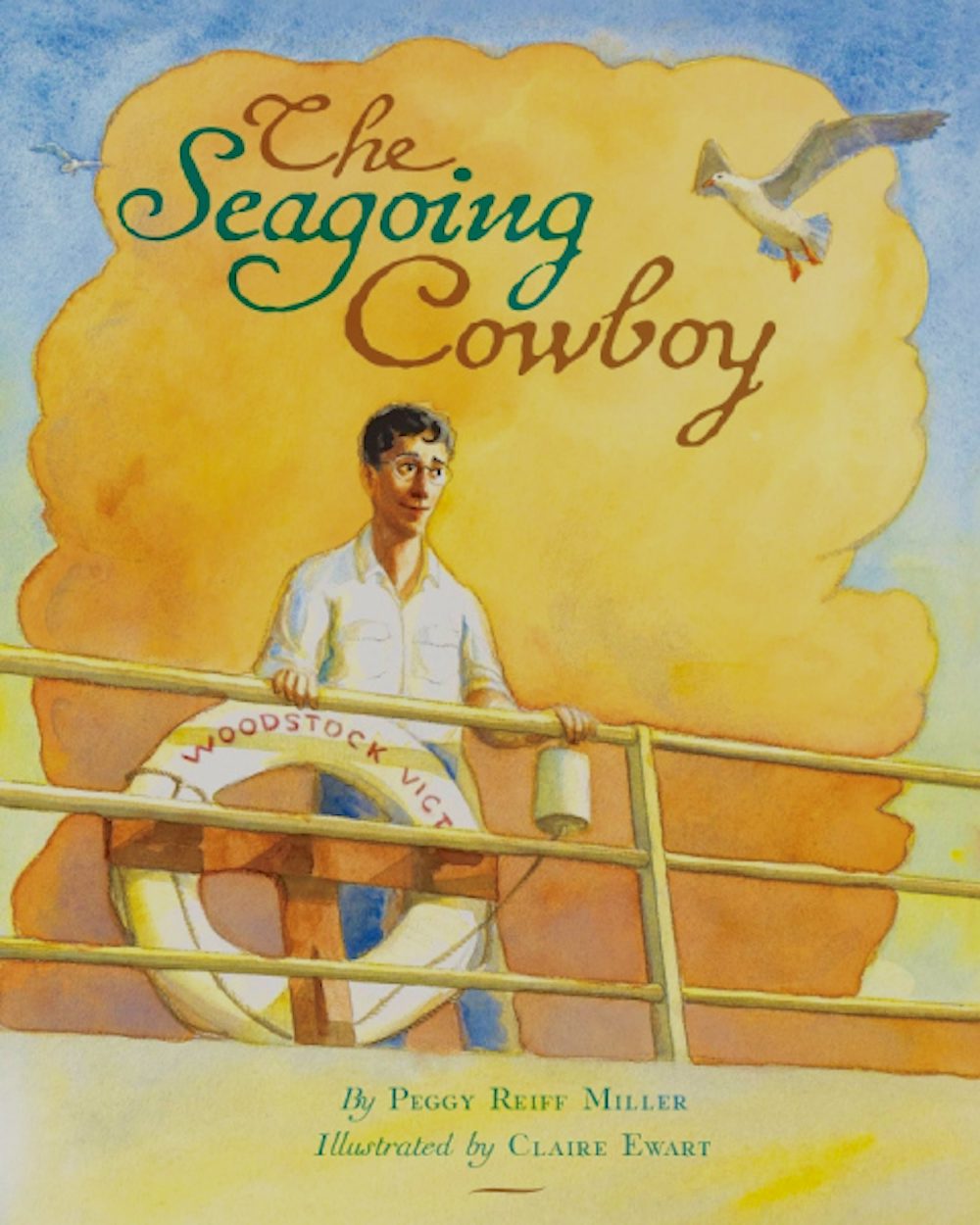 In 2016, Miller published a children's book, The Seagoing Cowboy, about the experiences the cowboys had shipping donated animals to families abroad. Currently, she is working on a book about the first decade of the Heifer Project. Miller also maintains a blog on her seagoing cowboys website. "This year, in honor of Heifer's 75th anniversary, I will be focusing on Heifer Project seagoing cowboys and history through those UNRRA years and beyond."
In the spirit of Heifer's anniversary, Miller shared a few of her favorite historical photos with us.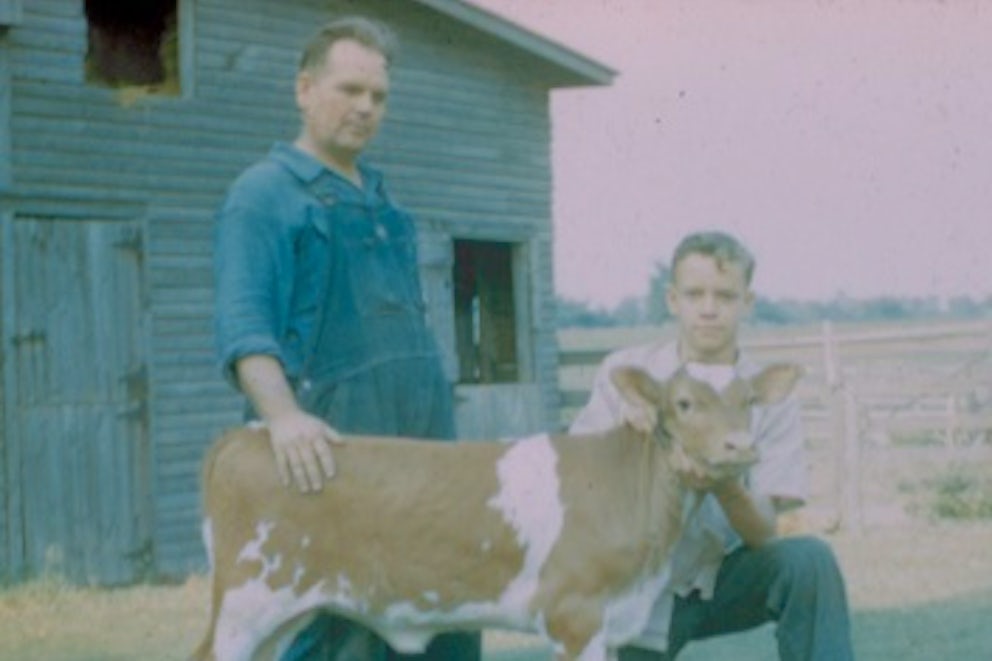 Faith
"The first is a color slide that I found in Heifer's archives that I had no idea existed of Faith, the first heifer [donated], and her donor, Virgil Mock, and the teenage boy who raised her, Claire Stine. That's one of my favorites."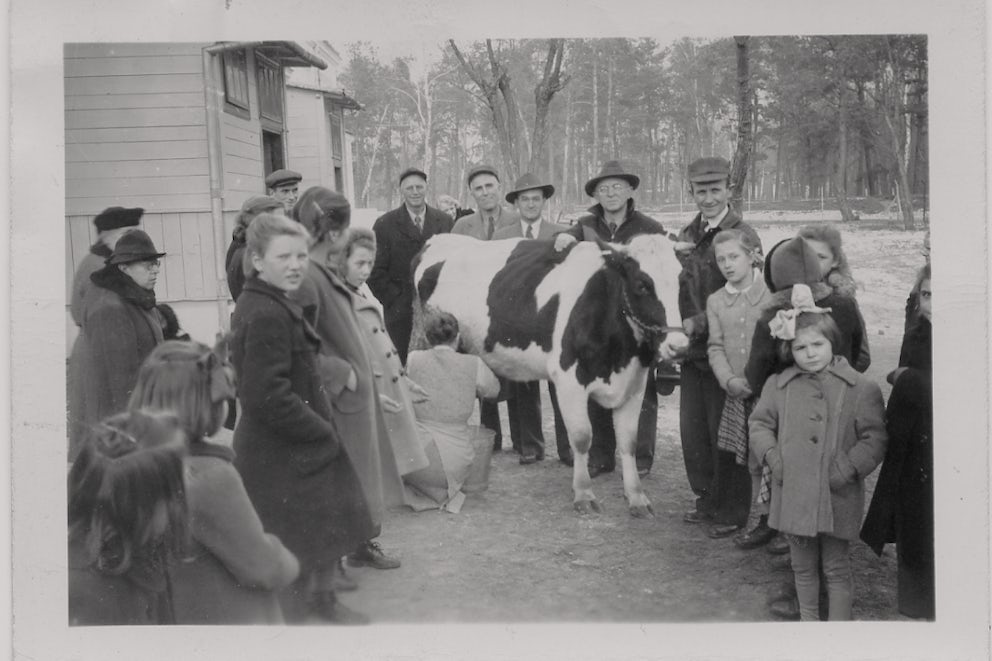 Hope
"Another is the heifer Hope that was given to the Konstancin Orphanage outside of Warsaw, Poland. It's a picture taken on Christmas Day 1946 that shows Hope, who had only been there maybe not more than a week, and children from the orphanage and four of the seagoing cowboys from that trip who stayed behind. They went AWOL from their ship and stayed behind in Poland to do kind of a tour [to determine need] for the Brethren Service Committee. So they were able to visit this orphanage. And that's the heifer that I kind of modeled my picture book on. So that's a great one."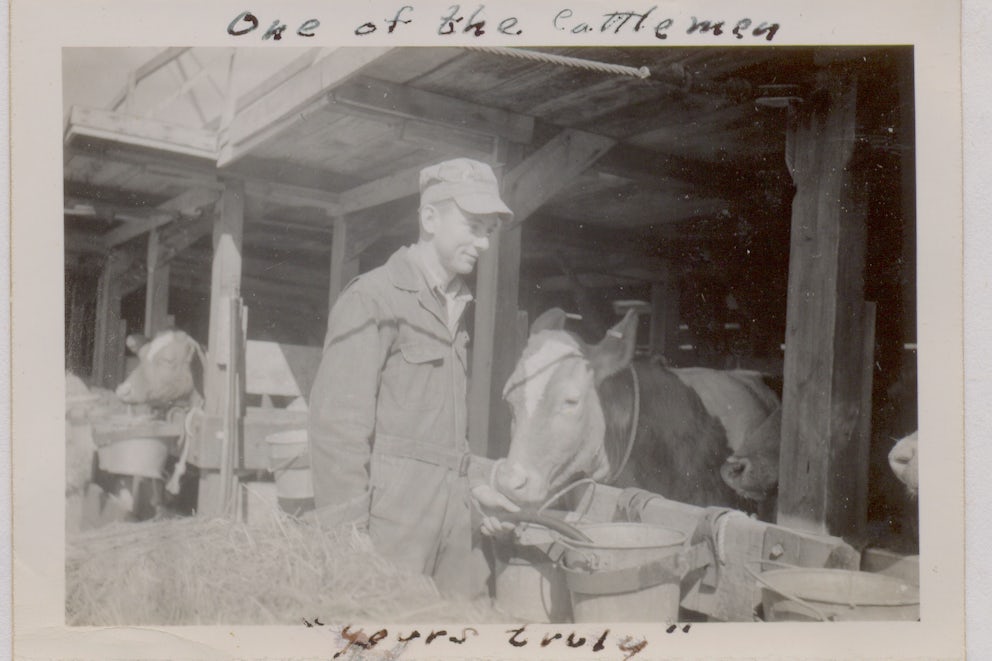 A Seagoing Cowboy on the Way to France
"And then one of seagoing cowboy Wilbur Stump, taken with him and the heifer he was tending on the Zona Gale on his trip to France. Wilbur was one of the first seagoing cowboys that I interviewed. So that's always been kind of special one for me."