Story and Photos by Thach Thi Hong Tuoi | Community Facilitator | Heifer Vietnam
Translated by Nguyen Xuan Quyen | Communication and Networking Officer | Heifer Vietnam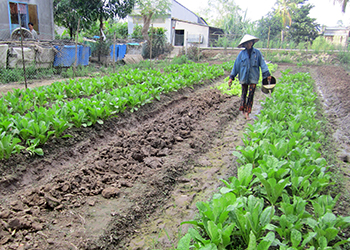 Among 150 Heifer Vietnam project participants in Sa Bau commune, one exceptional family demonstrates an enthusiasm for life, community, and their only daughter.
Cao Van lived with his wife on a small piece of land, which was given to them by his parents as a wedding gift. He began farming and one year later their daughter Vang was born. Life was difficult, but the couple borrowed land from Cao Van's brother to grow morning glory, basil and a variety of vegetables to sell for daily income.
When Vang was old enough to attend school, her parents tried their best to afford the school fees. They earned about $6 a day as seasonal laborers.
Cao Van would dig ditches and load rice, while his wife cut grass and transplanted rice. The work was not stable and caused many worries, but their daughter's good academic records were great motivation. Seeing her ambition sustained their strength and encouraged them to work even harder for her tuition money.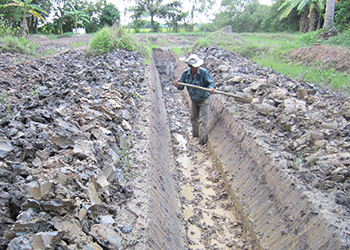 "My daughter studies well and I am glad," Cao Van said. "I will strive harder and harder to support her until she finishes her education. I would like my daughter to have a better life, and not step into poverty like her parents."
In 2012, the family became Heifer Vietnam project participants. Now they raise cows, fish and ducks. "I have a new opportunity and I will definitely seize it to fight against poverty," Cao Van said.
He used some money from the project's revolving fund to support his fish and duck production. Now, every six months, he earns approximately $45 from the sale of Muscovy ducks and $50 from airbreathing catfish.
Cao Van's application of Heifer's training has made his business successful. His profits further his small business and helps nourish Vang's education.
Now, the family has a stable source of income, so their little house is always filled with joy. Their energy is renewed and they never hesitate to tackle new obstacles.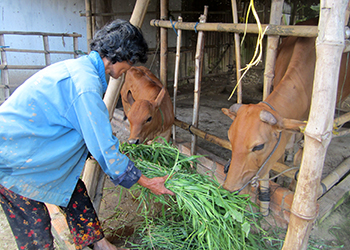 Vang is now in sixth grade. She continues to do well in school and earns scholarships granted by her school for poor students.
"At the beginning, when my family was very poor, I wanted to quit studying to share the burden with my parents," Vang said. "Luckily, since participating in the Heifer project, my parents are ignited and enlightened. I love my parents so much and I will try to meet their expectations by studying harder and having a good job to support my parents."
The family gets excited when ducklings hatch or one of their cows gives birth. And they love the sight of their growing vegetable garden.
"We promise to raise healthy cows, to be self-reliant and never disappoint Heifer project," said a visibly happy Cao Van.