They had felt the earth shake, seen the destruction in Kathmandu first-hand and received official reports of damage, but it wasn't until they saw the hundreds of people lining up to receive disaster relief supplies that the dire need of those in the rural areas sunk in for Heifer Nepal's team distributing aid.
Neena Joshi and other team members in charge of providing relief materials to the families were able to make their way to the Dhading district Thursday and gave even more details of what they saw on that initial trip to the field to Heifer headquarters on Friday morning.
In addition to challenges like encountering crowds of people in need along the route into Dhading district, the staff said they found much more damage than officially reported, dwindling water supplies, and other hardships in the community.

Neena Joshi, the director of program for Heifer Nepal, said official reports that the team had received in Kathmandu indicated about 70 percent destruction in Chhatare Deurali in Dhading district. When they arrived yesterday, however, Joshi said that it was more like 95 percent destruction.

"When we got there, the numbers were different," Joshi said. "They are entirely cut off. Drinking water is drying up and most people are relying on these rescue activities."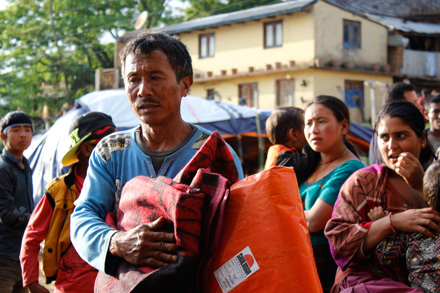 Despite the hardships, Joshi reported that the actual distribution went much more smoothly than they anticipated. Heifer project participants fell into lines based on their self-help groups, and self-help group presidents helped Heifer staff ensure they were dispensing aid to the correct people.

Joshi said that there were also more people awaiting aid than they had anticipated—many of them not Heifer families. At first, it concerned staff that people would be upset that they wouldn't receive supplies immediately, but they were able to assuage fears.

"We assured them we would come to all the households," she said. "We made it very clear that we would reach all the families."

Heifer Nepal is coordinating with other agencies, like the Lions Club, to provide more aid. They have coordinated trips over the weekend to two areas in Nuwakot and one other in Dhading.

"Where we go with housing supplies, they will go with food," Joshi said.

And even still, the spirit of many of our project partners was unbroken. Many are setting up temporary shelters by taking materials from their damaged homes and are busying themselves with other tasks. There is hope yet among these people.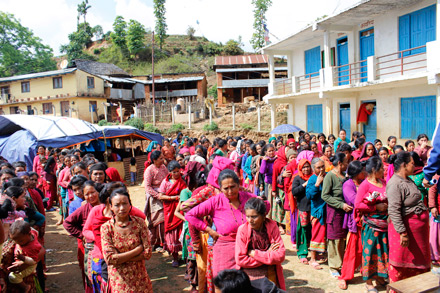 -----

THURSDAY, April 30: Heifer Nepal staff in charge of distributing relief materials to the families affected by the recent earthquake are facing enormous challenges in that task, including encountering numerous communities in need while en route to reach the farmers in the remote areas where we work.


Team members reported to Heifer headquarters that they were shocked and saddened after seeing the conditions of some of the villages they passed through, including areas where we are implemeting projects. One staff member told us that it looked as though some had received nothing in the five days since the quake.

Staff there told us they received offers from some people to buy the materials they were carrying on the spot while other villagers, who were desperate for any assistance, were pleading with our staff to release the supplies to them.

Because the goods were already designated to help people elsewhere, our 11 staff on the distribution trip got out to talk with the villagers on the road. They held hands, and as a result of this peaceful action, the villagers agreed to let them pass and deliver the supplies to where they were most needed.
Despite the difficulties, they did reach the village succesfully. Once there, they distributed 550 blankets, 294 tarpaulin tents along mattress rolls, along with ropes and plastic sheeting.

The trip to Chhatare Deurali in Dhading district, which is typically a short drive from the capital of Kathmandu, took at least twice as long.

The experience on Thursday drove the team to reassess their distribution plans. They have made plans to leave Kathmandu at night and arrive in the identified villages in Dhading and Nuwakot districts before daybreak. They are hoping this will help them avoid masses of people and other roadblocks.


Back at our main office in Kathmandu, other staff are focused "on procuring and distributing" larger stocks of the temporary housing supplies, said Maggie Thomas, Heifer program officer for Asia projects. "Availability is a problem, as is getting the items we've found to Kathmandu."

Heifer's India staff is also mobilizing to help and are "exhausting all possibilities to find materials" needed in Nepal, Thomas said. Because of the ground transportation difficulties, Heifer India is exploring the cost and feasibility of getting materials onto a cargo plane.

Heifer works with more than 50,000 farming families in the affected districts of Dhading, Nuwakot, Chitwan, Nawalparasi, Lamjung, Parbat, Baglung , Palpa, Kaski, Sinduli, Sarlahi and Tanahu. Nepal staff will remain in the areas for further assessments and to provide resources like temporary shelter materials, food and water. At least 63 of our project participants have died, more than 6300 of their homes have collapsed and more than 1,500 animals have been lost.

You can give to our Disaster Rehabilitation Fund to support these families through this crisis and to help them rebuild tomorrow.
Images are courtesy of Heifer Nepal staff.