Marianne Muellerleile: Actress, Supporter and Volunteer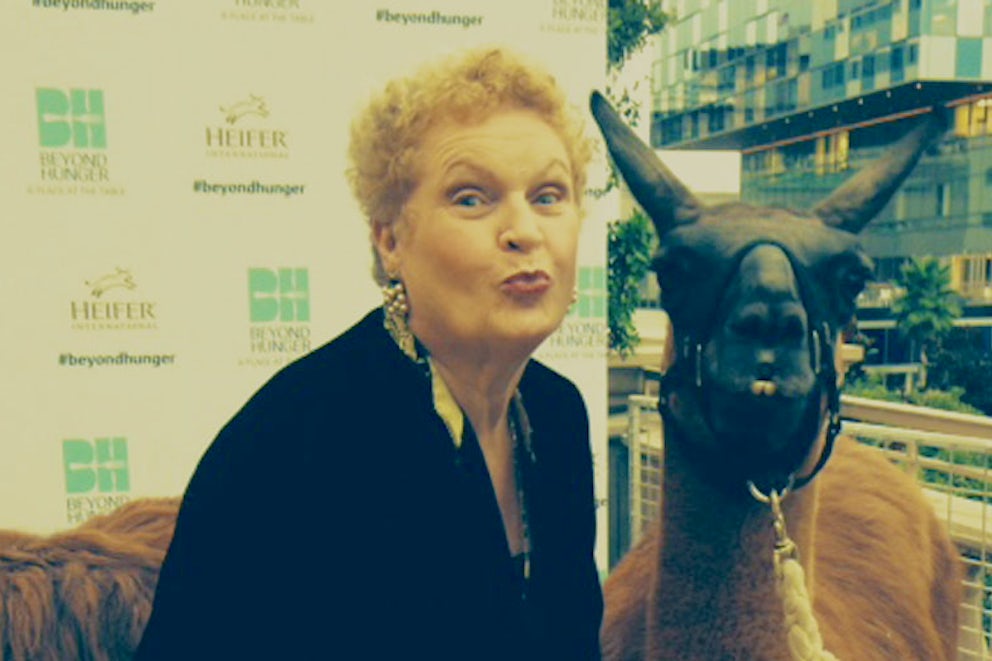 Take one look at Marianne Muellerleile and you'll recognize her. Muellerleile has been an actress for more than 40 years and has a resume that includes voice overs, plays, commercials, television and feature films. She has appeared in movies we've all seen and loved like Return to Me, Memento, Liar Liar, and Terminator. She currently is recurring as "Connie" on Mike & Molly and will soon be seen in upcoming episodes of Anger Management and Marry Me.

Muellerleile is hard at work behind-the-scenes, too, trying to make the world a better place. She's been an active volunteer and supporter since 2003, and has motivated a network of her followers to Fundraise for Heifer to the tune of about $85,000. We talked to her about why she chose us and what she has in the works.
Heifer: When did you first hear about Heifer and what drew you to the organization?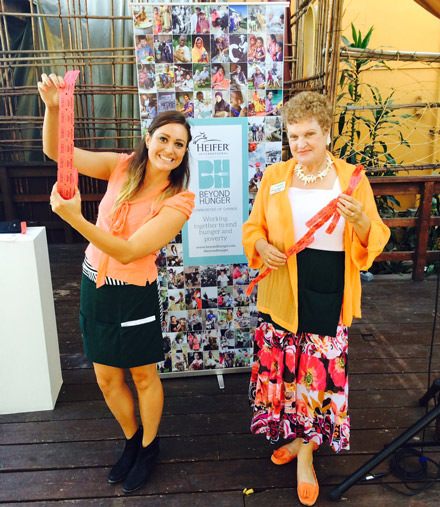 MM: I was on a TV series as a regular and needed to find a worthwhile charity to which we could donate, fulfilling our long-held commitment to tithing. I had asked our investment broker to send me a list of highly rated charities. Then I saw a segment on OPRAH and thought, "Yes, THAT is the charity we need to support. 'Not a handout but a hand up.'"
Why did you decide to start volunteering?
My volunteering started in kindergarten when I helped pull out the napping cots. In grade school I was in charge of the milk carton distribution and a bookmobile captain. High school I was on Student Council, Parlimatarian and Evaluation Chair. In college I made my first Red Cross blood donation. That has led to my being 40+ year blood donor.
Volunteering is second nature to me. In some ways, I can't get enough of volunteering. I have literally done thousands of hours of volunteering.
What is interesting about my volunteering for Heifer is that it is the first organization where my passion has grown, the more I learn about it. In the past, I often became disillusioned once I saw the inside workings of an organization. It is just the opposite with Heifer. I am more committed now than when I first simply wrote a check in 2003.
What was your first volunteer gig for Heifer?
My first volunteer effort for Heifer was when I was asked to join the Heifer California Leadership Council. I was very reluctant, as I was no longer on a TV show which meant I could no longer write a big check. I was assured that I was being asked for my creativity and resources, not my ability to donate.
It was a very intriguing offer, as I knew I would learn much more about Heifer, and also understand a great deal more about how to run a successful nonprofit. I would be sitting at the "Big Kids Table."
What has been your most rewarding experience with Heifer?
I'd have to say visiting Honduras. It was positively extraordinary. We visited 10 projects in seven days. Meeting the Heifer project partners and the communities working with Heifer and of course, the absolute highlight was witnessing a Passing on the Gift ceremony. People bursting with pride at being able to share their bounty with a family bursting with hope and determination.
Of special note was an optional visit I took to the first project Heifer did in Honduras more than 30 years ago. A happy, vibrant community, with a school, cinder block houses and healthy children. Their joyful reception of our Heifer rep reminded me that they were seeing an old friend, someone they loved.
I left Honduras knowing in my bones that Heifer International is the charity I want to support for the rest of my life. And after.
How do you fit Heifer into your busy acting/auditioning schedule?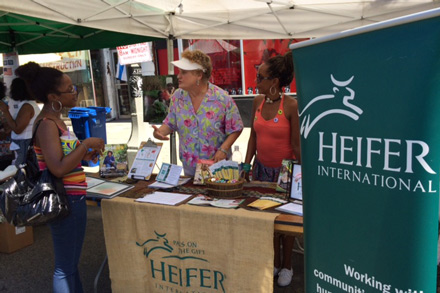 Well that is the beauty of being an actor and being a volunteer: None of it is full time! I confess to being very well organized and a self-starter. The good nuns taught us never to procrastinate. That has served me well.
Do you give Heifer gifts to friends or coworkers? If so, what's the reaction?
Most every person I'd give a gift to, has already given a gift to Heifer because I invited them to do so. My friends know of my deep commitment to Heifer as I take every opportunity to tell them about it.
[But] we just made a donation to Heifer in honor of our friend's 60th birthday. Several years ago we invited our friend of many years, LA County Supervisor Mark Ridley-Thomas, to attend a reception at our home where Heifer CEO Pierre Ferrari was to speak. Not only did he come, and make a generous donation, but he told a story about his love for Heifer International, and then presented Pierre with a Los Angeles City Proclamation.

When we got his birthday party invitation last week I thought, "Oh dear, what can we give Mark, he has everything. And then I remembered Heifer. What a perfect fit!" He was positively delighted!

Delight your friends and family this holiday season when you give Heifer gifts.
Have you ever influenced another coworker/actor to give Heifer?
Most definitely. Five years ago I decided to personally fundraise for Heifer. It actually grew out of a directive I heard on the Leadership Council. Heifer asked the Council members to each do a fund raising effort every April, as it was designated, at that time, as Passing on the Gift month. My first attempt didn't yield as much as I had hoped it would. So I re-strategized and came up with a "Just Stay Home Fundraiser." It means exactly what you think, write me a check if you don't want to attend yet another boring fundraiser with long-winded speeches, lousy wine and surf 'n turf. It worked. In the last four years I have raised just under $85,000.
Anything else you'd like to add?
My passion for Heifer continues to deepen. I've expanded my fund-raising to a year round effort. I've come up with a lot of different ways to bring money into Heifer. Most recently I auctioned off a movie crew hat on my Facebook Fan Page. A woman in Arizona sent me a Heifer check for $250! Wow, I couldn't believe it. Next I'll put up a movie crew jacket, and start the bidding at $200.
Two years ago I decided I should recycle aluminum cans, #1 plastic and any type of metal, then add the money to our annual donation. I felt I had to come up with something I could do in response to Heifer's mission of protecting the earth.
When I am working on sets I ask all the cast and crew to recycle for Heifer by putting their discarded bottle in the bags I have brought for that purpose. I make signs and post them around the set. Invariably people inquire further about Heifer so I always have brochures, and my own little homemade "How to Donate to Heifer" business cards that I make out of discarded sitcom scripts.
Most recently I have joined a new group that is just forming, the SoCal Heifer Core Group, whose mission it is to designate and fund an entire Heifer project for the next five years. We've only had one meeting but I am so eager to explore the possibilities, make the commitment, and then get crackin'.