Women & Girls
Their Lucky Charm
Galo Bula-ay Cullot is the 63-year-old native of Balbalan Proper in the province of Kalinga, more than 250 miles from Manila, Philippines. Galo lost his mother when he was just 2-years-old and grew up with his brother under the care of their father. After a few years, their father married again and the family grew with two more sons.
For his family, education was a luxury and was only available for those who could afford it. Instead of going to school, he worked to ensure his family's survival.
When Galo married and had 7 children of his own, the family's main source of income was farming small parcels of land planted with rice and vegetables. Although the family had their own land to grow produce, they were never able to grow enough to eat. To augment this, the family took care of cattle and water buffalo for wealthy neighbors. Thanks to their generosity, after more than 10 years, Galo was given had three water buffalo and four cattle.
In 1992, Galo sold his livestock for extra money and went to Tabuk, Kalinga, to find better work opportunities. From his sale he was also able to buy about 3 acres of land for rice. Things were looking up for Galo's family until a blackleg disease spread throughout the community's cattle, affecting almost all the cattle and goats. Unfortunately, Galo's cattle were not spared.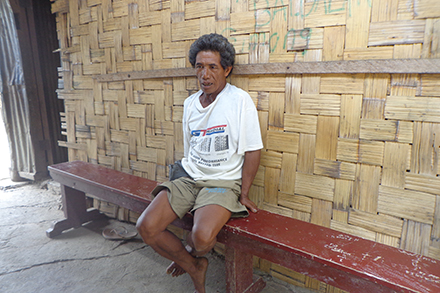 After the loss of his cattle, Galo and his family moved to New Balalan, Lacnug, Tabuk. The family had to prepare their small plot of land manually or hire out new water buffalo to do the land preparation. "Since 1993, my family has never had the opportunity to have water buffalo or cattle," Galo shared. "It seemed like my family had no luck with raising livestock, even when it came to chicken or pigs."
In 2008, the International Association for Transformation (IAT), in partnership with Heifer Philippines implemented the Enhancement Project Gift for Peace in New Balbalan and Burayocan, Tabuk. The projects' unique legacy was the Passing on the Gift™ done between warring tribes. This helped to foster brotherhood in the community and establish lasting peace through Heifer's Cornerstone for Just and Sustainable Development.
Galo's family was selected as one of the 25 families in the Mataguan Self-Help Group in New Balbalan. Galo was given a female water buffalo in 2008, and all of his family members helped to ensure that she had abundant feed and water every day.
"It was a responsibility my family took seriously," Galo explained. "Our water buffalo gave birth to a healthy female calf, which we passed on in early 2011 to a family in Burayucan from a tribe that now considers me their brother. The Cornerstones deepened our understanding of peace. It was not merely obeying the rules of law, but practicing it based on our beliefs in brotherhood and the sanctity of life."

"To us, the livestock is an instrument of peace and lasting change," Galo proudly shared.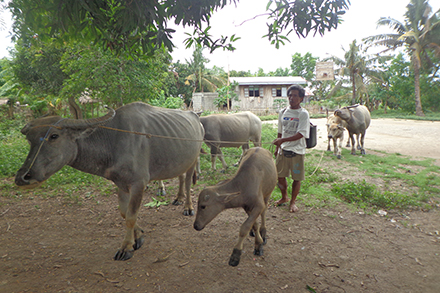 "I now have seven water buffalo," Galo continued. "They help us with plowing and levelling our rain-fed rice farm and in transporting the seeds and other inputs and produce from our farm. This has helped us save on labor costs for a total of about 5,000 to 6,000 pesos ($125 to $150) per season."
"Heifer's gift is our lucky charm," Galo said. "Before receiving her, we were only able to harvest 30 to 35 sacks of rice per half hectare, but now we can have yield of 50 sacks or more. We also have five pigs, and 25-30 chickens at any given time."
Just the gift of a water buffalo from Heifer, combined with the hard work of Galo and his family, they now have better, more secure lives. "We have vowed to help other families in need," Galo says.
"Our obligation to pass on did not stop when we passed on the gift in 2011. We want more families to benefit from the gifts we received. With hard work and luck on our side, we have the power to change lives."

Story and photo by Jun Dom-oguen and Karla Narcise-Rodulfo: Heifer Philippines