Journey to Senegal: My Heifer Experience
Editor's note: Dr. Stephen (Steve) Robinson began serving as President of the Southern Association of Independent Schools (SAIS) on July 1, 2007. Robinson is a supporter of Heifer International and many of Heifer's education programs have been used in SAIS classrooms. The following is an exceprt from Dr. Robinson's blog that was originally published June 5. Follow this link to read the full version.

I have just returned from my first trip to Africa where I was privileged to visit several projects administered by Heifer International. As one who travels often, I have had many transformative experiences, but my trip to Senegal exceeded my expectations. Witnessing the dichotomy of a people so hopeful, joyful, and hard working, and the stark limitations of their resources and opportunities was humbling and inspiring. Also, while I have known of Heifer's work for some time, witnessing it on the ground level was impressive. I know of no other organization on earth that more clearly embodies the concept of "teaching men to fish" so that they will be fed for a lifetime. Where we sit inside our vehicle wondering how to help that person on the corner, Heifer shows us a way to help.

As an educator, I was also familiar with Heifer's resources for schools. I knew it offered curriculum on sustainability and global issues for teachers and organized experiential camps for students. I also knew its work was well respected and supported by multiple prestigious organizations such as the Bill & Melinda Gates Foundation. Still I did not expect how deeply their work would resonate.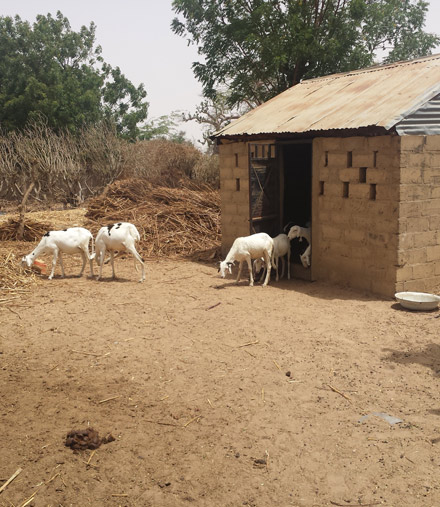 I arrived in Dakar, the capital of Senegal, on May 24 late in the evening. Early the next morning I began my six-day journey to tour many of the villages where Heifer works. My companions were Elizabeth Bintliff, Vice President of the Africa Area Program, Rashid Sesay, Regional Director – West Africa, Dr. Humphrey Taboh, Cameroon Country Director, and Gustave Gaye, Interim Senegal Country Director.
I was struck by a number of realities in Senegal. Resources and work are scarce. The population is young, with many children working rather than attending school; school infact is not compulsory. Upon adulthood, men often migrate to other areas for work, leaving their wives to tend to their families. Unfinished construction projects are common as structures or homes are built over a period of decades, as funds are available. Livestock roam freely. Horse or donkeydrawn carriages are also common, often used as taxis with young men driving them. I was reminded of Abraham Maslow's hierarchy of needs, and for many here, they live at the most basic biological andphysiological stage. Luxuries in Senegal are being able to send your children to school, or a woman who can heat food with gas instead of spending four hours looking for firewood in an arid landscape, or a village who can leverage bio fuel for electricity to support their hospital. Heifer's emphasis on bio fuel projects, is fascinating, life changing, and an excellent example of green energy.
Upon approaching our first village, Loumbal Baladji, I was struck by how happy the people were to see us and how highly they esteemed Heifer's team. The villagers were dressed in their most beautiful and colorful clothes. Many were in ceremonial dress, with their faces painted. They enthusiastically presented to us what they had learned about nutrition, as well as many of the business successes they had in raising and managing their livestock. A woman, who originally was given one goat, had grown her herd to nine and said the livestock was her security. If a need arose, she now could sell a goat to pay for it. All of the participants kept detailed notes of how they cared for their goats with vaccinations, and vet visits. They kept logs detailing the selling and breeding of the goats. This is one example of Heifer's rigorous training that encourages families to be not only self-sustaining, but also teaches them how to manage their own businesses. There are many more stories like this one and if you have time, you can view some of them on the Heifer International YouTube Channel.
On another visit we encountered one of few public schools. These students were among the minority whose parents could afford to send them for an education. Along with reading, writing, math, and science, they also learned Heifer's 12 Cornerstones of just and sustainable development. Topics include passing on the gift, being accountable, sharing and caring, animal management, nutrition and income, full participation, respect for and supporting the environment, and more.
So where do American schools fit into this work that Heifer is doing? Heifer offers many avenues to become involved. First teachers can download a variety of free curriculum on the plight of the poor, how they can be self-sustaining, why helping the poor and hungry is important, and what they can do to help. Schools can also participate in various reading and gift programs to support a goat or cow for a village or individual. Schools can also organize a field trip to one of Heifer's three learning centers, or two partnership camps, where students can experience first-hand what it feels like to be poor in a developing country. For example, upon arriving for a stay at Heifer Farm in Rutland, Mass., students are educated on the plight of poor children and families in developing countries. Then, they are assigned to different countries such as Thailand, Guatemala, Uganda, or even a refugee camp. They are each given limited supplies based on their country and must barter with other countries to get everything they need for the night. The refugee students are the worst off, they are given nothing and must beg for everything they need, and they cannot speak. The overall experience can be transforming for students, many who have never experienced real need or hunger. Hopefully, they leave with a new empathy and awareness of world problems, the desire to be part of the solution to some of these issues, and are equipped with ideas of how to take action.
It is not often that I make such a suggestion, however, I encourage all schools to partner with Heifer International. Why? Because such partnerships are good for our world, but also they help our faculty and students develop cultural intelligence. The development of global competence and cultural empathy is vital for all of our students so they can understand their responsibilities as global citizens. Also faculty and staff who learn about other cultures, and are immersed in other cultures, are better equipped to teach these values and realities to their students.
There are many great causes in the world, but I am not aware of one that so succinctly addresses such a vital social need while allowing for strategic partnerships with schools. Therefore, I accept the risk of sounding like an advertisement. Considering the work that we can accomplish and the work that is being done, it is worth it. I encourage everyone to take the time to get to know Heifer International and their work.