Improved Banana Production in Ecuador
Submitted by the Heifer Ecuador Team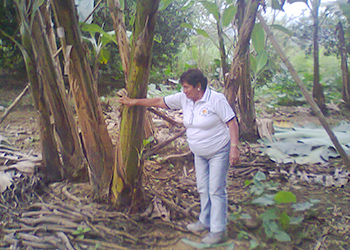 My name is Norma and I belong to the Arenillas Guild, within Heifer Ecuador's Strengthening Productive Diversity of Small Farmers in El Oro, Azuay and Guayas project. First of all, thanks to the trainers who have worked with the organization and gave me the opportunity to train as a leader and woman entrepreneur. On my property, there are two main activities: cultivation of bananas for export to Asoguabo and diversified production. I have a few vegetables and fruits, such as oranges, tangerines, lemons, baby bananas, plantains, guava, passionfruit and other crops to sell to supplement my income when the banana crop doesn't earn a stable price.
Additionally, I raise small animals like chickens and pigs, which are largely used for consumption by the family.
An irrigation system funded partially by Heifer has been installed for organic banana cultivation. Now my crop yields about 25 boxes of bananas every week. These organic bananas bring a better and more consistent price. The irrigation system has definitely improved production and revenue.
In Asoguabo, I served as the voice of the projects, a responsibility that made me familiar with the problems of the guild and empowered me to search for alternatives with the technical team. I am very thankful for all the support.