In This Article
New speaker series #HeiferTogether highlights the issues most pressing to farmers and food systems in the middle of the COVID-19 pandemic.
Heifer President and CEO Pierre Ferrari hosts the live chats with experts and thought leaders on the subject live for around 20 minutes.
Recently, Ferrari talked to Heifer Ecuador country director Rosa Rodriguez about connecting small-scale farmers and urban dwellers through a food delivery service.
Upcoming guests include U.S. farmers Donna Kilpatrick and Will Harris, as well as Nicholas Kristof of The New York Times.
Join Heifer International President and CEO Pierre Ferrari for a new speaker series, #HeiferTogether, which is about the state of farmers around the world during the COVID-19 pandemic. As the crisis continues, farmers – like all essential workers – keep doing their jobs. Local family farmers provide the nutritious, healthy food that is good for us in the best of times and essential right now. And our future depends on investing in them and the resources they need to deliver food safely to our tables.
In the live, 20-minute virtual conversations, Ferrari talks to thought leaders and experts about the present and future of our global food and farming systems, small farming in the United States, tech in agriculture, farming as it relates to the environment, and more.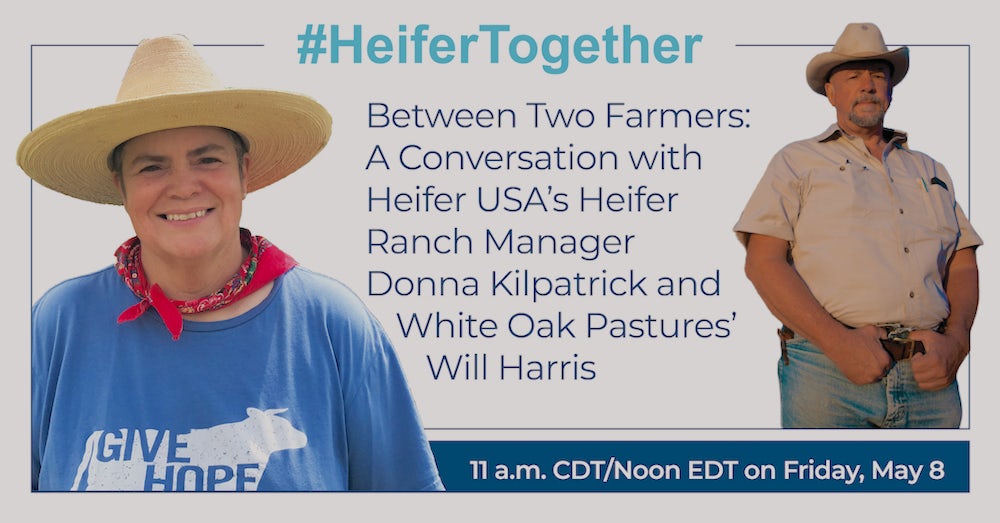 On May 8 at noon EST, Donna Kilpatrick, Heifer Ranch manager, and Will Harris, regenerative agriculture expert and owner of White Oak Pastures, will discuss the state of the U.S. food and farming system from a farmer's perspective. They will share how local farms support local food systems and economies, and why U.S. farming needs to move beyond sustainable to regenerative, the type of farming that Heifer International supports around the world, to increase farmer incomes and regenerate the land. The webinar is free, but you need to register beforehand.
The latest #HeiferTogether live chat featured Rosa Rodriguez, Heifer's country director in Ecuador, where the mortality rate from the novel coronavirus outbreak is one of the world's worst. In Ecuador, people in cities are struggling to find safe and reliable ways to get fresh food, and farmers struggle to find markets for their produce in this new reality. "So what we decided to do," Rodriguez said, "is we created a consumer catalog offering small farmer food baskets in eight cities around Ecuador, and orders started coming in immediately." Check out the recording of the conversation to learn more about Heifer Ecuador's innovative work.
Next week, on May 12, Nicholas Kristof, the Pulitzer Prize winning columnist for The New York Times, will give his perspective on the pandemic reporting from New York City and the impact of COVID-19 on developing countries.