Heifer's Heart: Prashant Jha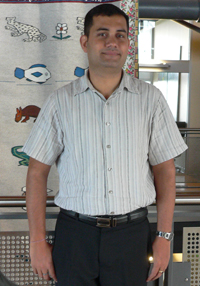 Name: Prashant Kumar Jha
Title: Administrative Manager
Location: Nepal
How long have you worked for Heifer? 3 years and 3 months
What attracted you to work for Heifer? Initially, I was attracted by the challenging role as an administrative manager, and it still gives me a learning platform for my career. Later, I discovered the organization's approach to learning and working with communities and people who are in great need.
What has been the most memorable experience you have had while working for Heifer? I have had many. One is when I visited a Heifer project group. They were telling us about the transformation that took place in their lives within three months of Heifer's intervention, especially with regard to training and physical input for Passing on the Gift® (POG). Neighbors previously quarreled and had no respect for each other's property. The situation has changed now. Members of the community are polite and respectful. They keep the environment clean and work together to improve the future of their community.
My education includes: Masters in Business Studies and Executive MBA
My hobbies include: Watching movies, Hiking, Trekking, and Rafting
My family consists of: I am single. My mother, one older brother (married and blessed with a baby girl) and a sister (married and blessed with a baby boy)
Something about me that you might not know: I am a little shy.
What is the best thing about working at Heifer Nepal? Heifer always encourages me to perform better today than yesterday and it is all due to the Heifer Nepal team and their expertise and capacity that I have experienced over time.