Heifer Uganda Voted Best in Fighting Hunger and Poverty
Heifer International Uganda was informed Friday that it was honored with a Uganda Responsible Investment Award after it was voted the Best Hunger and Poverty Eradication organization in the country, said Interim Director of Finance and Administration for Africa programs Humphreys Munai.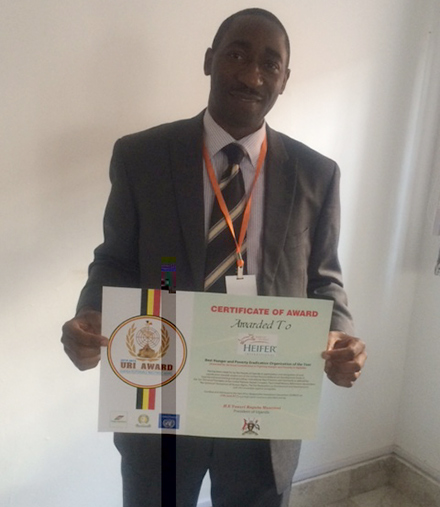 The award, given by Public Opinions in Uganda and presided over by Ugandan President H.E. Yoweri Kaguta Museveni, was voted on by the people of Africa. The Public Opinions website indicates the intent of the award is to "determine the Most Responsible and Respected Investments in Africa which have contributed a lot towards attainment of the United Nations Millennium Development Goals in Africa."
The award states, "Having been voted for by the People of Uganda in appreciation and recognition of your contribution towards attainment of the United Nations Millenium Development Goals in Uganda, and promoting and upholding International Best Practices and Standards as defined by the Ten Universal Principles of the United Nations Global Compact, The United Nations Millennium Declaration, The Universal Declaration of Human Rights, The Rio Declaration on Environment and Development, and UN Convention against corruption."

"This is the way to end the busy week seeing our work is recognized by Ugandans and honored by [the] Ugandan President," Munai said.
Heifer Uganda was one of 20 organizations awarded with a 2014-2015 Africa Responsible Investment Award.