Hurricane Irma bumped through Haiti last week, and its aftermath is still a threat to livestock. Heifer International's team in Haiti launched into action to make sure no additional animals were lost to injury, stress, parasites other post cyclonic epidemics.
In conjuction with the Ministry of Agriculture, Hervil Cherubin, director of Heifer Haiti, set up emergency response care for livestock through a mobile veterinary care clinic and is leading a team of Heifer staff, veterinary technicians (trained by Heifer International) and veterinarians from Heifer and the country's ministry. The team has already treated thousands of animals as it traveled through communities hit hardest by Irma's flooding and damaging winds.
Here is Cherubin's log from this week's recovery efforts, which are ongoing.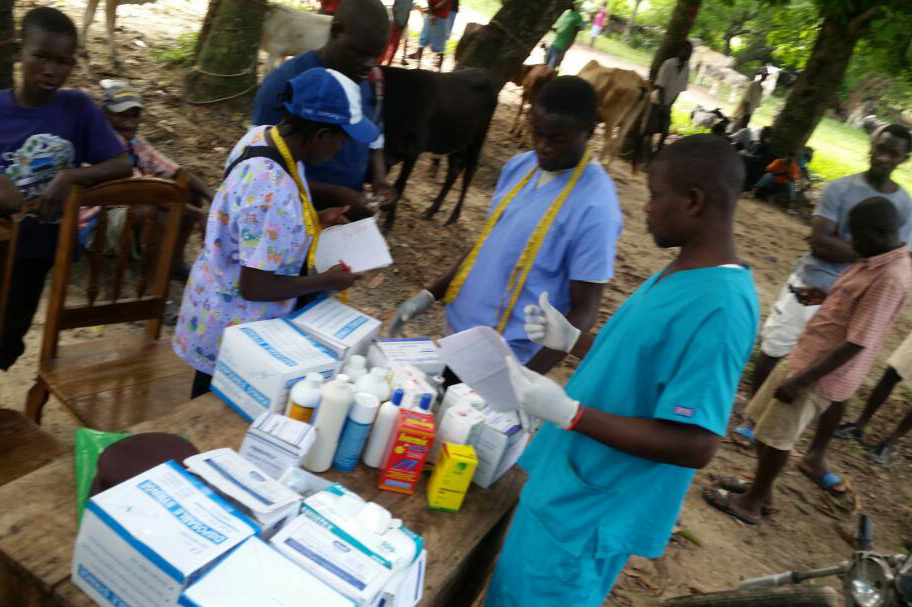 -----

Thursday, September 14, 2017
Yesterday was day one for our emergency veterinary mobile clinics in the northeast communities most affected by hurricane Irma. The activities were in Dumas, a very poor community where Heifer has been working for the past four years. We set up two posts where people brought their injured animals to be treated. It was open to anyone in need in the community, not only Heifer beneficiaries. A total of 521 animals (mosly goats and cattle) have been treated. The community was very happy and grateful. Heifer staff, along with the veterinary technicians and public officials, were very satisfied of the long day of work.
Today is the second day of our activities. This time we are going to be in Ouanaminthe, a community close to the border with the Dominican Republic. The team woke very early to set up and are ready to roll. … The first reports are already in and it looks like we are going to receive many more animals than expected. Many farmers were waiting in line way before our start time of 8 a.m. Just had a meeting with my colleagues to see if we can bring more vet techs or possibly continue to work in this community tomorrow. The Ministry of Agriculture is also there with its veterinarians. Very exciting.
Friday, September 15, 2017
Today is day three of our emergency veterinary care in the Northeast. We are working in two communities: Ferrier, a border town with the Dominican Republic, and Malfety, which is close to Fort Liberté, the region's capital. Ferrier has been badly inundated. Both communities are lowlands, so they suffered considerable damages with crops and animals.
Yesterday was a good day: 1,155 animals received care. People were very happy. There is no doubt that the farmers really understand the need for care for their animals in a situation like that. We could not take care of all the animals. We might need to go back again in the community. The team is working on that.

Saturday, September 16, 2017

Today is day four of our post-Irma emergency veterinary care in the Northeast region of Haiti. The mobile clinic is in the community of Grand Bassin, a community where the people are very proud of being farmers.
So far we have four posts and probably will set one or two more due to the number of animals we have seen in the morning for the day to start. Something that has really caught our attention during the clinics is the number of kids (boys and girls) that have brought animals for care. They are very curious about the whole thing and participate actively along the vet technicians in caring for the animals. Hopefully this will be the first step towards later becoming modern farmers.
Yesterday 1,210 animals received care from the clinic. Hopefully today we can do more if daily med supply does not run out.
Tomorrow there will be no clinic. It will be a day for the team to rest and assess the work done this week. The plan is to move to the Northwest region on Monday, but I have the feeling that the work is not over yet in the Northeast. We will make the decision tomorrow on whether we stay a bit longer in some communities. The good thing is that we have the capacity to deliver in both regions simultaneously.
At the end of the day, what we are doing as Heifer is not only saving the animals' lives, but also protecting the farmers' livelihood. A farmer in Haiti without livestock is a big risk--it's like you and I without a bank account.
-----
This isn't the first time that Heifer has provided this kind of veterinary assistance across large areas of the country. After hurricane Matthew Heifer last year, Heifer Haiti treated 46,191 animals representing a savings of $5,449,780 for 12,117 families.

Even after the animals are treated, the people of Haiti won't be out of the woods. Flooding caused by Irma damaged crops of plantains, peanuts, cassava, beans, corn, sweet potatoes and coffee. It also damaged fishing equipment and disrupted salt production.
You can support Heifer's work to make communities around the world more resilient in the face of disasters. Donate here.