In This Article
Entrepreneurial spirit, strength and courage coupled with support and training are an unstoppable force for growth
This International Women's Week, we're highlighting the incredible women who are #choosingtochallenge obstacles that stand between them and their goals.
Join us as we cheer on women who are uplifting themselves, and their communities .
Salon owner Maria Nataly Mendoza Quieju is working hard to challenge the stereotype that women in Guatemala can't earn their own income. With help from Heifer Guatemala and the Sirolli Institute, Mendoza and her entrepreneurial peers are transforming their ventures into sustainable businesses that benefit their communities.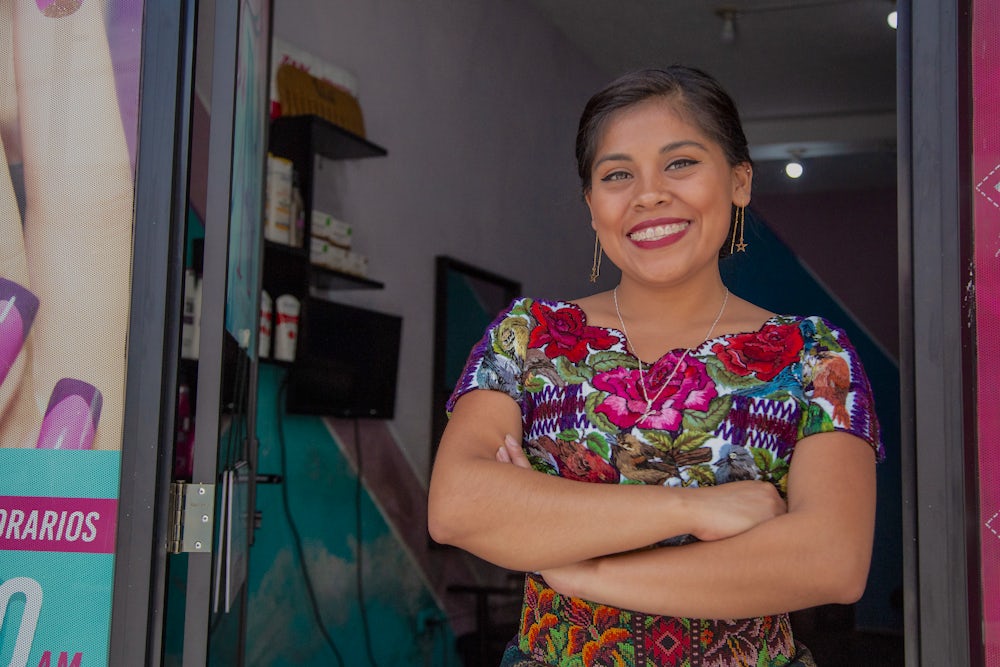 Fighting Stereotypes with Shears and Shampoo
The bustling, vibrant town of Santiago is a difficult place to find work for local women. Today in Santiago, many jobs require a college degree – an asset that many women in the area don't have. Economic prospects are worsened because of the patriarchal "machista" structure that often excludes women and other marginalized groups. The sexism and discrimination inherent in this social structure makes earning an income difficult for many women living in the towns around Lake Atitlán.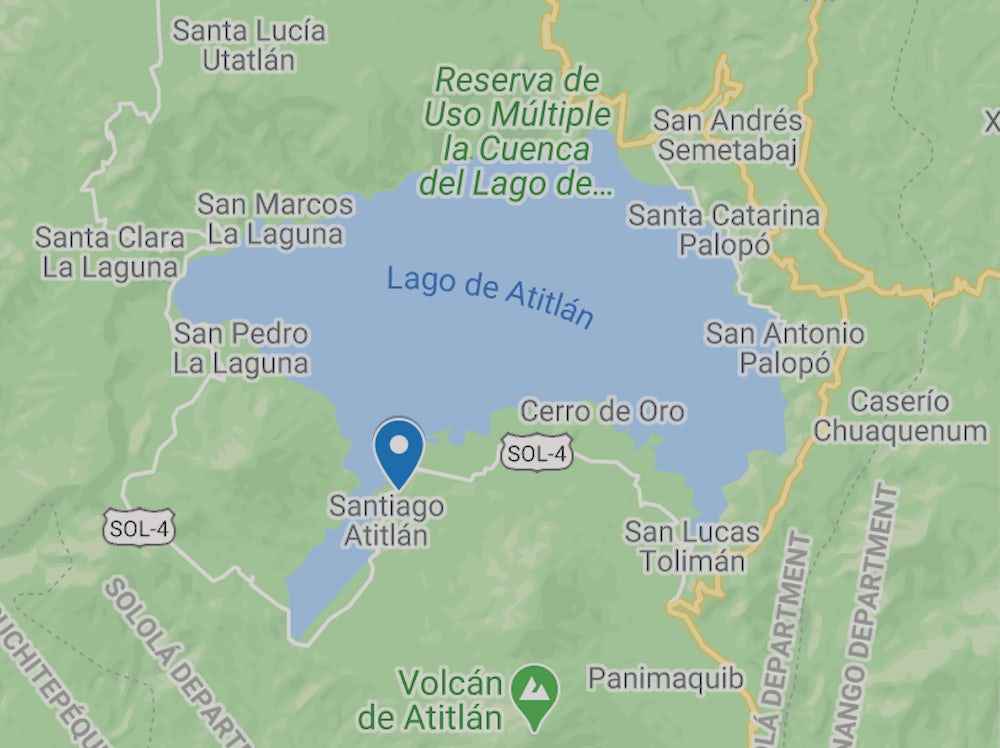 According to 2019 data from the National Statistics Institute in Guatemala, women make up just 37 percent of the economically active population in the country. Additionally, UN Women reports that women's average earnings are 78% of men's earnings, with pay gaps even wider in rural areas and among indigenous communities, like Santiago.
"I am willing to do a lot of things, to work very hard because one of my main interests is to help other women," said Maria Nataly Mendoza Quieju. "It is very frustrating when you apply for a job. They will tell you, 'I'm sorry, there's nothing for you here.'"
Mendoza decided to start her own business to earn an income, provide a service to her community and become an employer of women like herself. Her artistic talent, creativity, and exquisite fashion-sense were a natural asset, but she would need business training and support to build her business.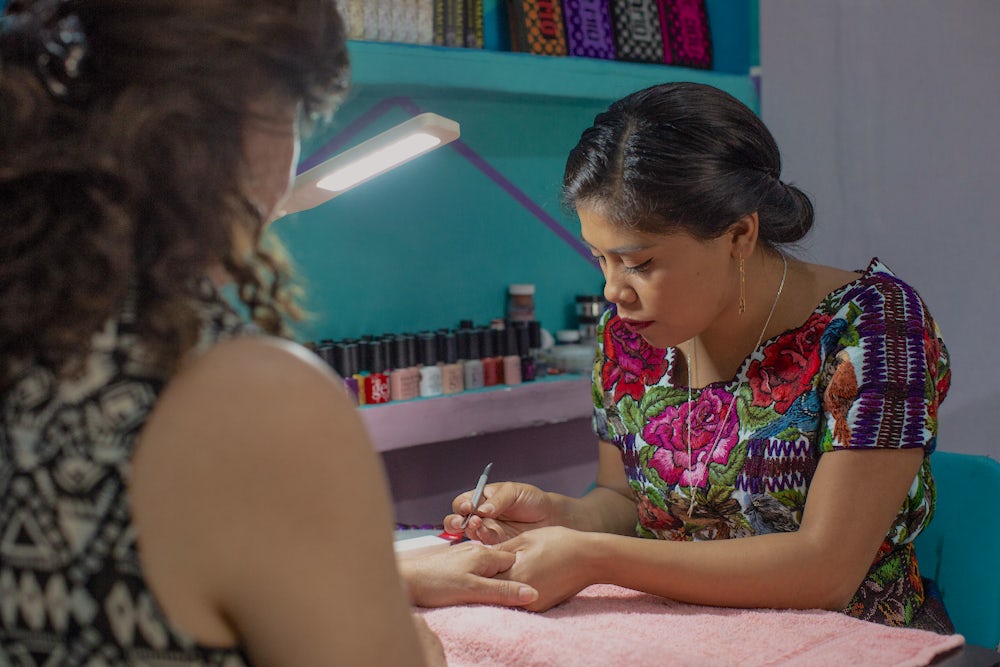 "The reason I started this business was to change the paradigm that women can't work," said Mendoza. "I know I have been able to do things and I want to change this mentality."
Mendoza started working from her home as a stylist in 2016. After only one year, she'd found a storefront and christened it Salón Venus. Though Mendoza earned enough to keep her doors open, she wasn't making enough to earn a salary. The pressures of managing the business was overwhelming.
"I hired two employees to help me, but still I would do everything," said Mendoza. "I didn't know anything about keeping records."
The Birth of Salón Venus
In 2018, Mendoza partnered with Heifer Guatemala and the Sirolli Institute through Sirolli Pilot Project in Guatemala. Under the Sirolli methodology, project participants receive support from an enterprise facilitator and community resource board who provide free, confidential business management and networking advice.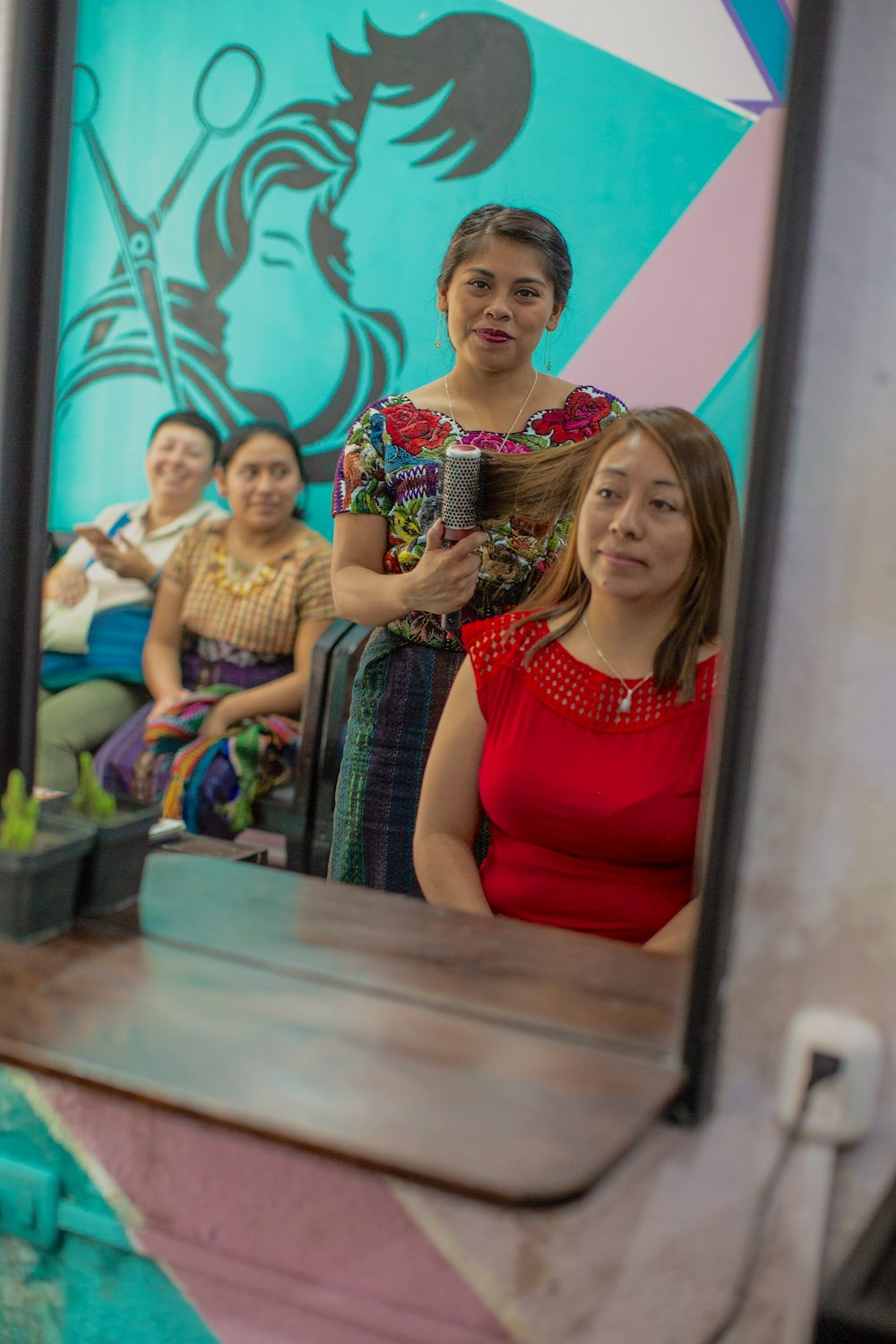 Patricia Tax, enterprise facilitator for Heifer Guatemala likens her role to that of a midwife helping to birth businesses. "When they come to us, entrepreneurs have a need and are in pain," said Tax. Not a physical pain, but they have pain points in their businesses. Enterprise facilitators like me help guide them through these pains so that they can create something sustainable."
The enterprise facilitator also works to connect business owners to local experts in production, marketing and finance who can help them fill gaps in their businesses for reasonable rates. By connecting local businesses to local experts, the entire local economy is strengthened.

"I connect people to other people," said Tax. "The resources committee is made up of local people with skills they want to share. Any special skills like photography, business, administration, advertising, even painting ... and I work to connect entrepreneurs with the right person who can help meet their needs."
This access to local financial services led to a direct increase in income for Mendoza. Before partnering with Heifer, Mendoza's salon brought in 5 percent profits – after partnering with Heifer Guatemala and learning the Sirolli methodology, Mendoza's profits increased by 20-25 percent and she credits this directly to a better management of her finances.
"I knew I had to have my finances in order, but I didn't know how and that's when Patricia found a bookkeeper for me," said Mendoza.
The Rise of Salón de Belleza Nataly
With guidance from Heifer Guatemala, Mendoza also rebranded her business from Salón Venus to Salón de Belleza Nataly.
"The previous name, Venus, was just a name that I picked because I liked it," said Mendoza. "It didn't have any meaning. But I am the image of the salon and people come here looking for me. If I'm not here? They don't stay for the services they came for."
Salón Nataly Belleza is a full-service salon that offers hair cuts, coloring and styling as well as manicures and pedicures. Mendoza also offers wedding and event packages for local brides (or those in need of a day of pampering) with head-to-toe beauty services and professional makeup - all done by Nataly.
Mendoza's dream is to use her business-savvy to open a salon chain with a location in each of the towns surrounding Lake Atitlán – where employment is equally difficult to find. Each location with job opportunities for stylists, colorists and nail technicians.
Like many businesses, Salón de Belleza Nataly took a hit during the COVID-19 pandemic. But after a three-month mandatory lockdown, Nataly and her salon are back in business and have been for the last four months.
Times are tough, but Mendoza is still drumming up customers and spreading the word about her salon with giveaways and drawings for discounted services. Never idle, she's also busy thinking of more business ventures including a beauty supply store that would employ local women as well as adding hand-embroidered, traditional clothing, worn by many of the indigenous citizens in Santiago, to the products offered in her salon.
Visit Salón de Belleza Nataly on Facebook to see more of Maria Nataly Mendoza Quieju's work and to book an appointment.