Follow the Roadmap to End Global Hunger
Greetings Fellow Activists: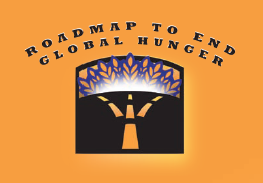 Earlier this week, members of Congress and leaders from a wide range of organizations gathered on Capitol Hill for the official launch of the Roadmap for Continued U.S. Leadership to End Global Hunger. Heifer is one of the 50 organizations supporting the Roadmap, which is a set of common guidelines for United States anti-hunger efforts, including program and management recommendations to make those guidelines realistic and achievable. With more than 925 million people suffering from chronic hunger in the world, I see this as a significant step toward progress in putting an end to it.
Strong, continued U.S. investment and leadership is critical to ending global hunger and malnutrition. It would take less than one-tenth of one percent of the U.S. budget to end the suffering of millions of people. This comprehensive approach of emergency, safety net, nutrition and agricultural programs will help us end global hunger and malnutrition, saving millions of lives.
Some key highlights of the Roadmap include:
Recommendations (and justification) for $5 billion worth of combined investments in all areas affecting hunger (emergency, nutrition, agricultural/rural development and safety net programs).
Establishment of a new White House Office on Global Hunger to integrate key executive branch programs with one another (USAID Feed the Future, President's Emergency Plan for AIDS Relief, Millennium Challenge Corporation, USDA Foreign Agriculture Service, and food commodity programs under the Office of Trade Representative) to avoid waste and duplication.
Re-convening of the former Select Committee on Hunger in the House of Representatives as a formal caucus (with a Senate equivalent to make it bicameral) in order to coordinate a single, coherent legislative response to executive programs.
Programs that emphasized resilience, flexibility and strengthening local safety nets to help make emergency assistance more rational and efficient, as well as to bridge gaps between short-term humanitarian response and longer-term development programs.
Specific examples from implementers of what works in terms of resilience, etc. with a short primer on key lessons and how positive impacts were achieved.
You can download the full Roadmap here and learn more about how we can all work together to save millions from hunger and malnutrition.
I am proud to have leant my signature and the backing of Heifer International to the Roadmap and what it represents.
To feed a child today, go take the World Food Program USA's short hunger quiz. Once you've tested your Hunger IQ, come back and tell us your score. If you'll tell me yours, I'll tell you mine!