There are lots of misconceptions about sustainable design. Often sustainable building projects, or "green buildings," are associated with high-cost, ultra-modern design that works for commercial buildings but not necessarily for individual homes. Well, that is simply not true! Green buildings can be for everyone, and this Little Rock, Arkansas, couple built a house to prove it.
Ann and Rick Owen built their green home in the heart of Little Rock's historical Heights neighborhood. "We really wanted to produce something that was really livable, but still be in keeping with the neighborhood. We wanted our house to look like something that belonged in the neighborhood and was consistent historically with the design of the other homes. And we liked contemporary farmhouse style anyway, so that's what we wanted the house to look like," said Ann Owen. "We also wanted to convey the notion that you don't have to pay more for green construction. So we made choices that gave us the biggest impact for the least amount of money. We really wanted to live more lightly on the Earth, and this gave us a chance to live our values."
Ann and Rick's 2600 square feet house is a net-zero home, meaning it produces more energy than it uses. Here are a few of big-impact ways Ann and Rick achieved their super-green home.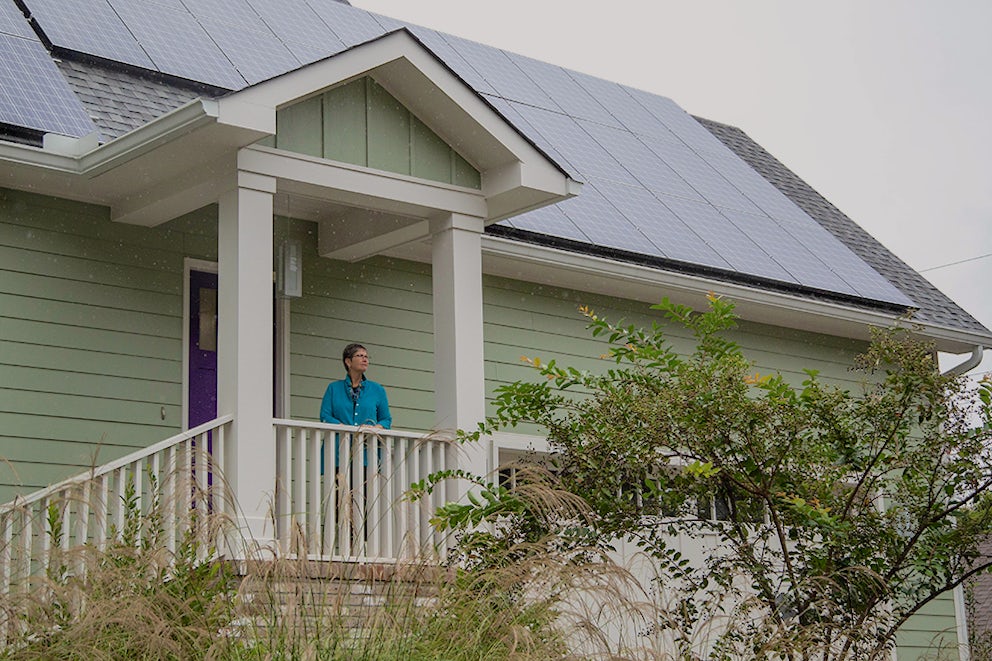 Solar Energy
Generate all your own energy, get a big tax break and increase the resale value of your home, not to mention taking a big step to combat climate change, by installing solar panels to your roof. Solar technology is becoming more efficient and more affordable all the time. Many people don't like the aesthetics of solar panels, but if you're building you can do what the Owens did and choose a roof color that partially camouflages the panels. With their solar panels, the Owens are able to generate almost all of their own power.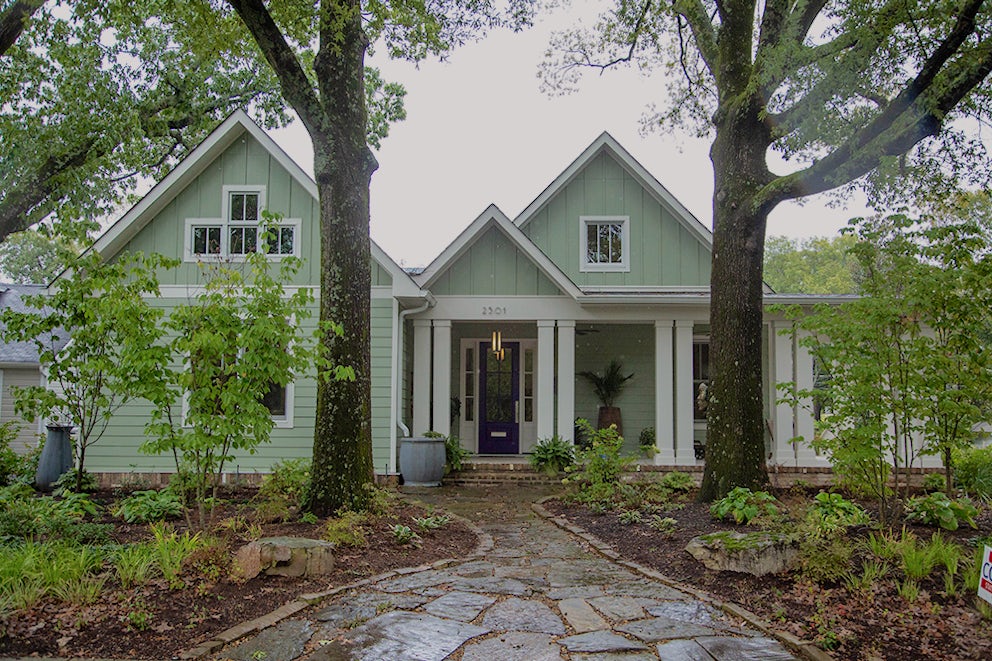 More Lawn, More Problems
"It's hard to maintain a lawn, and costly on all fronts. Not having a lawn is one of the best things you can do for your landscape. We use less water and no chemicals." – Ann Owen
Think outside the lawn for your landscaping. Maintaining grass uses an egregious amount of water and other resources, and there are all kinds of lovely alternatives like clover, groundcovers or gardens. Skipping the traditional lawn has a huge positive environmental impact, plus you won't have to break out the lawnmower every summer Saturday!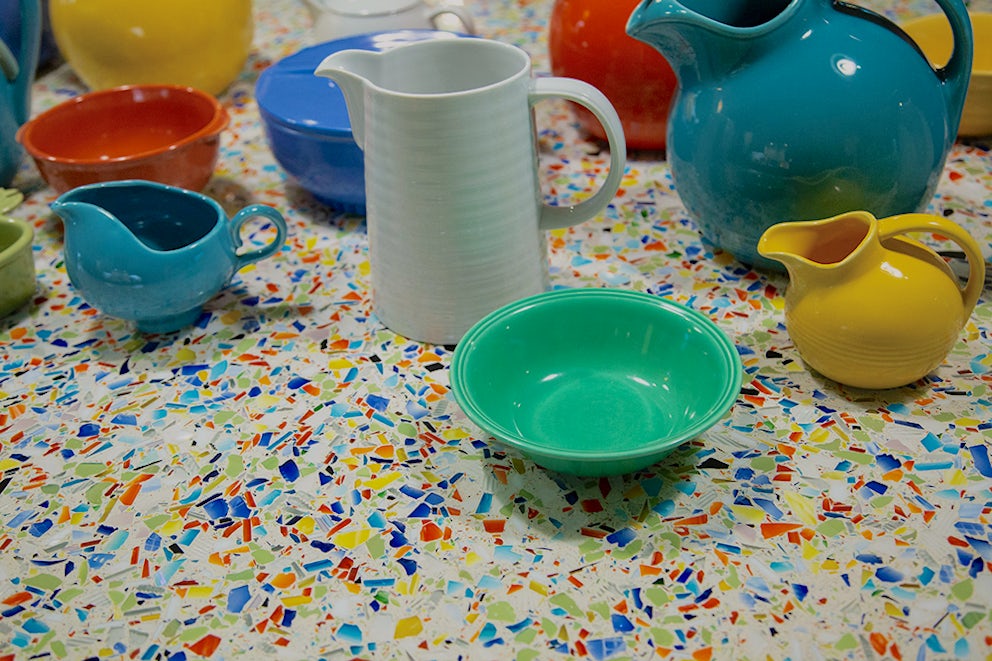 Local, sustainable or up-cycled materials
Preservation is a huge aspect of eco-friendly living. While new things may be more energy-efficient in their functions or the way they were produced, much of the time the carbon footprint is smaller if you use something already made as opposed to manufacturing new products or materials. Work with your builders to use as much local, sustainable or up-cycled material as possible. Using antique brick is a chic way to upcycle an important building material while adding lovely character to your home. Granite isn't the only cool option out there for countertops–the Owens's colorful kitchen countertop is made from recycled glass and cement. Source your building materials from nearby, or look for more sustainable options like bamboo flooring as opposed to hardwood.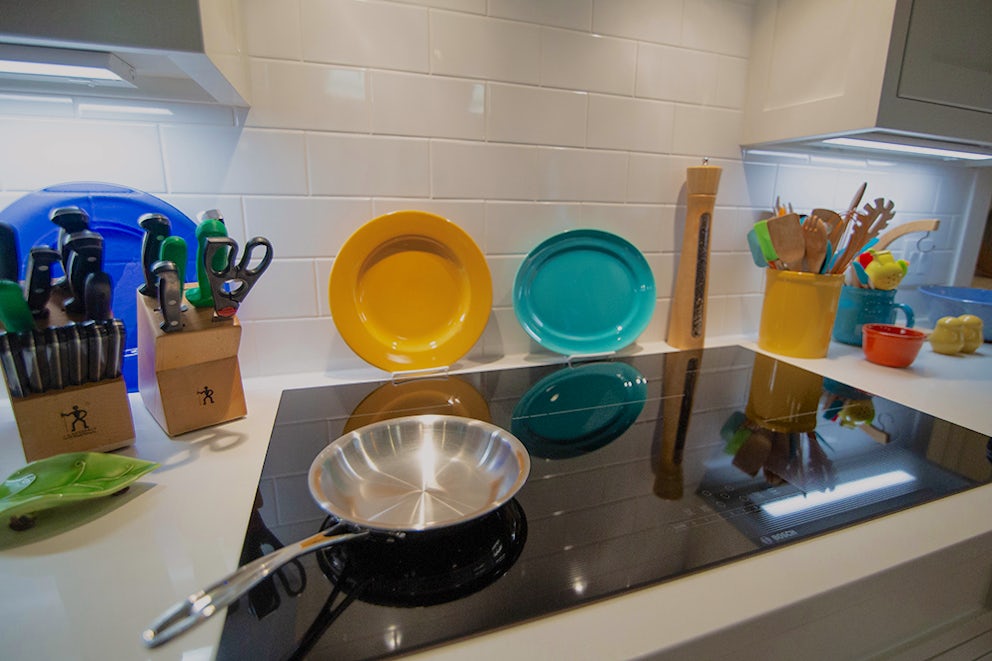 Energy-efficient appliances
If you're buying new appliances, go energy-efficient. The Owens have a magnetic induction cooktop, which heats up and cools down almost instantaneously, therefore cooking more efficiently and putting out less waste heat. Energy Star is a Department of Energy rating program in the United States that will help you determine whether an appliance is energy-efficient. Look for the Energy-Star sticker when you're shopping for appliances.

Bonus: Look for a WaterSense label to find plumbing fixtures with the best water efficiency, like low-flow toilets.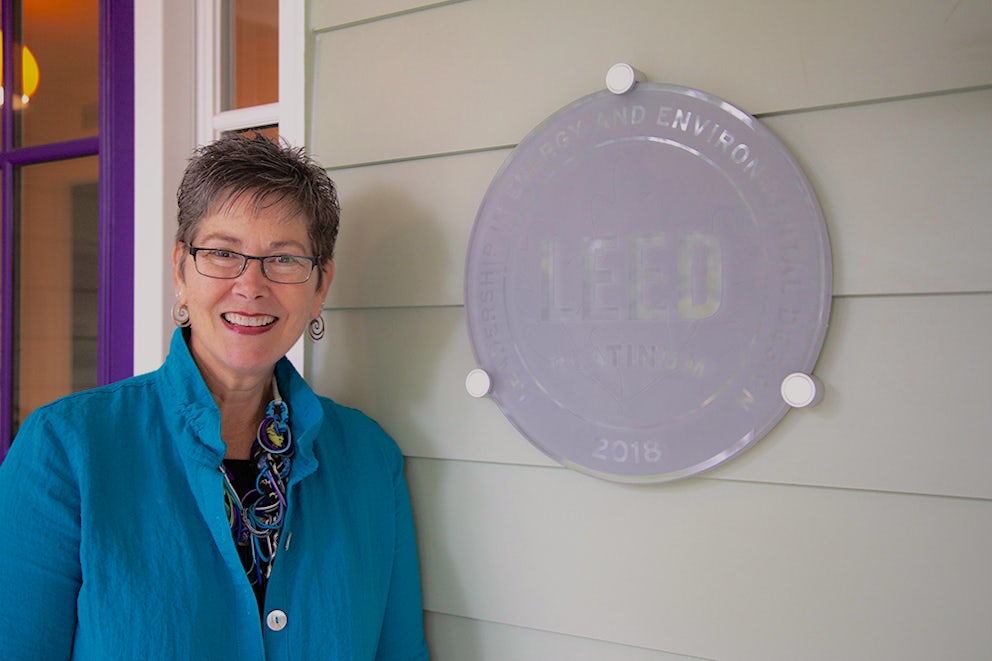 LEED certification
The Owens' home is ranked as Platinum (the highest currently possible) on the U.S. Green Building Council's LEED certification scale. According to their website, LEED, or Leadership in Energy and Environmental Design, is "the most widely used green building rating system in the world. Available for virtually all building, community and home project types, LEED provides a framework to create healthy, highly efficient and cost-saving green buildings. LEED certification is a globally recognized symbol of sustainability achievement."

The LEED certification is based on points, so every feature in your home that significantly lowers your carbon footprint, like the features listed above, add more points to your LEED score. Going for a LEED certification is a great way to get your mind around what specifically you need to do to make your home, and therefore your life, that much greener. "Someone's already done the legwork for you," points out Ann Owen. "It gives you something to shoot for."