Daughter of Heifer Founder Visits Arkansas Delta Farmers
Editor's note: Jan Schrock is a former Heifer director of church and community relations who is now retired and serving as an area volunteer coordinator in Maine. Jan is the daughter of Dan West, Heifer's founder. On June 13, Jan spend the day visiting domestic projects in the Arkansas Delta with Heifer supporters Jill Bloom, wife of Heifer CFO Bob Bloom; Becke Corkern; Ron Sherck; Senchel Matthews, Arkansas project manager for Heifer USA; and Perry Jones, Heifer USA country director. Following is Jan's report on the visit. Photos by Becke Corkern, former Heifer study tour coordinator and Heifer Ranch volunteer.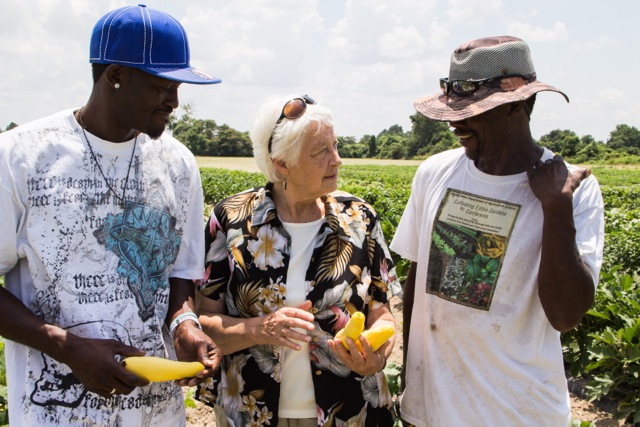 Six of us spent a day visiting Heifer's domestic project in the Arkansas Delta. We were privileged to have Perry Jones, Heifer's USA country director, as our guide and driver. Before our journey, we gathered for breakfast at The Root Café in Little Rock. The food was delicious, the café inspiring. All of their food is grown and purchased within a 50-mile range of Little Rock. It's exciting to experience locally grown food as a part of the growing "Grow Local" movement! I noticed a map of Arkansas with pins indicating farms and gardens that grow and sell produce to the café.
As we drove east on Route 70, Perry explained the goals of Heifer's work in the coming five years: to create community food enterprises for healthy, local, organic food and to create jobs in communities linking small-scale farmers to larger and diverse markets. The work in Arkansas is carried out in communities in five counties.
The Delta stretches west, deep into Arkansas from the Mississippi River, which is the eastern border of Arkansas. Extreme poverty exists in the entire Delta region. Perry, who worked with Heifer in Bolivia for many years, said he never saw poverty like this in South America.
Residents of the Delta, who are mostly African American, were initially brought to the region as slaves, and after the civil rights movement, they became sharecroppers, then agricultural day laborers. Now many are jobless, poor and malnourished (40 percent unemployment, and 25 percent of children are food insecure).
The Delta is one of the USA's valuable breadbaskets. Chief crops in the area are cotton, corn, rice and soybeans. In the past decades, farming has become big business. Now, one business man can manage 10,000 acres and employ 10 workers with enormous farm machinery, leaving thousands of former workers jobless.
On our ride, we saw several crop-dusters flying over the fields. We also saw enormous tractors that are able to pull a dozen plows and cultivators. We saw huge harvesters capable of gathering the crops. These big machines have replaced laborers, who, in the past, earned income for their work in the fields. Trees and fences have been removed, and big irrigation systems supply water during the dry months.
As we traveled, we saw signs of poverty: abandoned houses and buildings, boarded-up businesses, dirt roads and many run-down houses. The Delta is a food desert. Grocery stores are scarce. "Food" is purchased in fast-food chains and service stations. The only grocery store in our destination, Hughes, Ark., had gone under. A drug culture exists. Many have chronic illnesses. Youth often purchase a one-way bus ticket out of the Delta.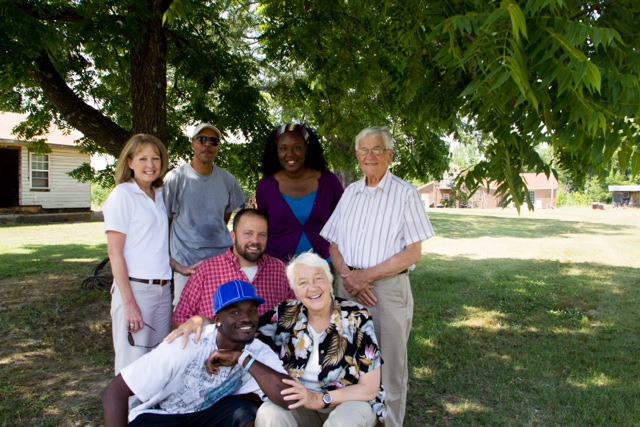 We enjoyed a delicious lunch of locally grown food. The sweet potato dish was outstanding. We learned sweet potatoes are a "high dollar product." Following lunch, we visited a large new community garden that is also a training model. We saw healthy crops and drip irrigation (hoses placed along rows).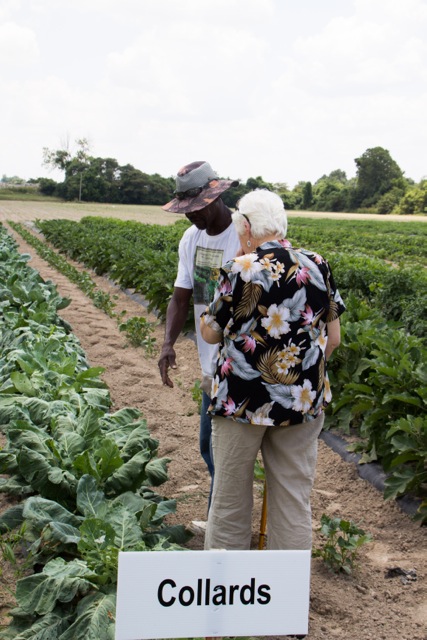 Next, we visited a large garden by the home of a local farmer, whose son has returned to help grow the garden and market the produce—a healthy sign that there is work for youth, one of the economic and social focuses of Seeds of Change.
Our last visit was to the home of 94-year-old farmer and his wife, who are growing "everything we need all year 'round." We saw a very healthy garden and learned that they can and freeze their produce. They invited us into their small home cooled by fans. They were happy to welcome us and witness their self-sustaining lifestyle. We saw a few similar homes and gardens on our way back to Little Rock.
Along the way, we stopped at an old building that likely was once a local café or bar. There was a big sign painted on the building: Pie Store. Inside, we saw two elderly women who were making their living baking and selling pies, using two big ovens in the back room. We each had a slice of their delicious chocolate pie with meringue about two inches high. This is the famous stop in DeValls Bluff at Mrs. Mary's.
Of course, we had many questions for Perry on our drive back to Little Rock. One remarked that she would love to come and work with the community gardeners. One said, "OK. I know now where to send my Heifer gift. I'd like to volunteer here." Another said, "I wish every Heifer volunteer and donor could witness what we saw today." I said, "I wish my father could see what we saw. I wish he was here." Another said, "Jan, perhaps he is here."
We were a tight little one-day community in a rented van, with more questions and much gratitude for Heifer's new work that joins with our nation's local food movement by assisting impoverished small-scale farmers in the Delta to work together to end their poverty, feed their families, learn growing and marketing skills, earn an income, become healthier, connect to larger markets and discover the strength of resilient communities. We felt so fortunate to have Perry as our guide, and we wish to thank the people of the Arkansas Delta for sharing their knowledge, their work and their vision for healthy families!