Dairy Farmer Cooperative Contributes to Food Security in Cameroon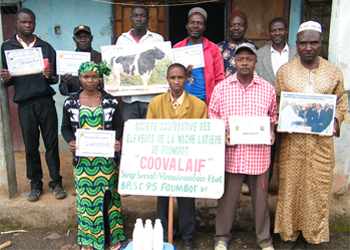 Members of the Societe Des Eleveur De Vache
Laitier De Foumbot agricultural cooperative
Written by Aaron Kaah |Freelance Journalist
Edited by Sali Usmanu | Field Officer | Heifer Cameroon
and Basam Emmanuel | Director of Programs | Heifer Cameroon
Photos by Ali Festus| Field Officer | Heifer Cameroon
Small-scale subsistence farmers in the Foumbot community of the Western region of Cameroon relied mainly on food crop production for their livelihoods for generations. With a decrease in production, caused from environmentally unfriendly farming practices and too much pressure on the land, a need to find alternatives became apparent. In 2005, two self-help groups (SHGs) came together to form an agricultural cooperative called Societe Des Eleveur De Vache Laitier De Foumbot (COOVALAIF). Members of this cooperative, like others who had learned of Heifer International Cameroon's assistance to communities, dreamed for such an opportunity to enable them to attain sustained increased crop-livestock production and financial security.
Today that dream has come true and COOVALAIF is among the top-ranking agricultural cooperatives in Cameroon, a great example of a farmer-driven cooperative initiative.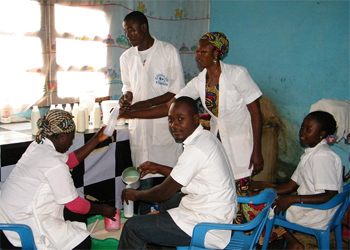 Milk processing at the cooperative's
central milk processing unit
In 2006, COOVALAIF applied for assistance from Heifer to help them engage in zero-grazing dairy farming. Heifer Cameroon screened and retained them the next year to help them realize their vision. After receiving hands on training on integrated crop-livestock management, group dynamics, sanitation and hygiene, gender equity and composting, farm inputs and financial support, 34 farm families demonstrated their acquired skills by constructing 34 dairy barns.
The joy and the dreams of the co-op members were complete when Heifer International Cameroon placed 34 heifers and three bulls with 34 farm families. Backed by the timely technical follow-up visits by Heifer staff as well as the Ministry of Livestock Fisheries and Animal Industries and the Ministry of Agriculture and Rural Development extension staff, the co-op forged ahead with shining successes in their small-scale family farms.
With the improved farming practice of fertilizing the land with cow dung harvested from the dairy farms, co-op members witnessed an unprecedented boost in the yield from food crop production. Within six months, average production leaped from a baseline of 976 pounds to 5,500 pounds for maize, 423 pounds to 754 pounds for beans and from 661 pounds to 1,219 pounds for Irish potatoes.
"I harvested 1,000 pounds of beans and 5,500 pounds of maize in just one farming season," co-op member Fokou Mama shared with joy.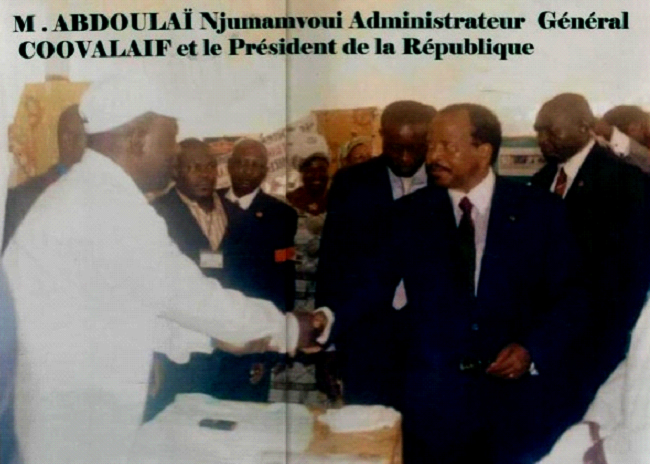 The co-op is recognized for its good work as
Abdolulaye gets a handshake from President Paul Biya.
Fresh milk production also witnessed an overwhelming increase, from an average of 125 gallons to 5,230 gallons. It is worth noting that this increase boosted household income levels on average by 485,000 Central African francs, or $970, generated from sales of agricultural produce and products.
Not only did these 34 farm families drink fresh milk daily, they also supplied hundreds of liters of milk to the co-op every morning for marketing. This earned them extra income that guaranteed them household food security, which is demonstrated by an increase in the number of households with year-round access to quality food from 14 percent at the beginning of the project to 76 percent in 2012. Animal protein intake also improved from 14 percent to 62 percent.
"This project has enabled us to not just improve our nutrition but to contribute immensely in enhancing food security in Cameroon through the dairy sector. Protein intake in our families that until now was consumed weekly is now consumed bi-weekly and milk consumption is now daily. We are very healthy as you can see," Rahimatou explained.
By marketing through the cooperative, members have eliminated the middlemen who used to buy fresh milk and food crops at cheaper prices, making gains from the farmers' hard labor over the past years. With timely financial contributions from the co-op members, the group bought equipment for processing milk into yogurt, butter and cheese, adding value to their products.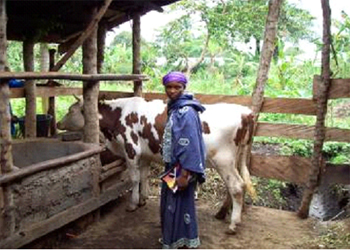 Co-op member Adija in her cattle stable
To promote the well-being of the members' animals, the co-op hired a veterinary extension worker to carry out routine treatments and vaccination, and to promptly respond to emergencies at members' farms.
Abdoulaye Njumavoui said, "This cooperative has projected us to an immeasurable success."
With its entire funding source coming from project gains made from the small-scale dairy project, this Heifer-supported cooperative in the town of Foumbot has made an impact in contributing to the economy of Cameroon and is a model for other farmer SHGs or cooperatives across the country.
The average annual household income for each farm family has increased from an initial 215,000 Central African francs, or $430, in 2008 to 1,500,000 Central African francs, or $3,000, in 2012. Besides improved nutrition, cooperative members use their extra income to sponsor children, attend to family emergencies or to buy land and diversify into poultry and goat farming. Each member gives at least 5,000 Central African francs, or $10, weekly to the revolving fund. When the cooperative started in 2007 their initial operational capital stood at 2,000,000 Central African francs, or $4000, but today it stands at 12,000,000 Central African francs, or $24,000.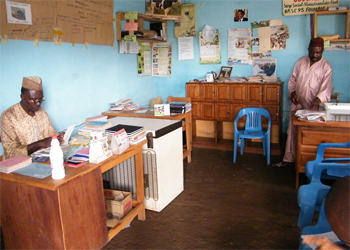 Administrative offices of the co-op
"We have plans to buy a feed ingredient and palm kernel processing machine for the cooperative in the near future, which will process and deliver quality feed at a cheaper rate to our members and other community members," Abdoulaye explained.
With funding from the Cameroon government, COOVALAIF built and furnished an office worth 25,000,000 Central African francs, or $50,000. Members of the co-op contributed 7,500,000 Central African francs, or $15,000, representing 30 percent of the amount as a project commitment and for ownership. In 2011, COOVALAIF won first prize during a National Agro pastoral show in Cameroon as the best small-scale farmer self-help agricultural cooperative in the country in the production, processing and marketing of milk and its by-products. As a sign of recognition in a bid to sustain food self-sufficiency through the dairy sector, the Government of Cameroon issued a Letter of Encouragement to this agricultural cooperative.
Success in the COOVALAIF has proven that livestock can help determined farmers improve not just their household livelihoods but can go beyond their community and help build a healthy environment through an integrated crop/livestock energy-recycling farming system. This further proves that intensive dairy farming is a feasible option for achieving and sustaining sustainable livelihoods.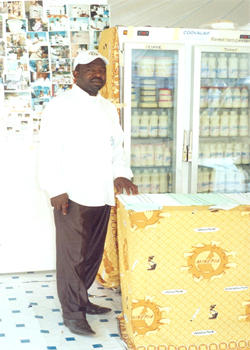 Abdoulaye with products from the cooperative
Membership in the co-op has increased from 34 in 2007 to 48 in 2012. The dairy-herd size has also increased from 34 heifers to 78 with more than 16 bulls sold by members for increased income. Some 21 farm families have put the Passing on the Gift® pledge (passing an offspring and knowledge on to another family in need) into action to trigger an entrepreneurial spirit within the community. This project has ushered in a new-found hope and love within households as family cohesion and self-employment is evident, and, as part of the strategy to promote gender equity, the co-op members engaged three women into the management committee.
Through the initiative of Abdoulaye, COOVALAIF mentored about 15 student interns from the Kounden Livestock Training Center and 12 others from a government agricultural training center in Bafang on improved practical dairy cattle management skills, milk-processing techniques, composting and marketing.
"I'm excited to participate in this training and enjoy the practical style in which these farmers and their leader are able to teach us animal husbandry," Yijueyum Ngoupayou, an intern from Kounden livestock training center, said.
This cooperative is a reliable partner for these institutions in building future livestock professionals in Cameroon, contributing positively towards the fight against food insecurity.
Despite the region's negative effects of climate change and a prolonged dry season that have affected food crop production, members of the co-op are very hopefully meeting their production capacities. In Honor of Heifer Cameroon's support, COOVALAIF members have given their dairy animals symbolic names like Joy, Peace, Love and Dan West to immortalize this fulfilled dream. The co-op's ability to influence the market price for farm produce in the entire region has enabled these small-scale farmers to have a positive impact on Cameroon's economy by contributing to food security through the dairy sub sector.