Climate Change and the Hungry
In the last few years we've seen how the changing climate has affected vulnerable people and places. Famine was declared in Somalia last year after the annual rains failed. Millions more are on the brink of famine in the Sahel right now for similar reasons. Food prices jumped at the beginning of 2012 after an extremely cold winter in Europe drove up the price wheat and extreme heat in Southern Africa did the same for maize and other crops.
If these trends continue, it's possible that the number of hungry will rise by 20% according to the World Health Organization. The numbers were announced at last week's Rio+20 summit in Brazil.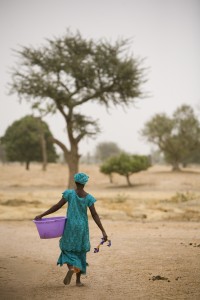 From the article: The WHO analysis shows that of the 495 million women and children under age 5 who are undernourished, 150 million live in Africa, 315 million in Asia and 30 million in Latin America and the Caribbean. It expects about 465 million more will live in developing countries by 2020, boosting food demand.
While it is important that those who need emergency aid receive it, news like this requires planning for the long term. Heifer International focuses on exactly that: long-term solutions that enable small farmers to be better prepared when crises hit.
Read our other posts on the Rio+20 Summit and why it is important to Heifer here.