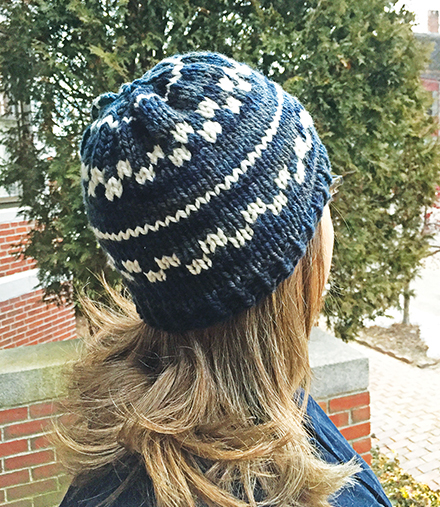 Designed for wool advocate and NYT-bestselling author Clara Parkes, this hat is an easy project that is suitable for all skill levels. Use the free pattern below and add this hat to your winter wardrobe or get started on your holiday gift list (everyone loves getting something homemade)!
Clara's Hat
Designed by Chris Roosien of Briar Rose Fibers

A Note From Clara Parkes: Chris dyes gorgeous yarns by hand and sells them through her business, Briar Rose Fibers. This simple, cheerful, thick and cozy hat is a perfect way to say "I love you" to someone. For the sample shown here, Chris used my Clara Yarn Cormo 3.0, combining one skein of undyed, straight-off-the-sheep white with one skein that she custom dyed for me. By the time you read this, Cormo 3.0 may be gone, but Briar Rose Collett is a perfect alternative.


Pattern
Materials
240 yards (219) bulky-weight wool in equal amounts of two contrasting colors.
Size US 10 (6mm) circulars or DPNs. This is a big, comfy hat, but the circumference can be easily modified simply by using US 9 (5.5mm) needles instead.
Yarn Sources
Gauge
14.5 stitches per 4 inches in stockinette working in the round.
In main color (MC), cast on 68 stitches. Join stitches, being careful not to twist.
Begin rib pattern: *K1 through back loop, p1*, repeat until work measures 1.5 inches (3.8cm).

Work 4 rounds in stockinette.

Begin checkerboard pattern:
Rounds 1-2: *K2 in MC, k2 in CC*, repeat to end of round.
Rounds 3-4 (changing colors): *K2 in CC, k2 in MC*, repeat to end of round.
Round 5-8: Knit all stitches in MC.
Round 9 (contrast stripe): Knit all stitches in CC.
Round 10-13: Knit all stitches in MC.
Change back to main color and begin crown decreases as follows:
Round 1: *K3, k2tog*, repeat around.
Round 2: *k2, k2tog*, repeat around.
Round 3: *k1, k2tog*, repeat around.
Round 4: *k2tog*, repeat around.
Repeat Round 4 until 6 stitches remain.
Using a darning needle, thread the tail through those six stitches and secure snugly into the crown of your hat. Darn in all remaining ends and enjoy!