Just a couple of years ago, Klang Savuth and her husband, Kid Moa, grew barely enough rice to feed their family, and they borrowed hundreds of dollars a year to meet the rest of their needs. Now the couple are innovators and successful entrepreneurs in the community of Kok Komeat, Cambodia.
In March 2014, Klang and Kid joined Heifer International Cambodia's Improving Income and Nutrition Through Community Empowerment (INCOME) program, and they received 20 chickens, vegetable seeds and training. After passing on 30 chickens to another family, Klang and Kid eventually increased their flock to 200 birds. They invested some of the profits from the chickens in a sow, and now they are raising 23 more pigs. All of the remaining space around their house is filled with greens, onions and other vegetables that they eat and sell. The most recent business venture for the family is a general store, where they sell drinks, snacks, toothpaste, shampoo and other goods.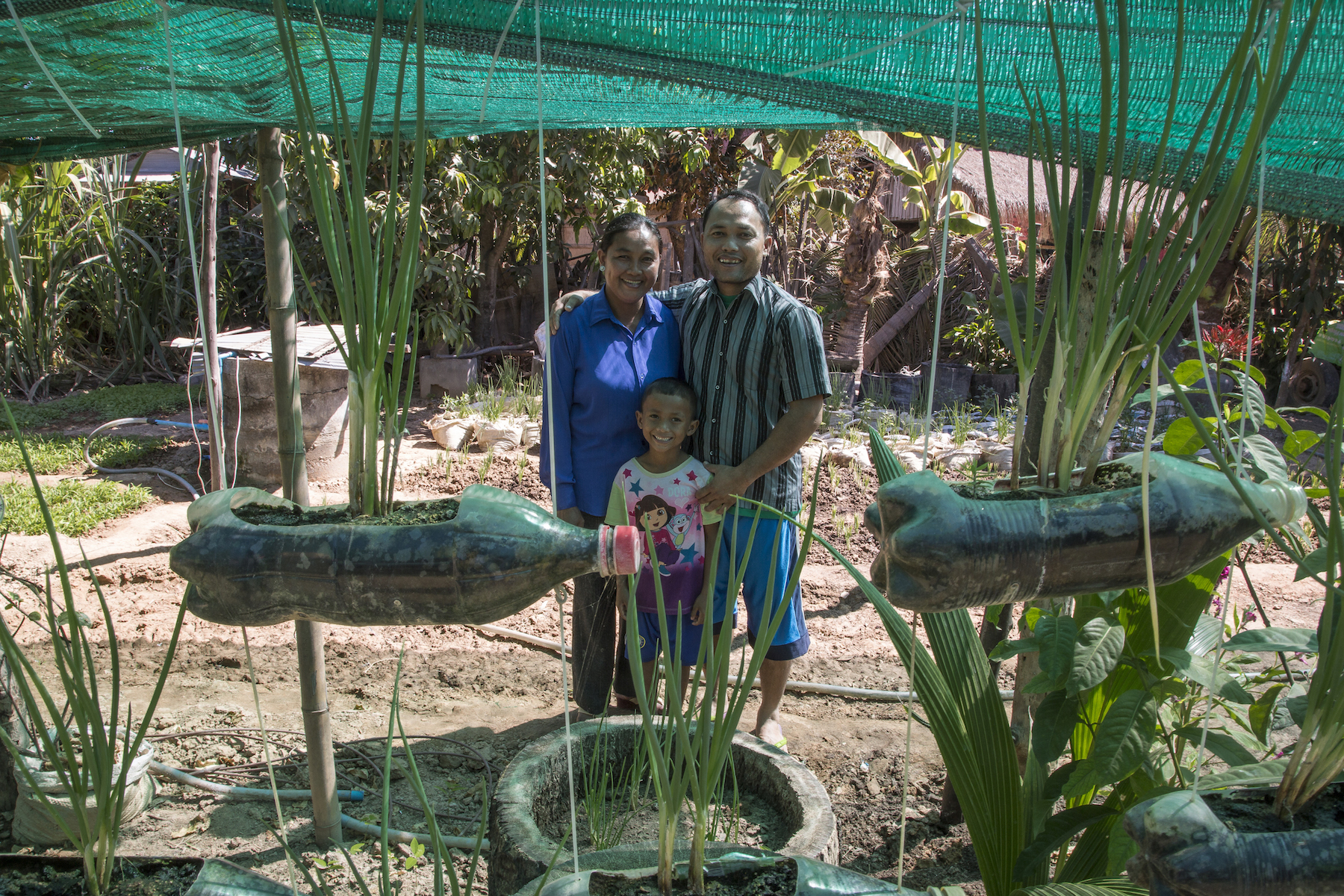 A lot of the couple's success can be attributed to their aptitude and voracity for learning. Klang attends all of the Heifer training courses from the project, and she passes the knowledge and materials on to her husband.
The first training Klang attended was held in Siem Reap, a couple of hours from her home. During a presentation, she learned about different ways to grow vegetables—including in a plastic bottle.
"I had an idea," she said. "I had seen a lot of coconut trees cut in my village and just left there." During the first break, Klang called her husband and asked him to gather all the discarded coconut trees. When he asked what they were for, Klang, in a hurry to rejoin the training, answered, "Get it first, I'll tell you when I get back."
Back at home, the couple hollowed out the trees and converted them into planters, which have helped conserve space, water and fertilizer. "I was so excited that everything that we put in them grew so well," Klang said. She also maximizes space by adopting the plastic bottle idea, hanging them between her garden plot and her home.
Fairly recently, climate change and deforestation have made farming more difficult in Kok Komeat. Rain is not as reliable as it used to be, and crops wither in the sun more often. To combat these changes, Klang learned in other Heifer trainings how to use rainwater collectors and a water-conserving drip irrigation system. Black netting above the crops allows enough sun in to nurture the plants while keeping the temperature cool enough to keep them alive and thriving.
A large incubator, another technology the couple adopted after attending trainings, is part of the reason for the success the two have had with their poultry business. With the incubator, they can warm 200 eggs at a time.
With demand high for their products, Klang and Kid are looking to future expansions with possible additions of land and a fish pond. "We're also planning for biogas, so we can have our own electricity," Kid said.