As you drive north along the coastal Pan-American Highway in Peru, the landscape soon becomes monotonous: The Pacific Ocean on the left, a vast desert on your right. Little else punctuates the landscape; no green vegetation, little to no housing, and few animals. What you'll mostly find is heat, poverty and despair. You'll find families lugging gallon buckets of water for miles to bathe and drink. This area of northern Peru is called Piura. The capital city, also called Piura, is known as the "City of Eternal Heat," and they aren't kidding.
But Piura isn't just a desert. And it has more to offer than just heat and beaches: A woman named Maximina.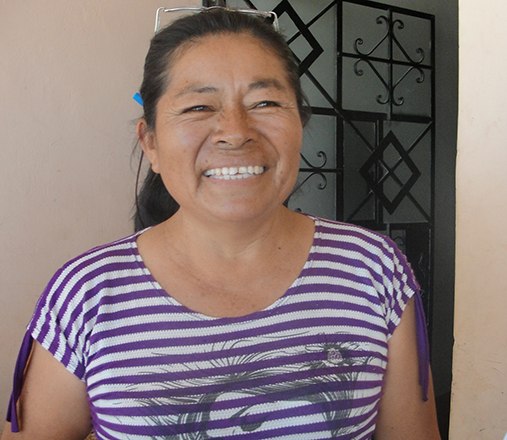 While Maximina may not be able to transform the desert into lush, fertile farmland, she is making a huge impact in the lives of people who live in this arid land. Maximina leads a women's group they have named "Soy Una Bendición" which means "I am a blessing." Anytime you arrive to Maximina's house you'll find her honey displayed from her Heifer bees. She always keeps it in plain sight to sell to anyone who passes by.
Maximina tells us how her leadership path began. She was a very shy woman who mostly did housework and rarely spent time with people in her community. She felt no need to be engaged in the town's problems. One day though, her children's school needed a chairperson for the parent's committee and someone suggested Maximina. She was hesitant at first and felt like she had too much to do at home, but something inside of her told her to accept, so she did. And that changed everything.
One leadership position grew into another. She began to develop a reputation in her community as a strong leader and strong woman, especially with the other mothers.. Eventually, she became the president of a social program to help end hunger in the Nuevo Tallán community. Through this and other experiences, Maximina began to realize the importance of working together for the common good. She began to realize and believe that she was born with a drive to do more for her community and for herself.
And right on time, Heifer arrived to her community through the Piura Umbrella project.
This Heifer project has a strong focus on the development of local partnerships to promote food security in the area. Maximina liked this. So with her newfound leadership skills and confidence, she formed her own association to participate in the project. Maximina recruited other mothers in Nuevo Tallán who were interested in the Heifer trainings. But before they could attend, local law required that their association be formally registered. No one has ever done this before, so Maximina did the research and leg work and made it happen so that she and the other women could participate in the project.
Thus, the association "Soy una bendición" was created and Maximina and her partners began to attend Heifer trainings. They learned about animal breeding, honey production, agroecology practices, but best of all, they were trained to be leaders.
"I didn't know how many valuable things we all had, but weren't taking advantage of them," Maximina shared, referring to the potential the women had as a group but hadn't developed before the project.
The initiative that gave the women great satisfaction and a sense of accomplishment was the training in honey production. The local locust honey and sapota honey are popular and healthy in Piura. Once the women learned how to produce this, they all began to sell it and increase their income. The name of their honey is "Delights from the Dry Forest." They even had a chance to participate in a famous food fair in Lima called Mistura, which brings hundreds of thousands of food connoisseurs to try different local fare. The women sold huge quantities of honey..
On more than one occasion, Maximina has been asked to speak to other communities about her experience and knowledge. "I like that more and more people are aware of the change they can make in their lives if they care to learn and put effort into what they do," she says.
"The best thing I was able to achieve through the different business I've started was to improve the quality of life for my children. I have three children and I've been able to feed them well and give them good education. My husband also helps with the expenses and the housework, but I'm more independent now and have my own initiatives".
When asked about her future, she can't help but blush, "I consider myself a businesswoman now and really like talking with big authority figures." She is very enthusiastic about the future and the businesses she's started.
The future? "I have no doubt that I will succeed."
Story submitted by Diana Alemán, edited by Jessica Ford.
Photos by Jessica Ford