It's the holidays, and that means lots of parties where you get to eat all the foods and feel terrible about it come January 1.
Whether you're an aspiring chef who is looking for new recipes to take to your family's dinner table, or you reluctantly signed up for your office potluck and have no idea what to make, we've got eight recipes that can help you out.
All the recipes come from our learning centers — past and present — and will spice up any festive gathering.
This list starts with appetizers. If you're like me, these are the stars of the show. Forget the turkey and dressing, I'm all about dips and finger foods. The first recipe is a twist on a classic whose color is sure to delight. But we've added a few impressive side dishes and have even thrown in some desserts for good measure. If you're in need of a main dish, you're clearling hosting this potluck. GET TO WORK. Just kidding. We even have you covered there, too, it's just not showing up on our list.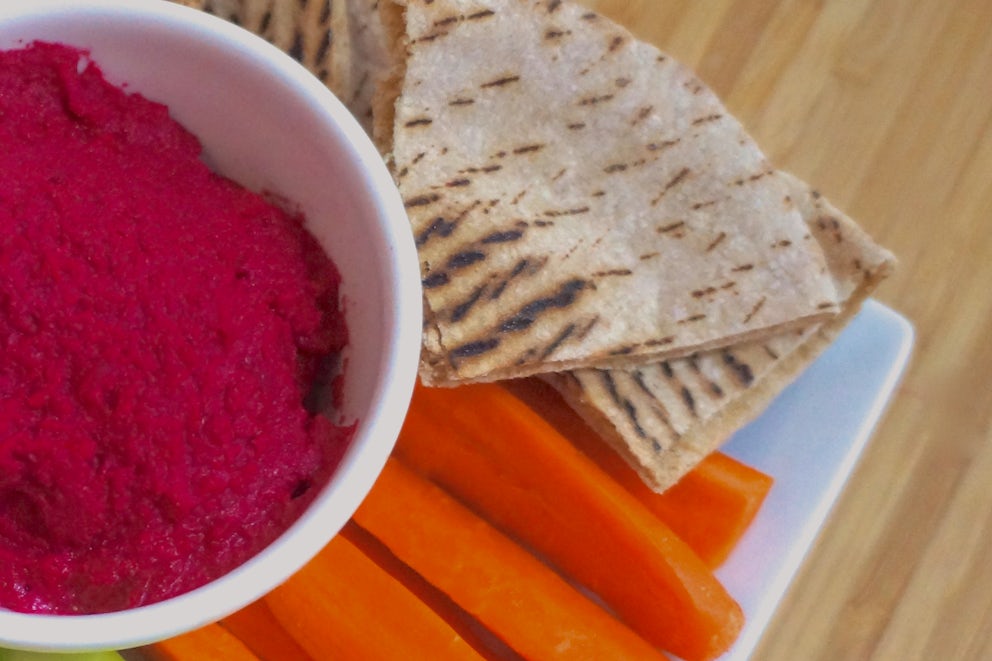 Beet Hummus
The recipe came courtesy of the excellent chefs at Heifer Farm, who had a special knack for making the very most of their harvests. This also happens to be gluten-free AND vegan, so you'll get bonus points from the folks at the party with dietary restrictions.

Ingredients
½ pound beets
1/3 cups tahini
2 garlic gloves, chopped
¼ cup lemon juice
¼ teaspoon fine sea salt
pinch cayenne pepper
Instructions
1) Wash and peel beets
2) Boil beets until soft and rough chop them once cool enough to handle
3) Pulse garlic in food processor to rough chop it
4) Add all other ingredients to food process and process until very smooth, 2 to 3 minutes, stopping occasionally to scrape down the sides of the bowl

Serve with carrot sticks, crackers, etc.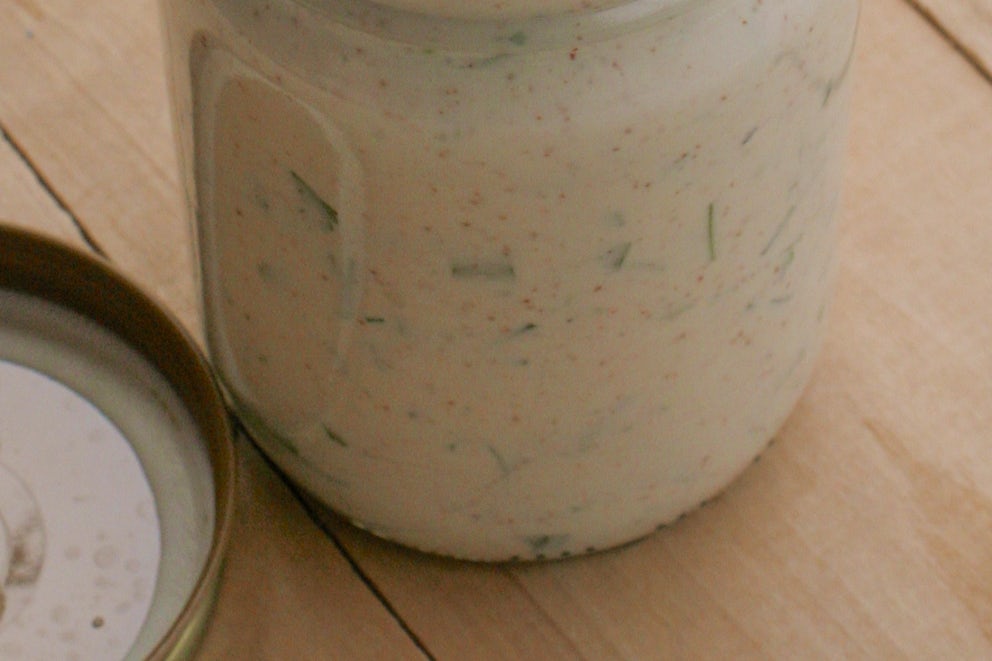 Veggie Tray with Homemade Ranch Dressing
If raw carrot sticks and celery are more your idea of cooking and you've already bought a veggie tray as your contribution, well, you're in luck! We have a recipe for homemade ranch dressing, so those veggies don't show up naked and embarrassed.


Ingredients
1 ½ tablespoons lemon juice
½ cup milk
1 ¼ cup sour cream
1 large garlic clove or 2 garlic scapes, minced
3 tablespoons fresh parsley, chopped fine
2 tablespoons fresh dill, chopped fine
½ teaspoons onion powder
¾ teaspoon salt or to taste
½ teaspoon black pepper
Instructions: Combine the lemon juice and milk and let sit a few minutes until the milk curdles a bit (like buttermilk). Mix the milk mixture with the sour cream in a bowl and whisk to blend well. Add the remaining ingredients and whisk again until well combined. Taste to adjust seasonings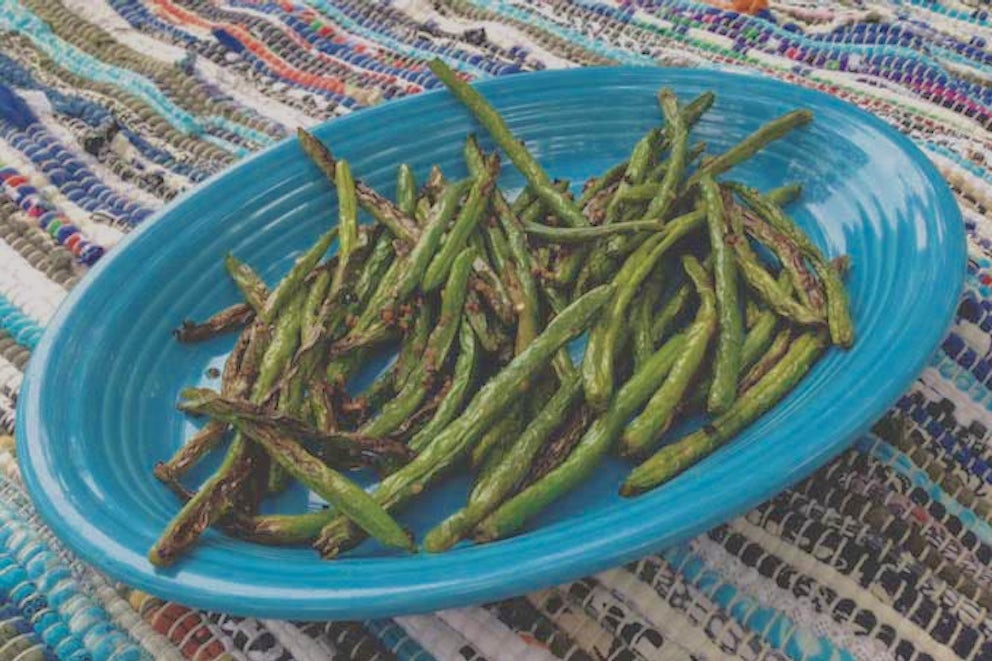 Green Beans with Garlic
I hear there are two kinds of people in this world: those who like green bean casserole and those who don't. If you're one of the latter, try this dish instead. It can even help keep the vampires away!
Ingredients:
2 pounds fresh green beans, cleaned and trimmed
2-4 cloves of garlic, chopped
Olive oil for drizzling
1 teaspoon salt
½ teaspoon pepper
Instructions: Preheat oven to 400 degrees. Combine green beans and garlic and drizzle with oil. Massage until all the beans are coated. Sprinkle with salt and pepper. Place in single layer on a sheet pan and cook 15 to 20 minutes, or until desired tenderness is achieved.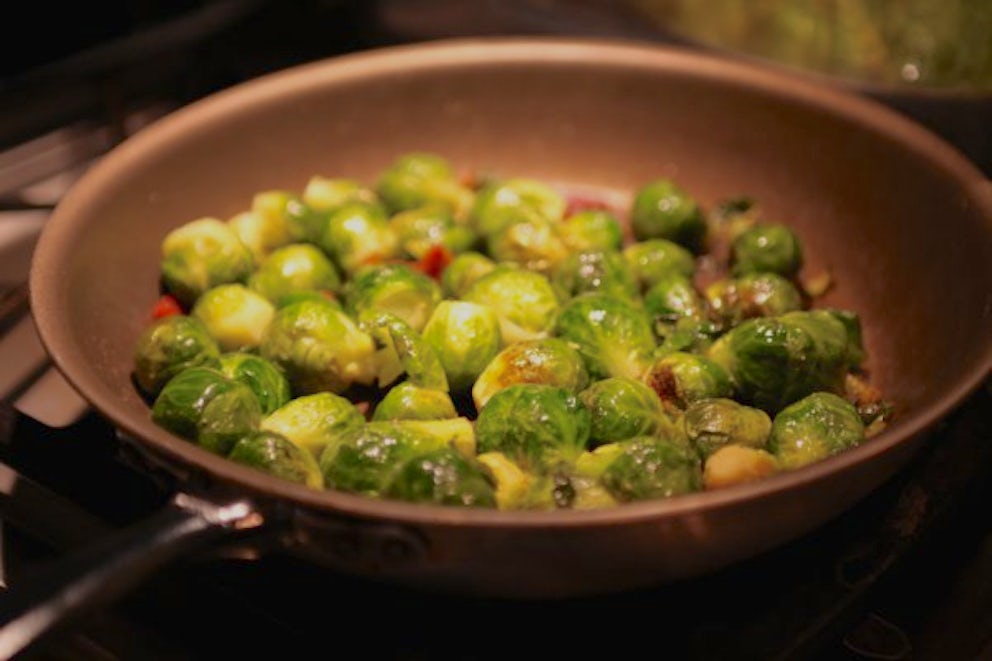 Brussels Sprouts with pancetta and balsamic vinegar
A staple on holiday tables around the country, but a bane to children in many a household, Brussels sprouts have long been relegated as the "you have to eat these, they're good for you" dish. But with a little pancetta and balsamic vinegar? They're divine.
Ingredients:
1 cup brussels sprouts
2 tablespoons diced pancetta or bacon
2 tablespoons balsamic vinaigrette
Salt to taste
Instructions: Place the brussels sprouts in a large pot of salted boiling water. Cook until tender, about five minutes. Plunge the sprouts into ice water, drain and cut eat sprout in half. Cook the diced pancetta in a skillet over medium heat until it begins to brown, about four minutes. Add the sprouts and season with salt and pepper. Remove from heat, add the vinaigrette and serve.
5. Sweet Potato Soufflé
Here's a controversial recipe from our archives. Readers either loved it or hated it. We'll let you be the judge.
Bente's Sweet Potato Soufflé
For the base
3 cups cooked, mashed sweet potatoes
1 cup sugar
½ teaspoon salt
2 eggs
1/3 stick melted butter
½ cup milk
1 teaspoon vanilla
For the topping:
½ cup brown sugar
½ cup flour
½ cup chopped nuts
1 stick butter
Instructions: Mix all base ingredients well and pour into a greased baking dish. Mix topping ingredients together in separate bowl. Spread over top of casserole, covering the entire dish. Bake at 350°F for 45 to 60 minutes.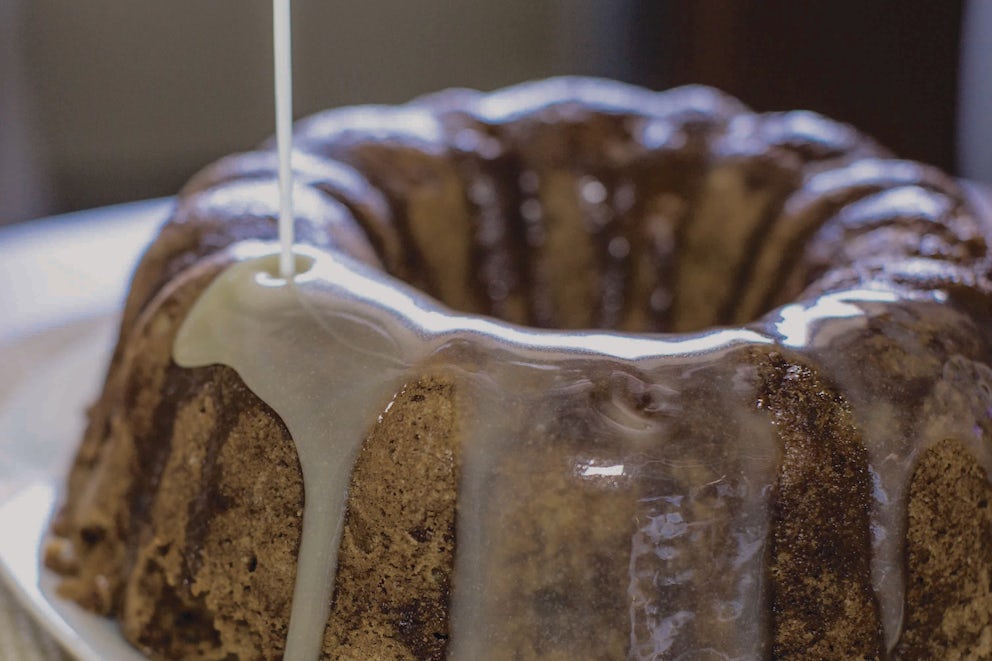 Mrs. Linda's Apple Cake
Apple cake. Perfect for the season. And when you add a bit of rum (or rum extract), it's sure to warm you right up.


Ingredients:
4 cups chopped apples
2 cups sugar
3 cups flour
2 tsp. baking soda
½ tsp. salt
1 cup vegetable oil
2 eggs
1 cup nuts and/or raisins
2 tsp. vanilla
Directions:
Preheat the oven to 350 degrees. Mix chopped apples and sugar and let sit for a half hour. Add the rest of the ingredients and stir until will mixed. Pour batter into a Bundt pan that has been greased and floured. Bake for 1 hour and 15 minutes
Glaze Ingredients
1 cup sugar
½ cup melted butter
½ cup evaporated milk

Directions:
Mix sugar, butter and evaporated milk over low heat until sugar is disolved. Add 2 teaspoons rum extract. Mix well, then pour over your cooled apple cake.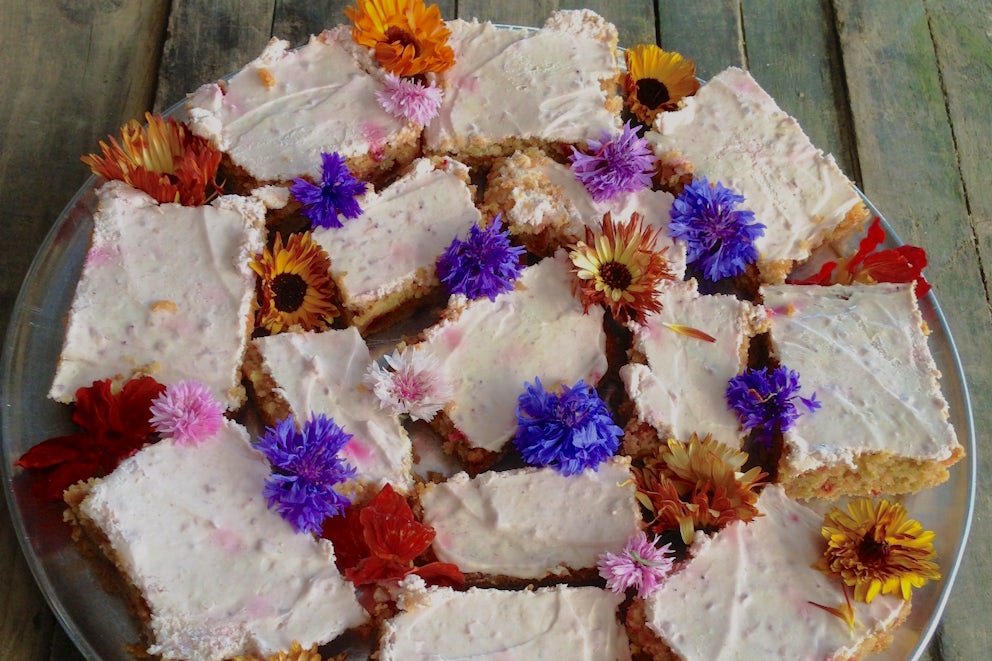 Garden Patch Cake
A cake that's also a vegetable? Ok we admit it, it's a bit of a hard sell. But try it! You just might like it. And so will the children, as long as you don't mention the squash and beets until afterward. The alternative is to take this to that one party that you hate going to but are obligated to attend.
Ingredients
1 1/2 cups (3 sticks) butter, melted
6 eggs
2 1/2 cups sugar
1/2 tablespoon vanilla
5 cups shredded vegetables*
3 cups flour
1/2 tablespoon cinnamon
1/2 teaspoon salt
1 teaspoon baking soda
1 tablespoon baking powder
*The shredded vegetables can be any combination of:
Carrots
Parsnips
Beets
Zucchini
Summer squash
Directions
Preheat oven to 350 degrees and oil a baking sheet or cupcake pan.
Melt butter.
In a large bowl, mix together the melted butter, eggs, sugar and vanilla.
Mix shredded vegetables in with wet ingredients.
In a separate bowl, combine flour, cinnamon, salt, baking soda and baking powder.
Add dry ingredients to wet ingredients.
Pour batter into pan, spreading it all the way out into each corner or filling each cupcake 3/4 full.
Bake for 25-30 minutes or until cake is golden and springy, and a toothpick inserted in the middle comes out clean. Let cool completely before frosting.
Notes: This cake is good with cream cheese frosting or just with a dusting of powdered sugar over the top.
Gingerbread Cookies
And finally, a holiday classic: gingerbread. Bonus points if you use the Heifer cookie cutter, but we'll understand if you go with something more traditional or festive for your occasion.