In This Article
One year ago, two hurricanes made landfall in Central America in the span of under two weeks.
Honduras — a nation already contending with poverty and food insecurity — bore the brunt of the devastation.
Many Heifer Honduras farmers suffered losses to their livestock-based livelihoods as a result.
One farmer, a police-officer-turned-beekeeper, lived through this setback and rebuilt with Heifer's help.
One year ago, on Nov. 3, 2020, Hurricane Eta made landfall in Nicaragua as a Category 4 storm. The swirling system moved — and then stalled — over neighboring Honduras, where its torrential downpour caused saturated soil on mountainsides to loosen and give way. Rivers swelled and overran their banks. Mud caked town centers. Floodwaters destroyed bridges, roads, schools and clinics.
Then, a mere 13 days later, it happened again.
As thousands of Hondurans scrambled to find shelter and basic needs, a second Category 4 hurricane — Iota — struck the country. According to the government of Honduras and the World Bank, the two storms affected more than 4.5 million people, claimed 99 lives and caused losses in up to 80% of the country's agricultural sector, including decimating the agricultural assets many Heifer Honduras livestock farmers depended on for income.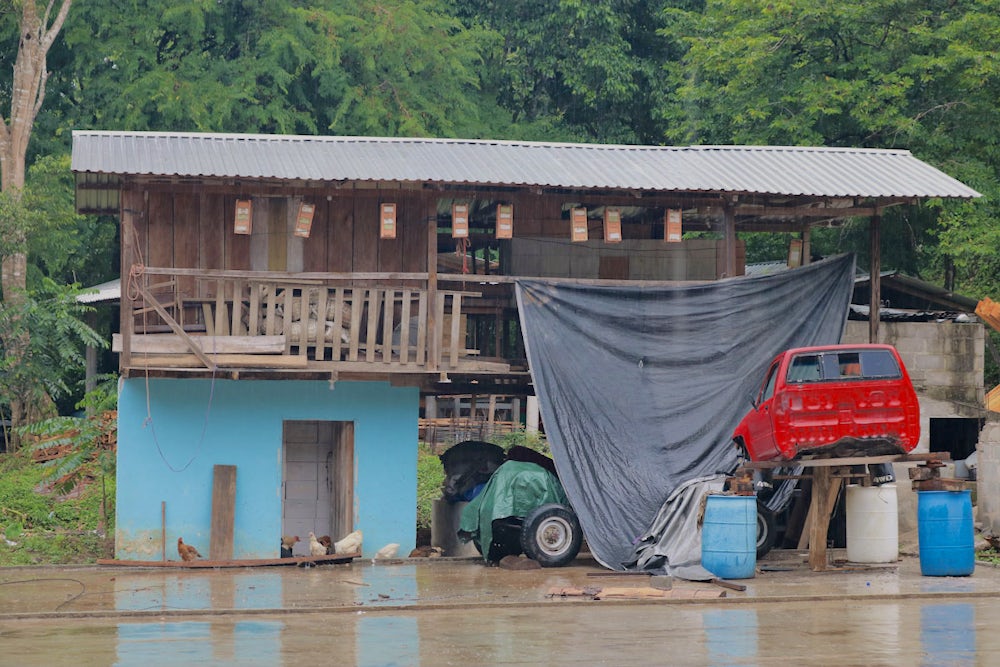 That was certainly the case for beekeeper Iván Edgardo Rodríguez Teruel, who had recently started beekeeping with Heifer Honduras' support.
"My house is located right where a small creek meets a river, and it was always a blessing to have these water sources so close to us," said 39-year-old Teruel. "But things changed when the storms came. We lost everything."
Just as Heifer Honduras introduced him to beekeeping, they also helped him rebuild his business after the storms ripped it away.
Before the Floods
When a criminal shot him in the leg, Teruel's career as a police officer came to an abrupt end. Disheartened and wounded, he returned home to San Luis, Santa Bárbara, Honduras, in 2019.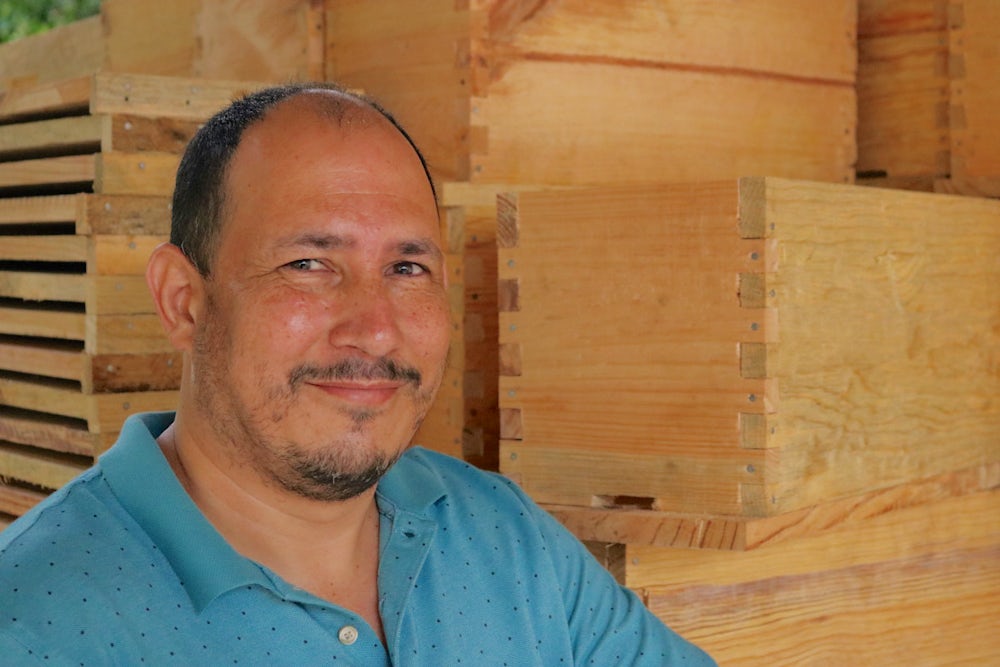 "The gunshot wound left me with a permanent injury," he recalls, pointing to his affected leg. "I could no longer work as a policeman because of my disability so I came back to San Luis thinking I could get ahead as a coffee farmer, which had always been my family's activity."
The rural community of San Luis, in northwest Honduras, is prime coffee growing territory. Extensive vegetation and large mountains surround this small municipality of just over 25,000 inhabitants, where the combination of climate, abundant water and fertile land have been ideal for agriculture for decades.
"Even though I knew that things with coffee were not easy, I planted a few parcels," Teruel said. "But a swarm of bees wouldn't let me work." Every time he attempted to tend to the soil, the bees would become aggravated and drive him off.
"I called a beekeeper friend for advice and that's when my life changed."
His friend told him about Heifer Honduras' beekeeping training in the community, part of its Leveraging Success project. Though Teruel attended the talks hoping he'd learn how to get rid of the bees on his land, his mind soon changed: Through Heifer's training, he came to understand bees as an income-generating opportunity and strategy to protect the environment.
With additional technical support, Teruel bought his first hive and began specializing in hive management to produce high quality honey. Because of the cost of materials, he even decided to set up a small carpentry workshop to build his own beekeeping supplies.
Then November 2020 arrived, the storms made landfall in a period of less than two weeks, and the nonstop rains caused nearby rivers to swell. Waters up to 5 feet in height flooded Teruel's property twice, and strong currents swept away his carpentry workshop and much of the coffee plantation.
The Recovery Effort
"One of the first visits I received as the floods passed was from Heifer Honduras," Teruel said. "Even though most of the hives were safe, I no longer had anything to work with since all my tools and supplies were gone and the ones that were left were in bad condition."
Heifer Honduras immediately began supporting him with new machinery to get his workshop up and running again. In a short time, Teruel had rebuilt his carpentry station and equipped it with a slew of new tools, including a single-phase motor, an arm saw and a grinder, which allowed him to start manufacturing materials for his apiary again.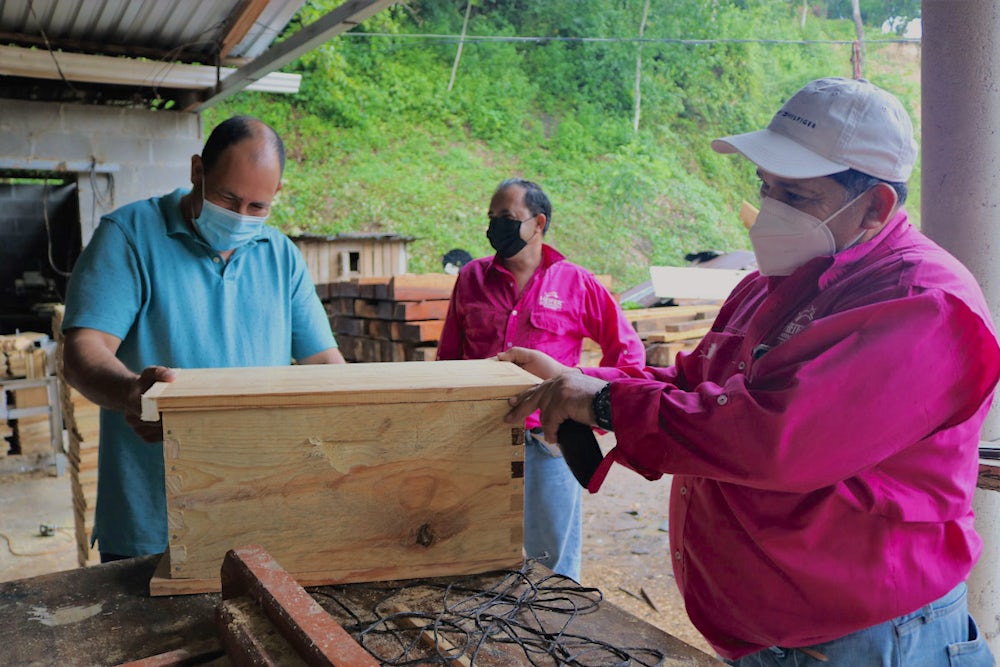 And he wasn't alone. Heifer Honduras supported more than 1,000 beekeepers and their families with food and beekeeping supplies after the disaster.
"The support of Heifer International has been key in the wake of disasters," said Marco Machado, senior director of Heifer Honduras. "Not only in providing emergency food, but also in technical assistance and funds to ensure productive infrastructure across the value chains of livestock, coffee, honey and cocoa."
Since 1998, Honduras has ranked among the world's most vulnerable places affected by extreme weather events like landslides, droughts and floods. As the warming climate spurs record rainfall of recent hurricanes and an expected uptick in disasters, Heifer's continued work helping farmers earn a living income and saving for emergencies is important for future resilience.
Earning a sustainable income to persevere through the unexpected is something Teruel understands intimately. And he's picked up where he left off before the storms' destruction.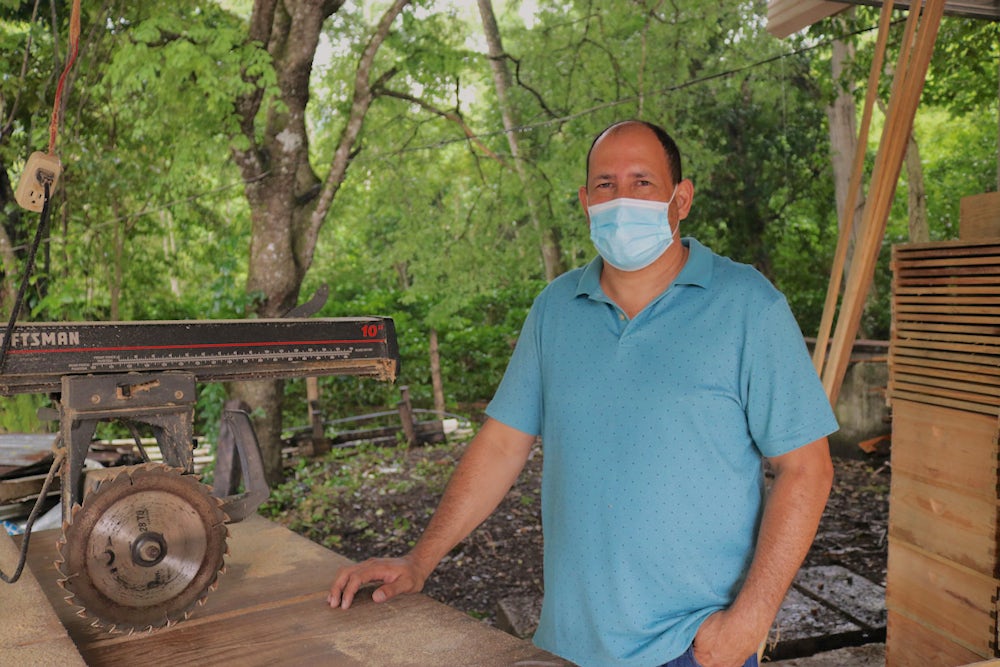 "I started with four hives," Teruel said. "Today I have almost 200. My goal is to have at least 500 by the end of this year."
With his newly renovated workshop, Teruel manufactures thousands of beehive components, including boxes, frames and lids. And with Heifer's guidance, he transitioned to selling these materials in the area to supplement his income.
"Beekeeping is profitable and it is a noble occupation," Teruel said. "I am no longer just a retired police officer. Now I am a beekeeping businessman, who not only produces honey and other bee products, but also manufactures beekeeping materials and supports fellow beekeepers in the area."