To farm is to work hard. Sowing seeds, watering crops, and keeping livestock housed, fed and healthy are all demanding — and important — tasks.
The smallholder farmers who do these every day are foundational to the global food system, producing one-third of the world's food. And their sustained success is core to Heifer's mission mobilizing communities behind a shared vision of prosperity. Working toward dignified futures means equipping producers with training and resources to pull themselves and their families out of poverty.
Increasingly, technology is driving change across the agricultural sector — and these agritech innovations have profound and far-reaching effects. In Africa, for example, technology is poised to create opportunities for young people who might otherwise ignore the farming sector. And worldwide, technologies increase productivity, improve livelihoods and stimulate economic growth.
In Heifer's project areas, farmers are using tech — both cutting edge and commonplace — to hone their production and grow their incomes.
Innovative Banking in Kenya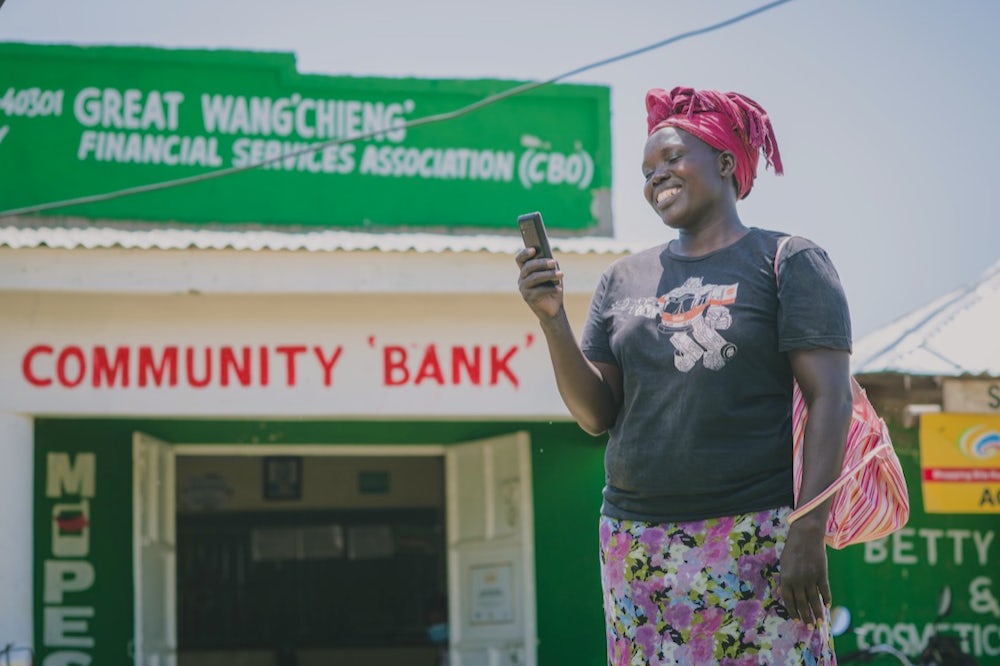 In western Kenya's Homa Bay County, the Great Wang'Chieng producer organization, which is supported by Heifer and Cargill's Hatching Hope Kenya project, runs a community bank that connects local farmers with financial tools like loans and savings accounts — and they're doing a lot of it digitally.
Using an application on their phones, members can quickly and easily withdraw money from and deposit funds into their accounts. The use of mobile banking lets smallholder farmers conveniently access their finances at the touch of their fingertips.
The deceptively simple technology makes all the difference for farmers like Hellen Owuor, who grows maize, cassava and ground nuts alongside her poultry flock, and uses her income from farming to cover her child's university fees.
"I use mobile banking services to pay for services and also to deposit money in my bank account," said Owuor.
Improving Quality in Guatemala
For cardamom farmers in Guatemala's Alta Verapaz department, the path to earning a fair price for their much-sought-after product is laden with obstacles: unreliable transportation and limited access to roads and processing equipment all make getting the spice to market a challenge.
And it's also a race against the clock: Cardamom rots within 12 hours of harvest if the drying process isn't initiated, so many smallholder farmers feel pressure to take the first price offered to them, even if it's woefully low.
Heifer Guatemala is changing this dynamic with prototype dryers, giving farmers more time to negotiate a fair price and cutting out middlemen. Designed by Engineers Without Borders, the gas- and electric-powered equipment dries the fresh cardamom pods on trays rather than in bulk — a technique that standardizes heat and air flow, improving the seeds' quality and, in turn, their marketability.
"Once the harvest is done, we walk to the road, waiting to see the coyotes so we can sell our products for the best possible price [they will take]," said cardamom producer Ciriaco Chomo, referring to the traditional practice of selling fresh cardamom to low-paying intermediaries for processing. "That is why I am thinking of renting a dryer, so I can improve my profit margin."
Sharing Knowledge in Honduras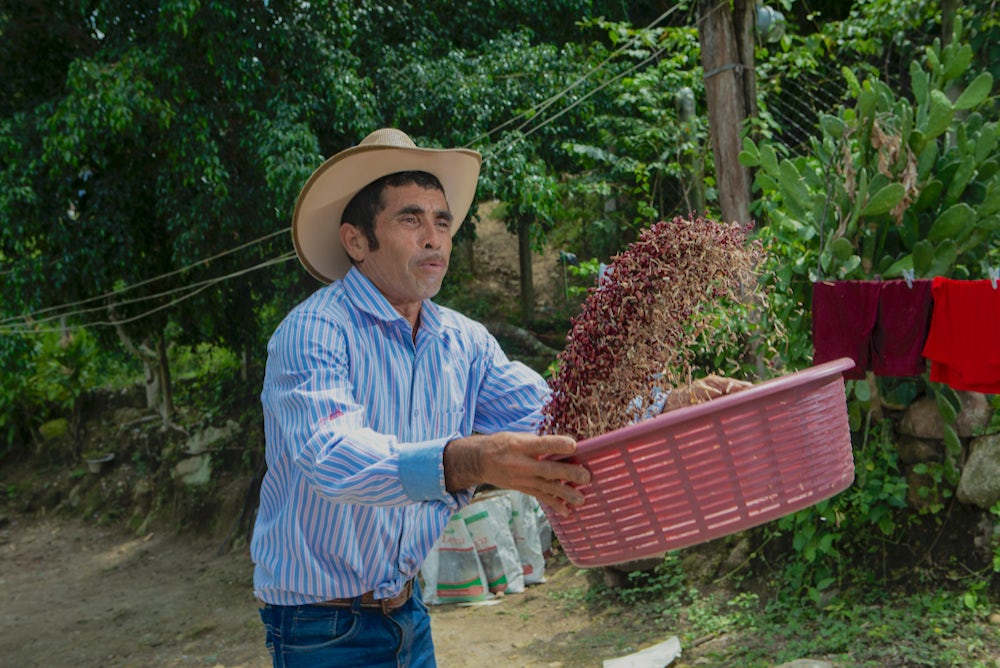 Technology doesn't have to be cutting edge to tangibly improve the lives of farmers. And Honduran bean farmer and community leader Antonio Espinoza knows this firsthand.
After receiving training from Heifer, Espinoza launched his own regional radio show, "El Zarzo," to reach other farmers in the area. Harnessing the power of the most effective electronic medium in developing nations, Espinoza shares improved agricultural techniques.
"We use our traditional tools — our pickaxe, our shovels — but also our new technical knowledge," said Espinoza. "Since I have been taught this expertise, I can pass on my knowledge to other producers."
Digital Training in India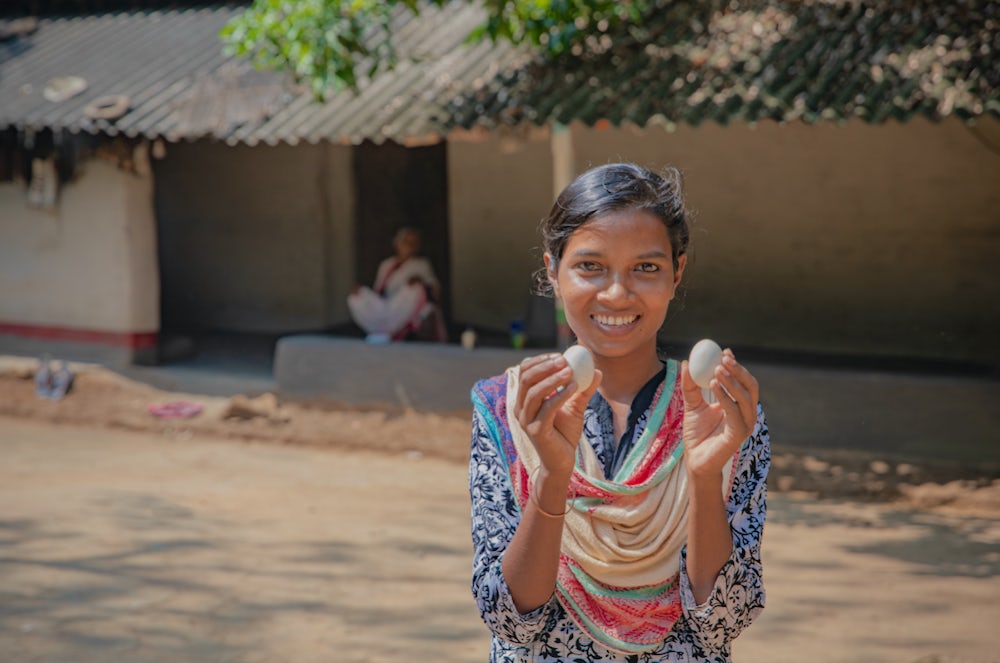 For many living in rural India, raising backyard poultry represents a sustainable path out of poverty and toward a dignified life.
Hatching Hope India, a partnership between Heifer International and Cargill that helps farmers responsibly raise poultry, connect to markets and grow their businesses, is integrating mobile applications into their work in the Indian state of Odisha.
Focused on adopting best practices at the community level, the trainings include YouTube videos and a digital storyteller app to build awareness about the benefits of poultry production and consumption — covering flock management techniques to market linkages and the nutritional importance of eggs and poultry.
"Our consumption was very poor earlier. Now, I am aware that nutrition is as important as income," said Nibedita Tudu, a Hatching Hope India farmer. "All I seek is guidance and knowledge, and from that I can construct a good fortune for my family."