Story by Christian DeVries, Photos by Russ Powell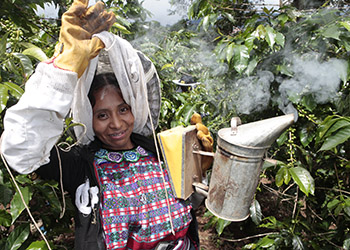 Feliciana Martin, 26, is a small-scale coffee farmer. Her acre farm barely supports her and her daughter, Sandy Almir Martin, 2. Although she sells her coffee to a reliable local cooperative, it hasn't been enough to help her escape the cycle of poverty and food insecurity that grips so many in this region.
Martin lives in Guatemala's northern department of Huehuetenango in the remote village of Tuiboch, near the municipality of Todos Santos Cuchumatan. She sells about 300 pounds of high grade, pergamino coffee to Asociacion de Cooperacion al Dearrollo Integral de Huehuetenango (ACODIHUE), the local co-op. However, the harvest season is only four months, January to April, so she has no income for the remainder of the year.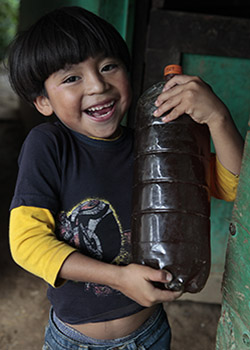 Green Mountain Coffee and Heifer International are partnering with these families to build sustainable, self-reliant communities. The project that they started in this area of Guatemala included bees to pollinate the coffee and produce honey.
Martin said she was thrilled when she learned about this project.
"I wanted to work with bees, so I could get honey and have something more to sell," she said.
In February 2012, she received her bees. She also received a variety of equipment: a hat with mask, a smoker and brush.
The training that Martin was given in beekeeping and harvesting honey has been very important, and so has Heifer's 12 Cornerstones for Just and Sustainable Development, because it has strengthened many of the local customs.
Martin is a member of the indigenous Mam ethnic group. The Mam are a part of the larger Mayan language family, and Mam is one of the 21 dialects spoken across Guatemala. Many families in this region don't speak Spanish.
Men from the Mam group traditionally wear red pants with thin blue stripes and a white jacket with thin blue stripes. The fabric is durable, the colors bright and cheerful, and while their clothing might appear modest, the collars of these jackets are expensive, with some costing more than $90. Women's clothing is even more expensive. A simple black skirt might be $40, but an elaborately decorated blouse, called güipil, can cost almost $200.
Heifer's Passing on the Gift model and Sharing and Caring have been wholeheartedly embraced by the local people, because they were already part of the Mam tradition. For example, when a family is building a house, it doesn't have to pay for labor; the neighbors will volunteer. Additionally, when there is a death in a Mam family, the whole community (around 200 people) will bring items, such as food, money and sugar, to help the family.
Martin said she likes Passing on the Gift.
"We can all help each other," she said.
She already plans to pass on two beehives in October.
"The goods we received we can distribute to others," said Mario Perez, 23, a project promoter. "We aren't just receiving goods to be consumed. We received knowledge to take care of the goods we were given."
The bees Martin received have been hard at work, and she said she expects to get a noticeable increase, about 10 percent, in her coffee harvest next year.
She has also been able to collect and sell honey, providing her with additional income. Coffee honey is believed to taste better than regular honey, so she is able to charge about 10 percent more.
Her bees were delivered in February to coincide with the flowering season, and Martin was able to harvest twice in March and April, and once in May. She collected 60 pounds of honey, and next year, she plans to double the number of hives she owns, and complete her pass-on requirement. She has many plans for the future.
"I will have more bees and the knowledge to take care of those bees," Martin said. "More bees will mean more honey."
Martin dreams of a better life for her daughter. Thanks to assistance from Green Mountain Coffee and Heifer International, those dreams seem more possible than ever.