Culture
The Spirit of Oaxaca
In This Article
In rural Oaxaca, many families depend on mezcal production to make ends meet.
Mezcal, like tequila, comes from the agave plant.
Heifer Mexico and Pernod Ricard are helping mezcal producers move forward economically and socially.
The women in mezcal communities are taking more and more ownership of the mezcal business.
In the dusty hills of Oaxaca, Mexico, not much grows well besides the prickly agave plant. For generations, families in isolated towns like Santa Ana del Rio have transformed the plant into a local speciality: mezcal. But despite a mastery of the craft, it's been hard for mezcaleros to make ends meet. Heifer Mexico is partnering with wine and spirit company Pernod Ricard to provide families in Santa Ana with the connections and resources they need to be successful.
In Mexico's state of Oaxaca, there's a saying that everyone knows: "Para todo mal, mezcal. Y para todo bien, tambien." For everything bad, mezcal. And for everything good, too. It's recited theatrically, with a wry smile and pregnant pauses before the last words of each sentence.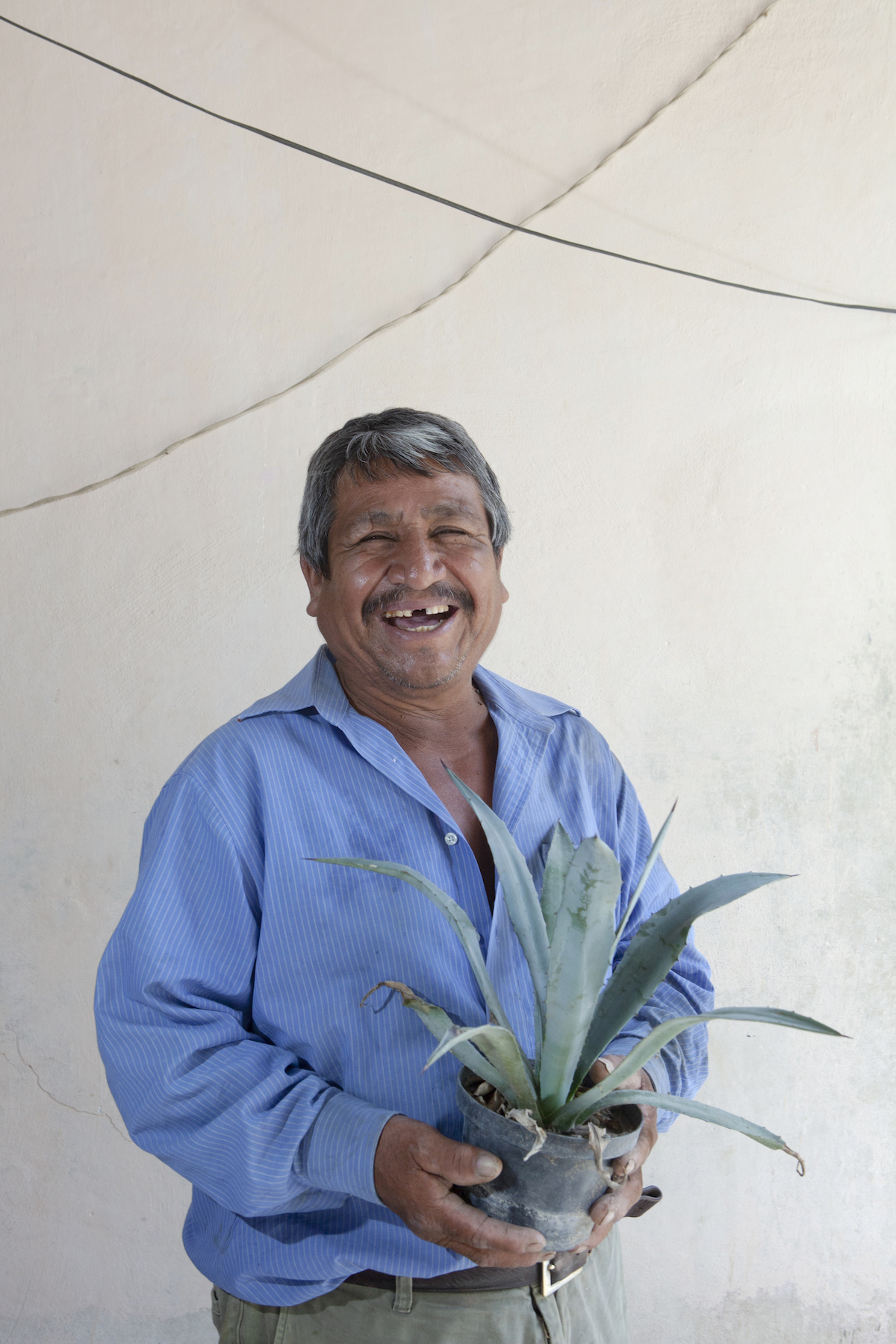 The saying encapsulates how far-reaching mezcal is in the region. It's Oaxaca's spirit of choice, and it's almost mandatory that when you enjoy it, you share it with a friend, family member or maybe just the person in closest proximity. But mezcal's not only for drinking; it's also used in folk remedies, ranging from breaking fevers to treating arthritis pain.
Mezcal is also the lone economic anchor for villages like Santa Ana del Rio, located in the arid foothills of Oaxaca's Sierra Juarez. In general, mezcal-producing communities struggle with high levels of poverty and emigration because opportunities are limited and profiting from the sale of mezcal can be challenging. Heifer Mexico, in partnership with wine and spirit giant Pernod Ricard, is working to change the situation in Santa Ana and soon in other villages.
"It's a hot, dry area," said Ciro Rodriguez Cruz, a lifelong resident of Santa Ana. "In times when there is an abundance of water, we can harvest corn, beans. But when it doesn't rain much, it's lost."
One of the few things that grows exceptionally well in Santa Ana's climate is the agave plant. Mezcal, like its more famous relative tequila, is distilled from agave. Nearly all of the 100 or so families in Santa Ana depend on mezcaland therefore on agave.
Know Your Agave
Mezcal is made from fermented agave plants, similar to the process for tequila. But where tequila is only made from blue agave plants, mezcal can be produced from about 30 varieties of agave. The most common is espadin, which means "sword" in Spanish because the plant is particularly pointy. Espadin is one of the few domesticated varieties, and it takes seven years to grow for harvest. Wild agave varieties take longer to mature and are more work to harvest. Since they're rarer and the flavor is generally more coveted, the price reflects that. The largest variety of wild agave around Santa Ana, tepeztate, needs 25 years of growth before it can be cut and fermented. The other common wild agave plants found in Santa Ana, tobala and jabali, take 12-15 and 18-20 years respectively to harvest.
In the past, producing mezcal didn't guarantee a living wage in Santa Ana. "We would look for someone to buy the mezcal," said Eliazar Rodriguez Luis, the son of Ciro Rodriguez. Mezcalerosin the community traveled, samples in hand, to coyotes—middlemen—who offered whatever prices they wanted. Not knowing the exact value of the mezcal, the Rodriguezes and other producers usually agreed.
In 2017, Pernod Ricard scouted the area, looking for a community of mezcal producers to supplement their highly touted Del Maguey brand. Santa Ana del Rio seemed like a good fit, and after a town hall meeting, residents agreed to work with Pernod Ricard. But the bottom line wasn't the company's only motivation for working in the area.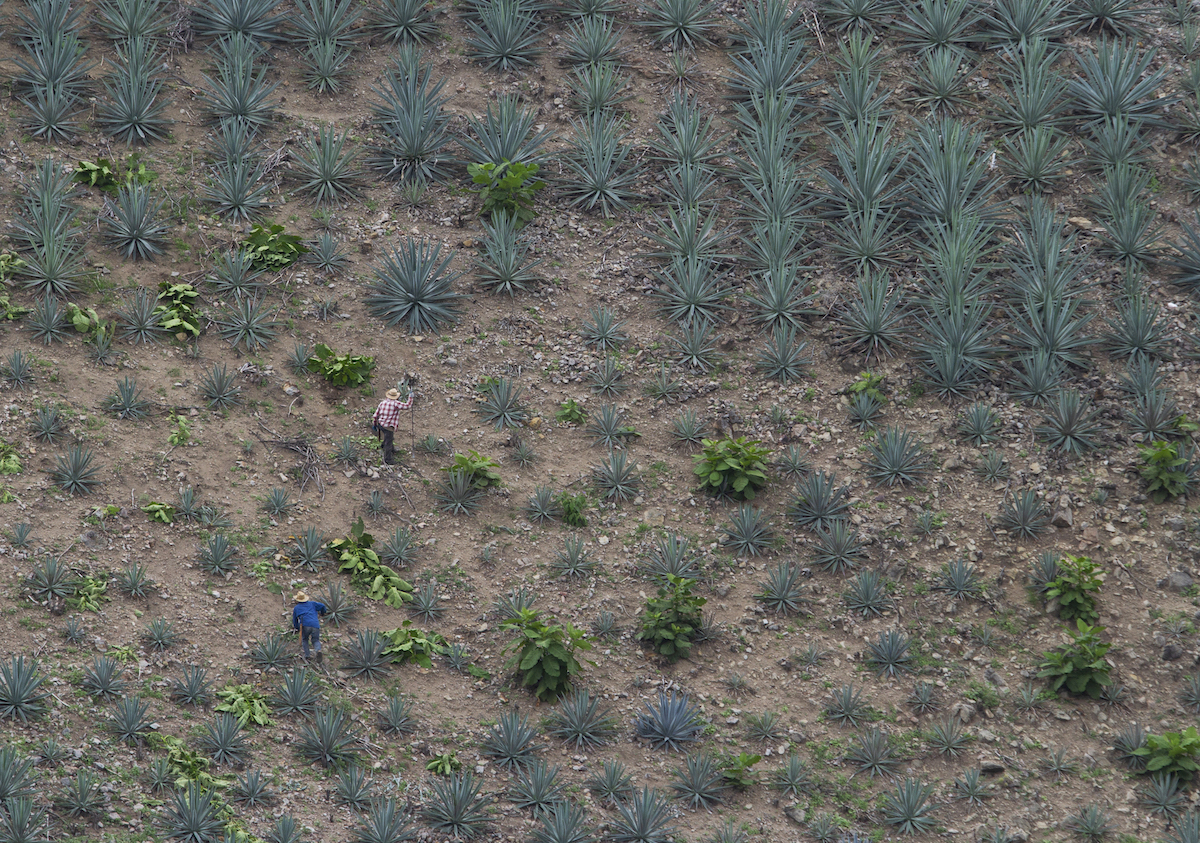 "We saw a big opportunity with mezcal," said Diego Cantu Luengas, liaison manager for Pernod Ricard. "Because mezcal is made mainly in isolated rural villages, they live in very vulnerable conditions. These conditions are something we can do something about."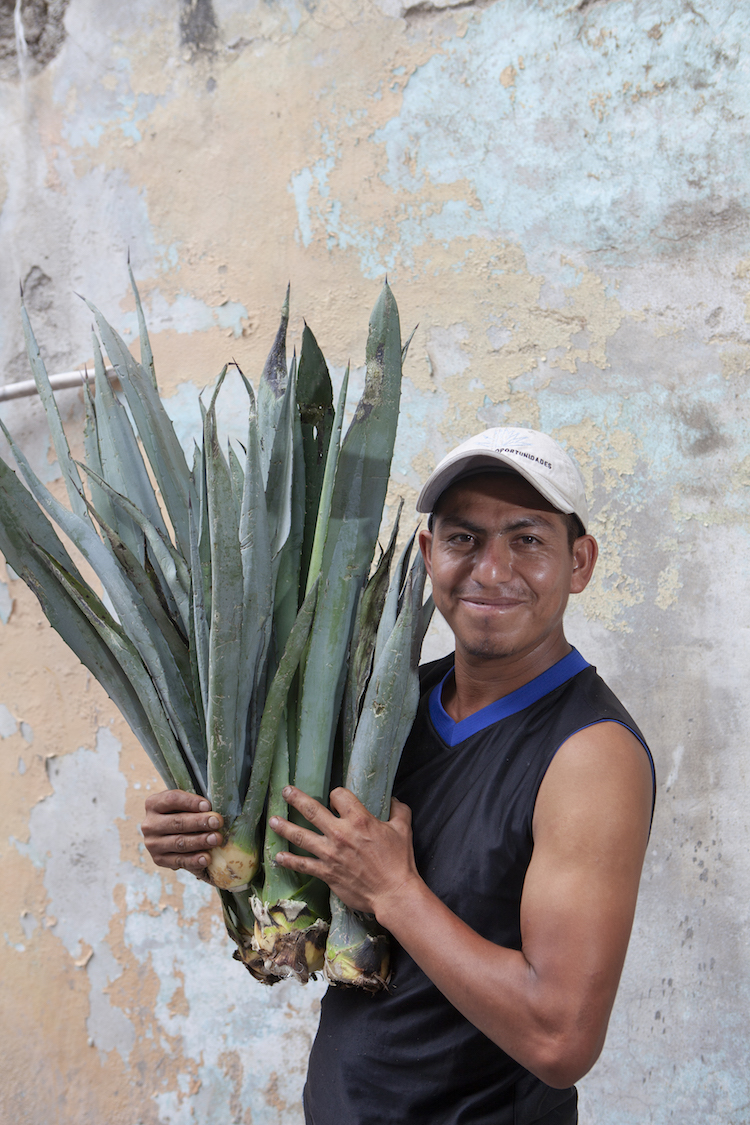 Pernod Ricard formed a partnership with Heifer Mexico to work with mezcal-producing families to not only improve incomes but also the nutrition of children and issues of gender disparity. The hope is to use the experience in Santa Ana as a launching point to replicate the project in other communities.
Although the pilot project is still new, results are positive. The Rodriguezes used to sell 400 liters of mezcal a year. In the last year, they have sold closer to 1,000. Prices have also doubled, partially because mezcal's popularity has skyrocketed in Mexico and the United States in recent years. But Santa Ana mezcaleros also now know how much their mezcal is worth and can negotiate prices more effectively. And Pernod Ricard has helped the farmers understand what types of mezcal sell the best.
Before, we looked for someone to buy the mezcal. Now they look for us. Eliazar Rodriguez, mezcal producer
"Before, we looked for someone to buy the mezcal," Eliazar Rodriguez said. "Now they look for us."
A Spirited Tradition
Ciro Rodriguez, 62, spends the morning with two of his three sons, harvesting agave plants under the fierce Oaxacan sun. It's backbreaking work to uproot a plant that can weigh upwards of 200 pounds, and the agave's spiny teeth are unforgiving. But the Rodriguez trio are no novices. After taking a machete to the rigid leaves, they split the agave hearts, or piñas, and load them in the back of a pickup truck.
Via the one lonely road that crosses through Santa Ana, the Rodriguezes deposit the piñas in an earthen pit lined with large stones atop the smokiest of smoldering fires. This is the first step of the mezcal-making process at the open-air palenque, or distillery. The pit will be covered with a natural tarp and dirt, then the heated stones will cook the piña pieces for about eight days.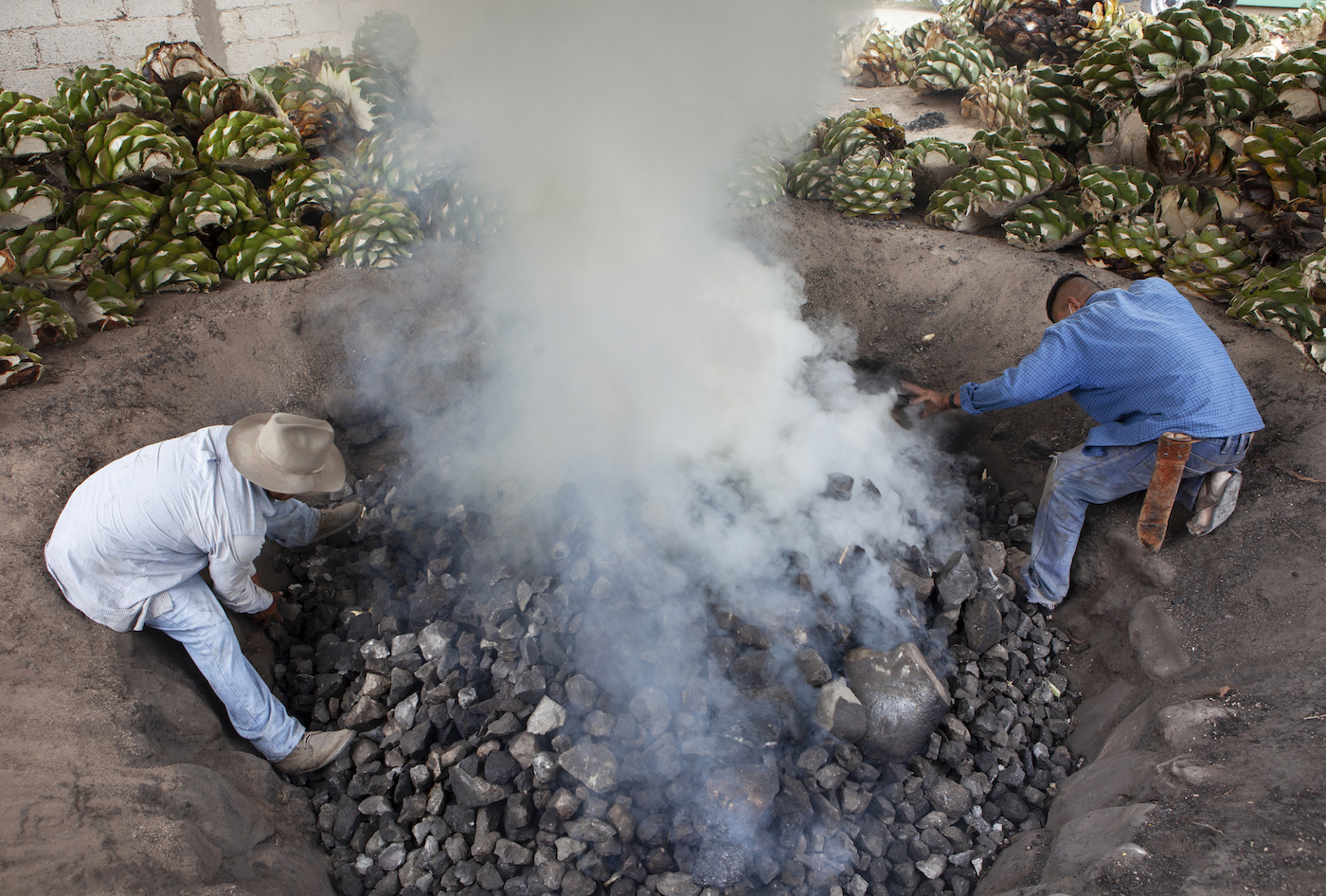 After the pit is uncovered, a donkey is used to roll a tauna, a thick stone as tall as a toddler, over the cooked agave to aid the fermentation process. Then, after a week or two of fermentation, the mezcal is distilled twice before it's ready to drink.
This process remains largely unchanged from hundreds of years ago, in contrast to tequila, which industrialized quickly as it became popular. "Everything from the mezcal comes naturally," Ciro Rodriguez said.
Generations of knowledge passed down from family to family leaves mezcaleros with the ability to navigate the drink's sensitivities with ease.
Each part of the process, starting with how the agave grew and what variety was harvested, changes the flavor of the mezcal, which gives the beverage a complex flavor. Luckily, generations of knowledge passed down from family to family leaves mezcaleros with the ability to navigate the drink's sensitivities with ease.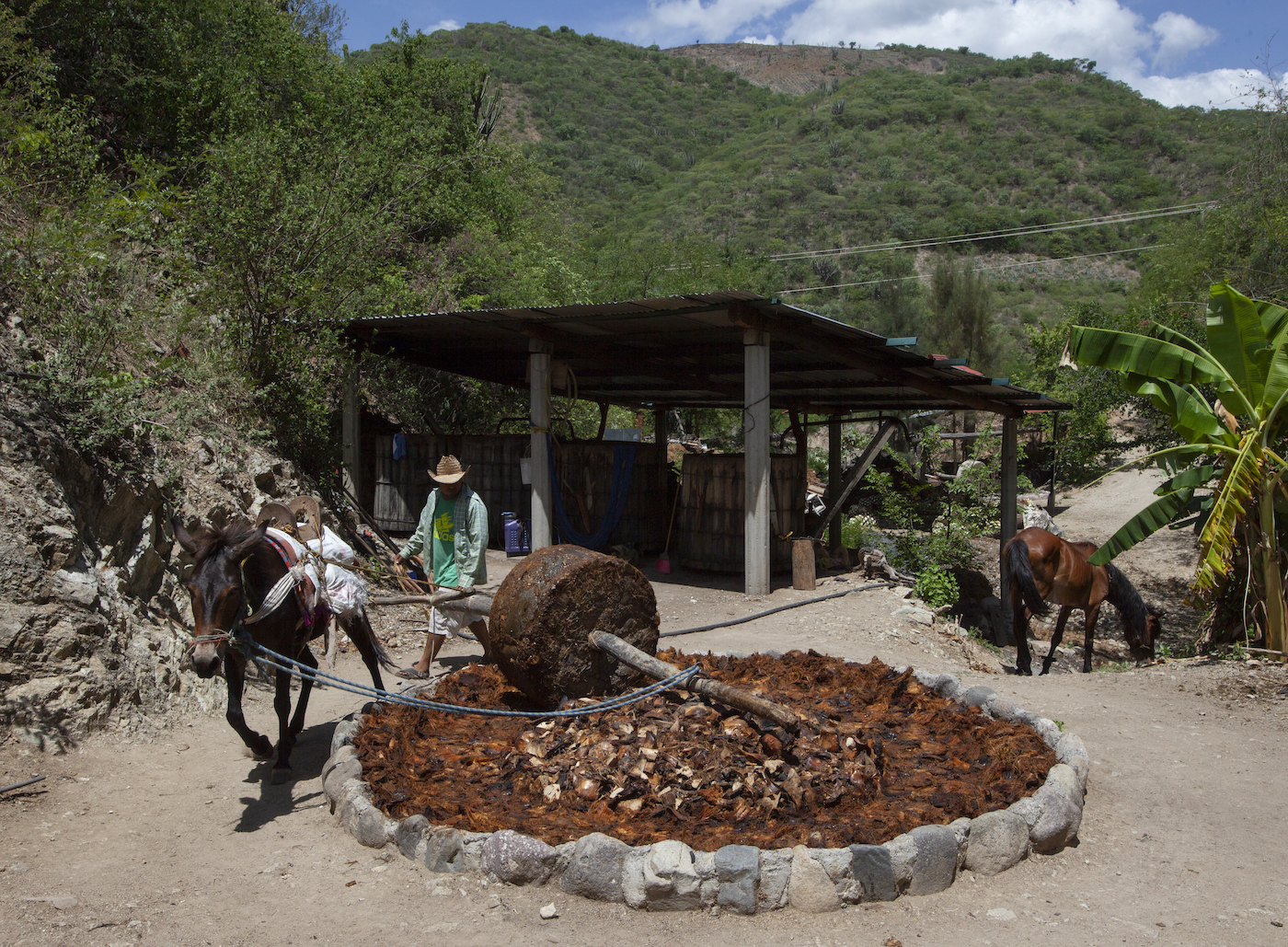 All three of Ciro Rodriguez's sons know how to make a good mezcal because of their father, but only two of them practice the art. Before Heifer and Pernod Ricard came to Santa Ana, mezcal production simply wasn't lucrative enough to keep families afloat. One of Ciro Rodriguez's sons left for the United States years ago and works in a restaurant in Colorado.
The Donkey Sanctuary
Donkeys are critical to the success of mezcaleros in Oaxaca. They carry harvested agave from field to palenque, and they pull the stone tauna to help ready the agave for distillation. The strenuous work and harsh conditions can be hard on the animals. Heifer Mexico is partnering with The Donkey Sanctuary to ensure the animals have the best care and are properly vaccinated. The Donkey Sanctuary is a U.K.-based animal welfare organization that helps about 1.8 million donkeys and mules in 35 countries. The organizations are also working together to develop more comfortable and efficient harnesses for the donkeys to use with the tauna.
"Before, there was not a lot of work here," Ciro Rodriguez said. "Well, there was work. But the salary didn't provide. It wasn't enough."
It's a familiar refrain in Santa Ana, a community marked by high emigration rates. Heifer Mexico is working to change that by ensuring families earn a living wage and thus have the opportunity to stay together.
"He wants to come back. This year, he wants to come back. 'It's not like being with family,' he says. It's not the same. He's alone—well, he has friends, he has family members, but it's not the same."
Tough Mothers
The life of a mezcalero is marked by long hours, strained muscles and agave-induced wounds. "It's hard," said Alexandro Gil Molina. "Not every person can do it." Sitting next to him, wife Yolanda Hernandez gives him the side eye. "Maybe," she said dubiously. It's a subtle sign that things are changing in Santa Ana.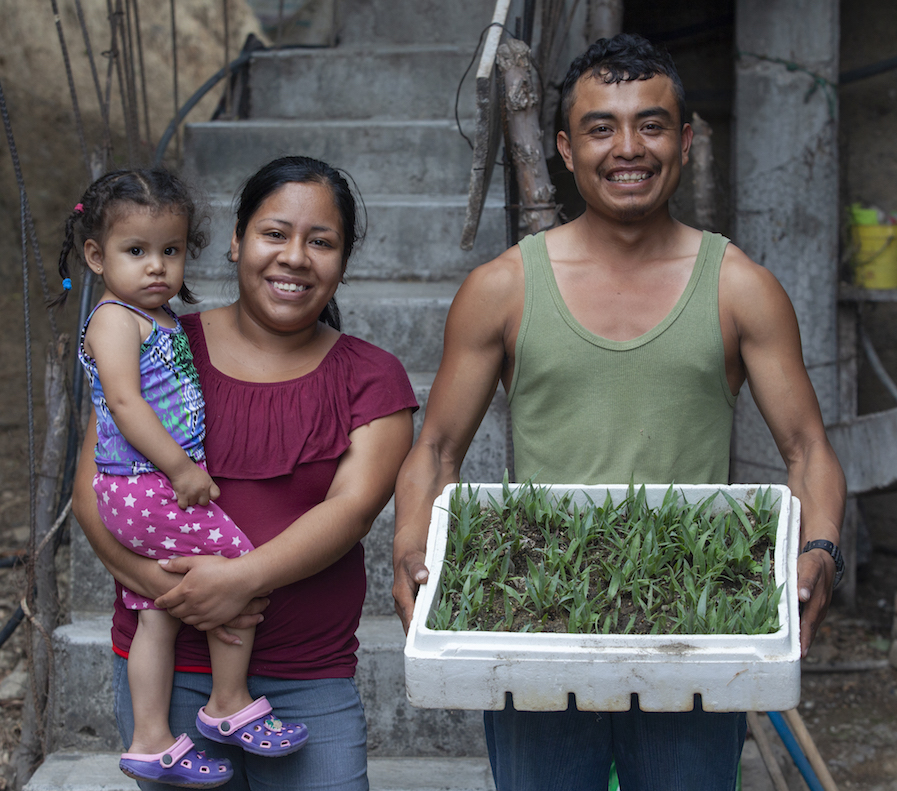 Traditionally in rural Oaxaca, mezcal production is thought of as a man's job, an occupation too grueling for women. Through the project, women are changing that misconception.
"The mezcal-producing communities in Oaxaca and in general in Mexico have little participation among women," said Rosario Lopez, Heifer Mexico project manager. During her visits to Santa Ana, Lopez takes every opportunity to join the men in splitting piñas with a machete or unearthing roasted agave with a shovel.
At the beginning of the project, many of the women in Santa Ana visited other regions of Oaxaca where women participate in the production of mezcal. They learned how to make agave syrup and marmalades from mezcal byproducts. The syrup in particular earns more per liter than some varieties of mezcal.
Heifer Mexico also gave women the seeds and tools to grow agave seedlings. "No women planted maguey [agave] before," said Hernandez. "Now? The majority of women maybe."
In years past, there weren't enough agave plants to sow every year, which is a big deal when it takes 5 to 7 years, minimum, to harvest. Farmers would buy plants from outside the community to fill the void, but in addition to costing money, the plants often came with unwanted pests. Homegrown agaves are more economical and healthier.
"This is the first step," Lopez said. The second step is to install a field school for a demonstration palenque so they can learn the process of distillation and make mezcal themselves. It would be the first time in the community that women are making the spirit.
The hard-working women of Santa Ana are juggling other ventures as well. Each received 100 laying hens from Heifer Mexico at the start of the project. In late 2017, women in the community formed a group to better leverage their product.
"We saw we had too many eggs," said Rubi Luis Rodriguez, one of the group members. "It was a lot of eggs, and trying to sell them [ourselves] outside the community—it was too much. So Heifer helped look for a client, and an opportunity was born."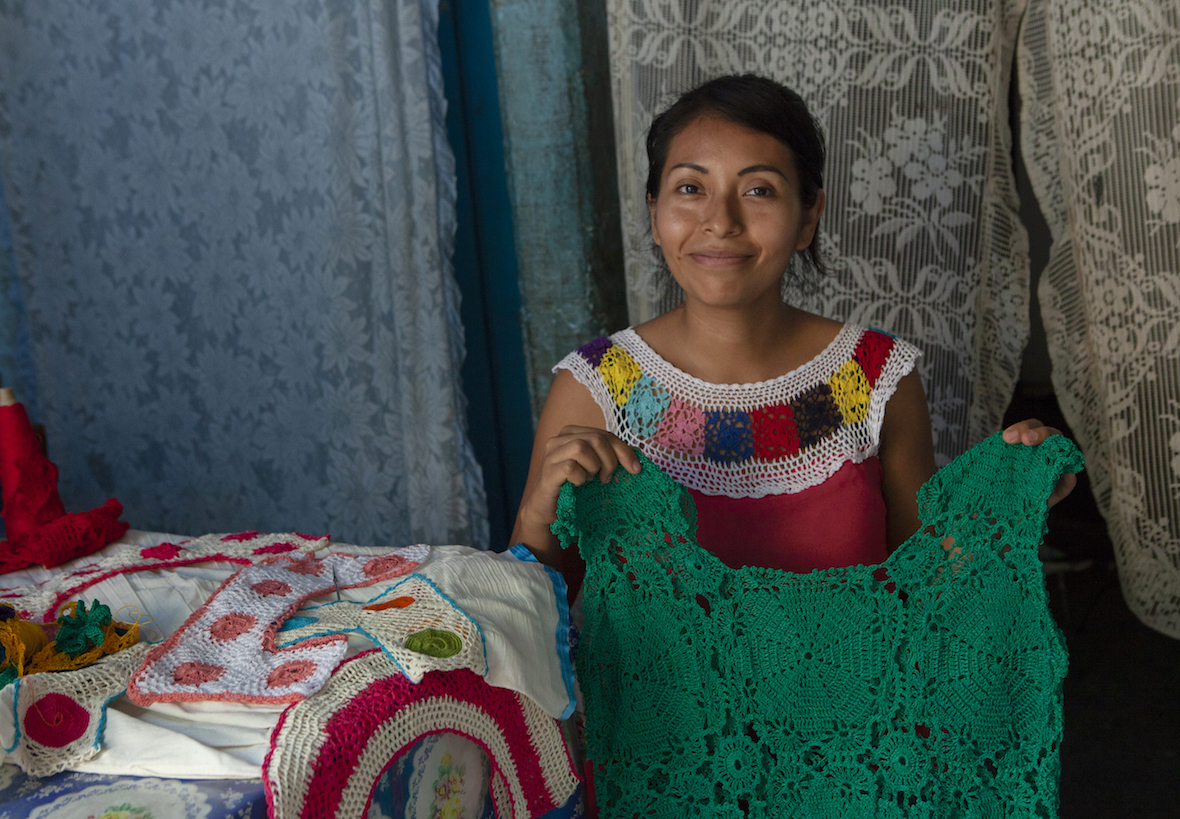 Now, every week the group sells their eggs to national restaurant chain Toks. Each of the chain's 224 restaurants needs 500 eggs daily, so there is a constant demand for the group's product.
Luis also co-founded a group of 24 women that sell handmade clothing. Heifer is supporting the group with a sewing machine and technical support. In the future, the group is hoping to develop a strong brand to sell their garments well outside Santa Ana. "What we want is not just to sell to people who sell to foreigners," Luis said. "We know [our clothes] are well made and can't be copied."
Perhaps the next group of entrepreneurial Santa Ana women will be focused on mezcal production.
"I would like to learn more about the area of distillation, yes," said Hernandez. "Because there are a lot of steps to get to a good mezcal.
"It's not like they say, that because you're a man or a woman you can't do certain things. Everyone can do the same."