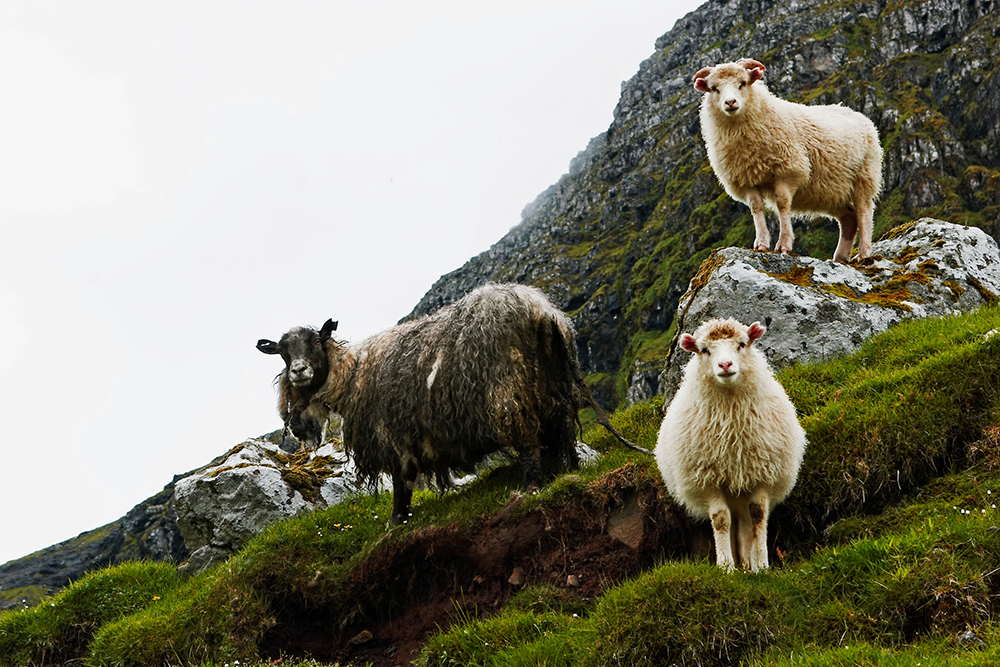 What's life like on an island with more sheep than people? Hidden between Iceland and Norway in the North Atlantic lay the Faroe Islands, a mountainous archipelago home to stunning seaside cliffs, nighttime views of the aurora borealis, a few people and a LOT of sheep. In fact, with a human population of 45 thousand and a sheep population of about 80 thousand, sheep double the number of people living there.
At Heifer International we know a thing or two about sheep, but most of our sheep projects center on hair sheep, an animal that thrives in warmer climates and is used for meat and milk, but not wool. Hair sheep are great, don't get us wrong, but we need more of the fluffy sheep variety in our lives.
Lucky for us, when the islands were passed over for Google Street View, an employee of the Faroe Islands Tourist Board launched an inspired campaign to catch Google's attention: Sheep View 360. They attached cameras to the backs of sheep on the islands and recorded the Faroe Islands from the perspective of their primary inhabitants. The adorable idea worked and Google showed up to officially put the islands on the map. Now the beauty of the Faroe Islands can be viewed on Google Street View by anyone with an internet connection.
Súsanna Sørensen was part of the campaign and spoke with us about Sheep View 360, the Faroe Islands and what makes Faroese sheep so special.
World Ark: Does everyone on the Faroe Islands own sheep? What is it like living in a place where sheep outnumber people?
Súsanna Sørensen: Not everybody in the Faroe Islands own sheep, but we have a lot of people who are involved with sheep farming. Obviously, first there are the farmers but there are also a relatively large proportion of the population who have a piece of land and a few sheep and there are an even larger number of people who are involved in the various work related to the annual cycles of sheep farming, especially the herding and slaughter in the autumn.
It's an important part of our culture, and parents make sure that their children become part of it as well so it is passed to future generations. Súsanna Sørensen
It's an important part of our culture, and parents make sure that their children become part of it as well so it is passed to future generations. My family, for example lives in the capital and do not have sheep, but we have close family who does and our sons (15 year old twins) take part in the herding and slaughtering even if we, his parents, do not. My husband grew up in a small village and took part and although he is not part of it anymore, we still want our sons to experience and learn it and are happy that we have families who have sheep and invite them along.
If you don't have sheep, you will most likely have an agreement with a farmer, often passed on from your parents, to buy sheep from them in the autumn. Typically a family buys a few sheep (the full bodies), and we hang them to dry and ferment in our "hjallur" which are traditional drying houses that are built so the wind can blow through and the meat is dried and fermented. It does not rot because of the salty air. Even new, modern houses have these hjallur so we can dry our meat which is a very important part of our diet.
Living in a place where sheep outnumber people means that sheep are an important part of our lives, as described above, but it also means that we see sheep everywhere, in the hillsides but also on and by the roads, so it also means you have to be careful when you drive in the Faroe Islands. This also means that we all notice when the first lamb arrives in the spring. They are seen as one of the first bearer of spring.
Does everyone there know how to knit?
Most girls learn to knit from their grandmothers or mothers (some men knit too, but it's typically women who knit). Especially older women knit a lot, and whenever a new baby is born he or she will receive a lot of knitted clothes from relatives and friends of the family. The younger generation knits in waves. When I went to high school we all knitted at lot, even in class, then for many years it became unfashionable to knit. But that has changed in recent years after we got designers like Guðrun & Guðrun, who make modern versions of knitwear based on our traditional knitting and patterns.
What makes Faroese wool special?
Faroese sheep are out all year in all weather. The wool is therefore very resilient and has a special character, which also might make it difficult to wear because it can itch. The wool is in two layers. The inner layer is fine and lanolin rich wool, which means it "self cleans" because of the lanolin. The inner layer is very well suited for fine knit wear whereas the outer layer is made up of more coarse long hairs, which are traditionally used for sweaters and other outerwear.
What livestock do you have on the islands besides sheep?
We have a very rich bird life with over 305 different species recorded. About 50 species are regular visitors to the islands. Especially in the summer, the Faroe Islands are a good spot for bird watching, and you can get close to puffins and other seabirds on the island of Mykines.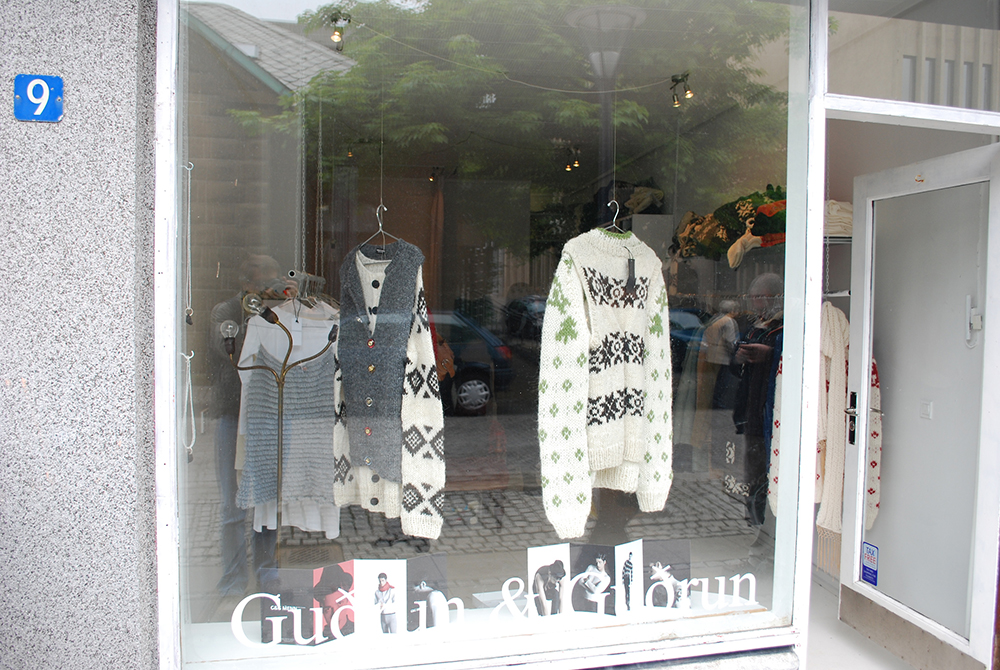 Is there an iconic Faroese knitting pattern you can share with us for our readers?
Guðrun and Guðrun are local designers who for the past years have been quite successful internationally with their knit wear based on traditional Faroese knitting techniques and patterns. Their most popular design is the star sweater which was made famous through the successful Danish TV series the Killing where the lead character wears one of their sweaters. The sweater is an interpretation of Guðrun Ludvik's dad's fishing sweater. She took one of the pattern, the star, and used that and made a slimmer and more feminine version of his sweater. There is also a book on traditional Faroese patterns but these days I think we can say the Guðrun & Guðrun is the most iconic.
Can you summarize the Sheep View 360 project, as someone who was involved? Were there any challenges or surprises?
Sheep view was a fantastic project to be part of, and to see how much coverage it has received makes us proud to have been part of the project, and maybe also realize how big it was.
I guess the biggest surprise or challenge was that once the cameras were strapped to the sheep, we found out that they did not really move that much. I guess we had expected that they would run off and cover the areas, which they did not really do.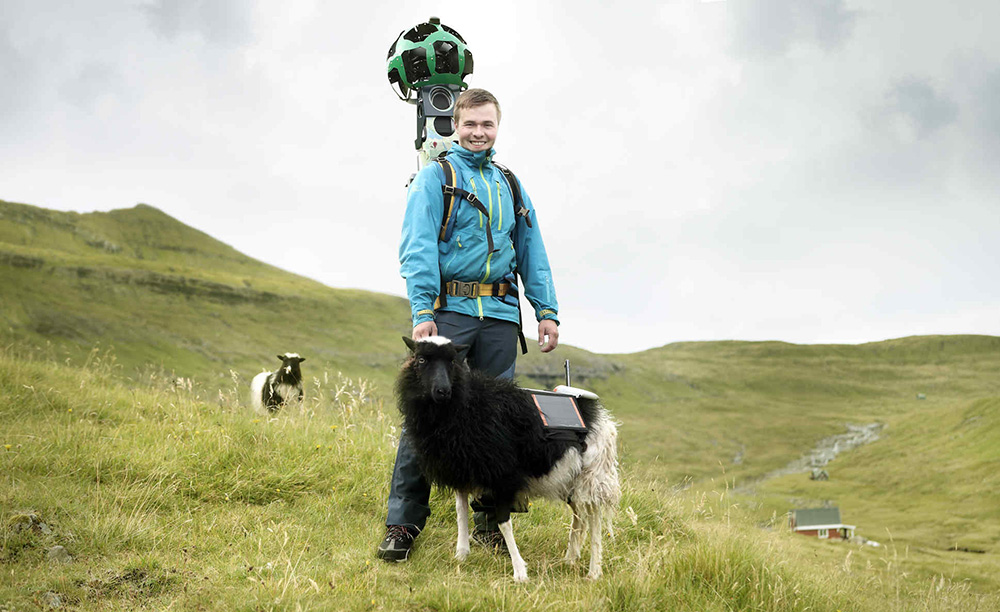 Why was it so important to get Google's attention and convince them to include the Faroe Islands on Google Street View?
The Faroe Islands are quite unknown and we felt that it would be good to have street view, which so many countries have now, both so we could show our friends abroad what our country looks like, but also for future guests to get an impression before they arrive.
What benefits have the Faroe islands seen now that they are included on Google Street View?
We had an increase in bookings following the sheep view project. We expect that the benefits will be that our guests can be better prepared before they arrive, and also that more people can experience the beauty of the Faroe Islands and hopefully visit in the future.