Recipe: Parmesan Swiss Chard
Heifer International's Multi-Farm CSA coordinator Lesley Waterson created this recipe.

With a lush green leaf and a vibrant red or white stem, Swiss chard is one of the most striking members of the chenopod family. Cousin to the beet, chard is packed with vitamins A, C, and K (vitamins essential for bone health) as well as a healthy mix of iron, fiber and enough antioxidants to elevate it to "super food" status. AND it is extremely low in fat and calories.
Have I convinced you to eat it yet? Good.
Ingredients:
2 tbsp. butter
2 tbsp. olive oil
1 full stock green garlic or 1 clove of regular garlic, chopped
1/2 small red onion, diced
1 bunch Swiss chard
1/2 cup dry white wine*
1 tbsp. fresh lemon juice, or to taste
2 tbsp. fresh, grated parmesan cheese
Salt to Taste
Instructions:
Separate the chard leaves from the stems. You can do this by cutting a large "V" around the stem.
Chop leaves roughly and set aside. Cut chard stems in a large dice.
In a large skillet melt butter and olive oil together over medium-high heat. Stir in the garlic and onion, and cook for 30 seconds until fragrant.
Add the chard stems and the white wine. Simmer for 5 minutes or until the stems begin to soften. Add the chard leaves, and cook until wilted.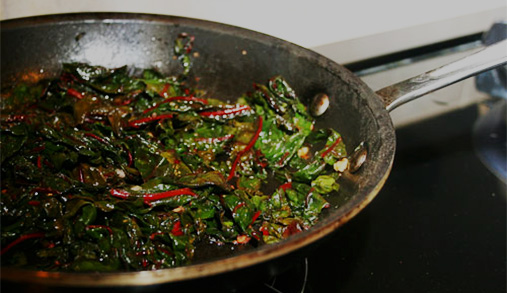 Sprinkle chard with lemon juice and Parmesan cheese before serving.
If you live in the Little Rock area and would like to have access to fresh, locally grown produce (like chard) on a weekly basis check out Heifer's Community Supported Agriculture Program (CSA). If you aren't a Little Rock local, don't fret! CSAs and small-scale farms are in action all around the country. Find one near you!
Heifer International is dedicated to eliminating hunger and poverty, not only around the world, but also in our own back yard. Heifer's USA Program focuses on supporting small-scale farmers in Arkansas. By connecting these farmers to local markets and by encouraging their participation in Community Supported Agriculture programs, Heifer provides them with a sustainable living and allows Arkansans a greater access to healthy, locally grown food.