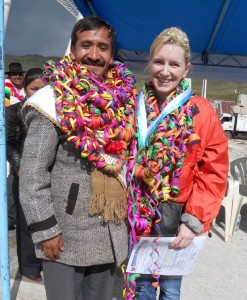 Our house is hope. These are the first words I remember seeing and hearing upon our arrival in Peru. Country Director Alfredo Garcia was telling the story of the Heifer Peru program and what they were doing in the communities in their region. It has been near to my heart ever since.
The families we visited over the course of our short time in Peru represented the core values and Cornerstones our mission was built upon. The spirit and resilience of each participant, each volunteer and each employee was nothing short of amazing and inspiring. For me, it provided a foundation of the work we do around the globe enabling families and communities to create sustainable livelihoods they wouldn't have known otherwise. It's transformational, and what's even more amazing is that it is possible—it is truly within our reach.
Heifer International's mission was built on a dream and a notion that Dan West believed could fundamentally change the world. People, he said, "need a cow, not a cup." It became the essence of Heifer's Cornerstone Passing on the Gift. It has become a very literal translation in the minds of our supporters and has provided a platform for alternative gift giving in ways we never could have imagined. It has been our backbone, our vision and our map to shape the organization that exists today.
The best part, though, is that in building this mission we have transcended the original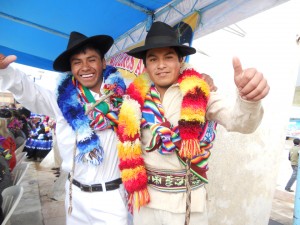 Pass On concept in ways that would make Dan West proud. The essence and spirit of Passing on the Gift® and the humanity of the translation now manifests in ways we could have never imagined.
Historically, Passing on the Gift® has meant the handoff of an animal—a goat, cow, pig—to another family. But so much more happens at that handoff than just passing on the animal. People share their knowledge, their values, their principles and their mores. They pass on their sense of justice and fairness. They generously share their belief that they are their brother's—and sister's—keeper, and that passing on their gifts is not just checking off a Heifer project requirement, it's demonstrating their humanity, their desire and ability to help raise another family, to do what they can to help lift their entire community out of poverty.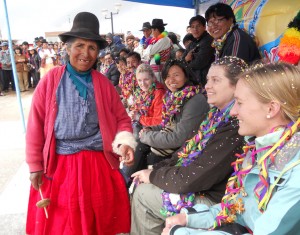 Through the generous spirit of our supporters, the values of families, communities and governments are fundamentally changed. We are impacting food systems, security and nutrition, increasing income for our participants, improving the environment, enabling women to have a voice and ultimately improving the values of communities around the world.
Our goal of creating a global footprint of improved sustainable livelihoods is within our reach. Each Cornerstone represented in our work has a meaningful place in the hearts and minds of the families in the communities where we are engaged and in the hearts and minds of our donors. Our Cornerstones fulfill our purpose.
This is so transformational! It is the essence and spirit of Passing on the Gift®. And now, it has matured, evolved to represent and reflect Heifer's work in ways far beyond "gifts" of livestock. Today, Passing on the Gift® represents the fundamental principles of community.
Passing on a goat may be a literal demonstration of Passing on the Gift®, but there is so
much more to it than that. There is an essence, a spirit, a strength and power that is much more awesome, much more amazing. It's the magic of Heifer. It's why we are different and it's why our goal of ending hunger and poverty is within our reach.
Communities are changed from the inside out. We fundamentally believe that without the right inputs and Cornerstones training, our work will be short-lived. We strive for long-lasting change. Community engagement, investment in cultural and intangible values, Heifer International's Theory of Change, all is grounded in these principles; this is where the magic happens. It's that sacred place where Heifer's Cornerstone principles provide for long-lasting and sustainable change.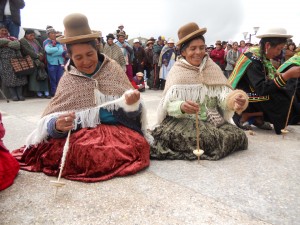 Rains can come and wash away topsoil. Storms may come and destroys crops, property, homes, but the spirit, the generosity, the humanity of Passing on the Gift® lives on and will see to the rebuilding of homes, the replanting of crops and the restoration of commerce. The lessons that families learn through Heifer's teaching and Cornerstones cannot be erased or undone by climatic or geologic events. This is the power of community engagement and at the heart of Passing on the Gift®.
This year, as part of Heifer International's marketing and fundraising efforts, you will hear more about "Beyond Hunger" … it's a powerful message and what Passing on the Gift® is all about, moving people beyond hunger, beyond self, beyond subsistence, beyond vulnerability to sustainability. It's about using their gifts—animal, spiritual, physical, emotional—to transform not only their own lives, but their friends' lives, their neighbors' lives, their community, their country and, for their piece of it, the world.
This is where the magic happens, not the rabbit-from-the-hat magic—the real magic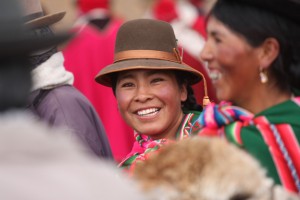 —transformation. It's connecting donors and supporters and enabling the never-ending cycle of Passing on the Gift® and allowing the hearts of many to be open to all of the possibilities. Empowered women, enlightened men, educated and well-fed children. People working in partnership to improve their communities in ways that ignite global change for the better. Our mission is to end poverty and hunger while caring for the Earth. Every individual that we reach has the power to effect this change…that's the magic, that's the pure and real power of Passing on the Gift®.
By: Cindy Jones-Nyland,
Executive Vice President of Marketing and Resource Development,
Heifer International