In This Article
In India's Bihar state, the process of drying animal dung for fuel is common — but harmful.
Heifer India is equipping project participants with a healthier cooking energy alternative in the form of biogas units.
Biogas units mitigate the environmental impact of livestock waste by producing biogas, a cleaner energy.
Sarita Kumari, a biogas owner, now combines dung and water to fuel her stove, create potent manure and save on costs.
Until last year, Sarita Kumari would start each day by digging her hands in the dung piles inside the animal sheds at her house. She would heap the dung into a broad pan and carry it on her head to a nearby field, where she would spend the next several hours molding it into small flat cakes and lining them in several rows on the ground. The dung cakes were then left to dry for two weeks, after which they would be used as cooking fuel in her kitchen.
Kumari lives in Muhamadpur Birauli village in Bihar state in India, where this process of drying animal dung for fuel is common — the odor from the dung cakes prepared by hundreds of other women wafts through the community — but harmful.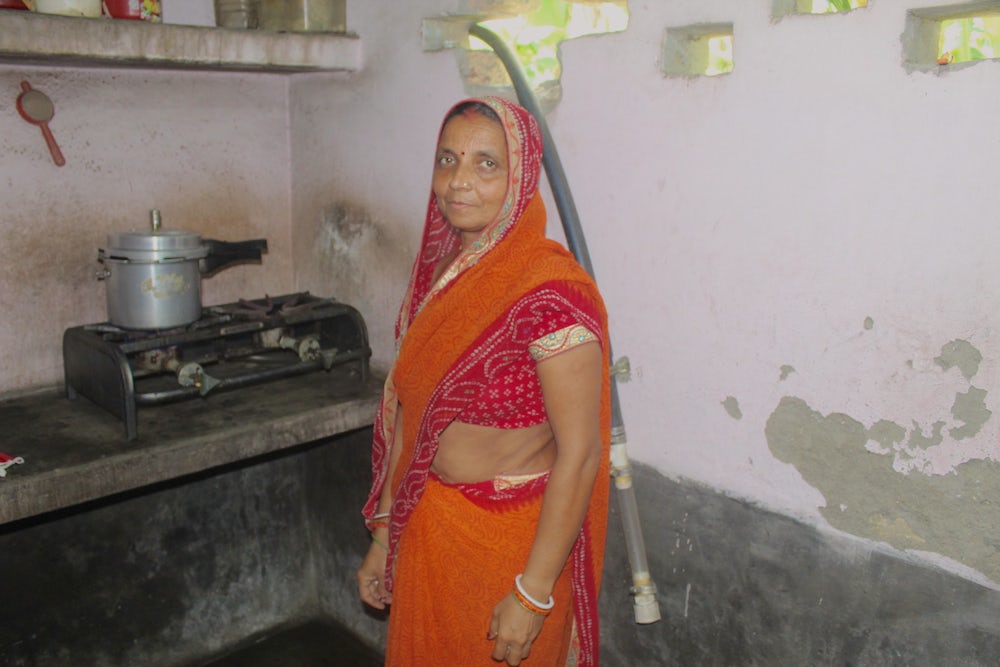 "The walls of my small kitchen were covered with black soot," recalled Kumari. "Every time I lit the chulha [traditional earthen stove],the black smoke from the fireplace would fill the entire house, leaving us with [a] burning sensation in [our] eyes and throat."
While dung-based fuel saves cost on cooking gas for people in rural areas, it also releases unsafe emissions that contain high concentrations of carbon dioxide, ammonia and even arsenic. Over one-fifth of households in Bihar, nearly 4 million people, rely on dung cakes to fuel their ovens, and the prolific use of this cheap fuel causes staggering damage to human health, especially to women, children and the elderly, who spend more time at home and are most prone to the smoke and emissions. During the rainy season it becomes even more hazardous, as the dung cakes do not dry quickly and the runoff contaminates nearby water bodies.
"Every time I lit the chulha, the black smoke from the fireplace would fill the entire house, leaving us with a burning sensation in our eyes and throat." — Sarita Kumari, Heifer India project participant
Yet, hundreds of thousands of women like Kumari perform the laborious task of preparing and using dung-based fuel every day to feed their families, the toxic smoke overpowering the smell of spices and savory dishes they fondly prepare for their families.
But not anymore.
Kumari has found a way to cook with a cleaner source of energy: biogas.
A biogas unit, including a waste processing system and biogas-powered stove, was installed at her house through Heifer India's Bihar Socio-Economic Development Project, which works alongside 24,000 small-scale farmers to help them achieve living incomes with livestock-based livelihoods.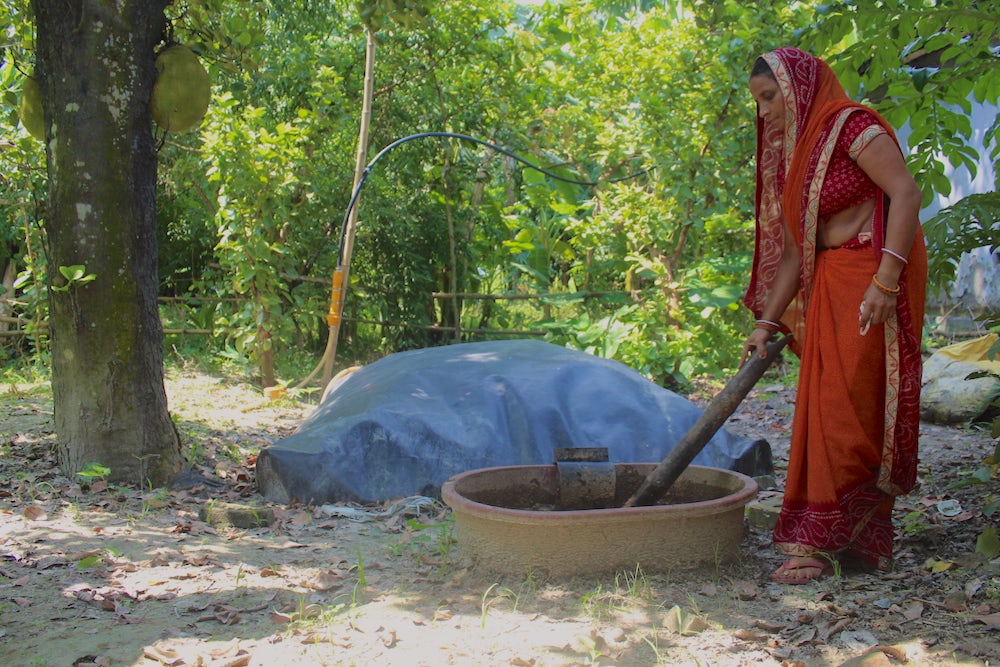 Raising livestock provides important supplementary income for small-scale farmers, but it also generates waste — thousands of tons of waste — so Heifer partnered with Sistema.bio, global experts in biogas technology, to set up high quality, affordable biogas units to mitigate the environmental impact of livestock waste in the project districts.
The biogas units provide an alternative and efficient solution for utilizing organic waste for cooking energy.
The units work by filling an airtight container, called a biodigester, with dung and water. Inside the digesters, the waste is processed under absence of oxygen, which produces biogas containing a high concentration of methane, a clean source of energy that emits more heat but less carbon dioxide and polluting particles.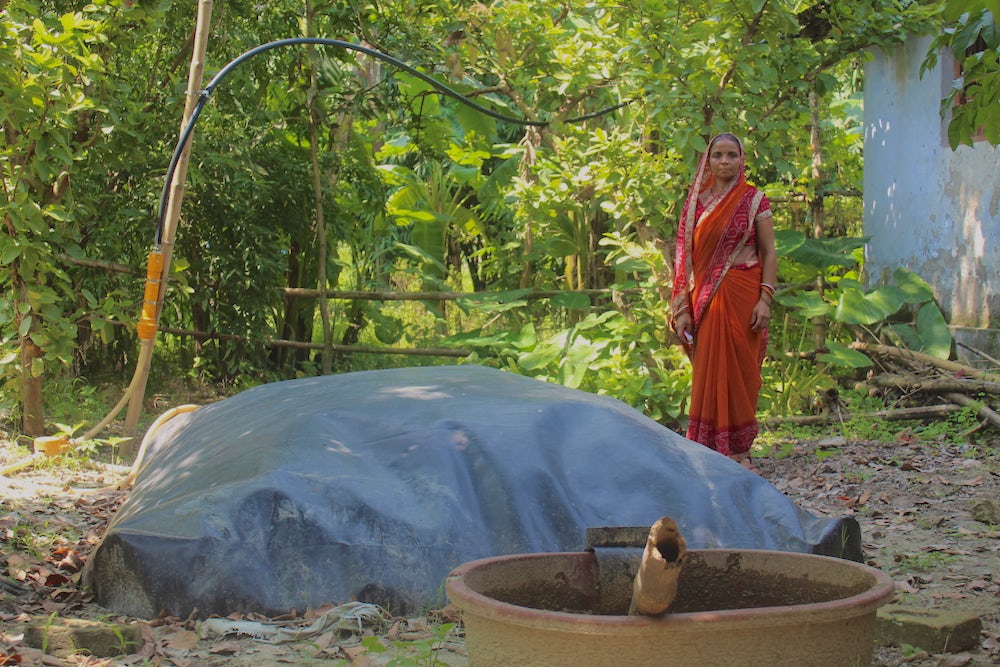 The biogas is then extracted from the digesters to fuel the stove, and the remaining product, called bioslurry, can be used by farmers as a highly potent manure to replace chemical fertilizers and save on production costs, resulting in total recycling of animal waste in an environmentally-friendly manner.
"Initially it was slightly hard understanding the machine and how it works," Kumari shared. "But today, my biogas unit processes around 65 kilograms [143 pounds] of animal waste on a daily basis. This produces enough biogas to fulfill my domestic requirements. I use the gas stove 2-3 times every day, and there hasn't been any shortage of cooking gas since the unit has started working. Since installation, I have not bought a cooking gas cylinder even once."
Heifer selected 10 female farmers, including Kumari, to pilot the technology and undergo an intensive four-day training in operating the biogas units.
Over a period of 12 months, the women have processed several thousand pounds of animal dung, which would have emitted high amounts of harmful greenhouse gases if left untreated. Now, the women are able to fully utilize their livestock's waste, which has resulted in significantly less waste generated at the farm level and more profit and savings. This contributes significantly to their annual household income, which is usually around $1,300.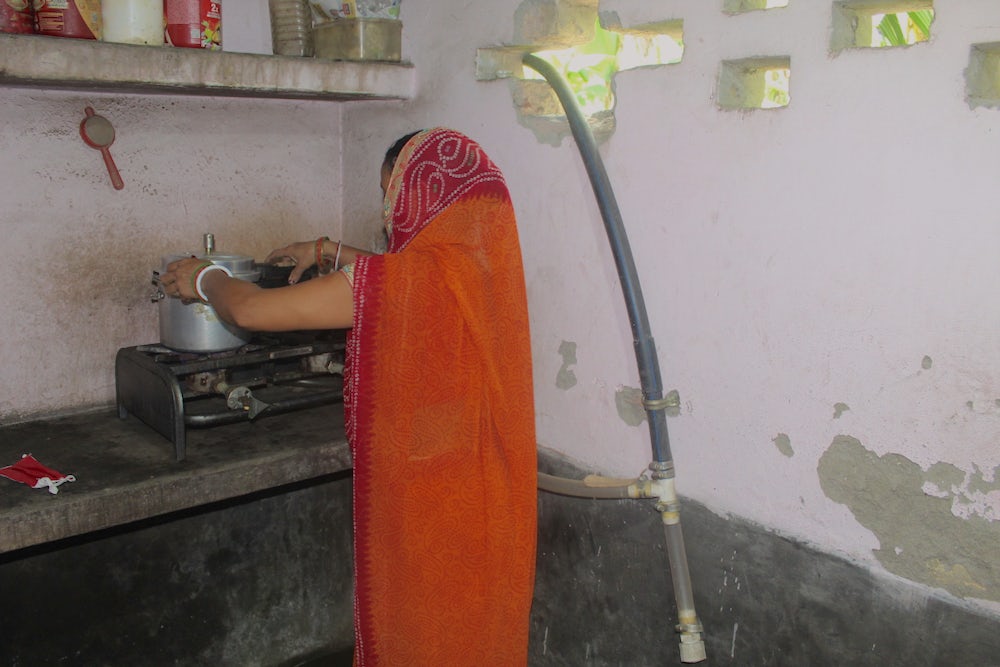 "I used to spend around 700 Indian rupees [$9] a month on buying fuel," shared Kumari. In her first six months using biogas, she saved more than 4,200 Indian Rupees, about $56, on cooking gas, and she continues to save around 1,000 Indian rupees, about $13, every month, which she plans on investing in her goat business.
"A large part of the income I was making from rearing goats used to go into covering the expenses [of the business]. Now, I am generating profits out of the same waste," Kumari exclaimed. "But, what makes me most happy is that I am no longer using chemical-based fertilizers on my land. I am cultivating my crops with organic manure."
"The response to biogas units has been overwhelming," said Randhir Kumar, program manager for Heifer India. "Watching Sarita successfully run the biogas unit, other members from her group and neighborhood have expressed interest in knowing about the technology. They plan to pool their resources and install more units in their village. This would be a large stride toward our mission of caring for the Earth."
"A large part of the income I was making from rearing goats used to go into covering the expenses of the business. Now, I am generating profits out of the same waste." — Sarita Kumari.
This small step of processing waste has brought a big change for these families in Bihar.
Since Kumari has started using the biogas-run stove, she no longer has to cook under the pall of smoke and dust. The walls of her kitchen are not covered with soot. Instead of spending her mornings making dung cakes, she spends time cultivating nutritious vegetables on her small piece of land. Now, Kumari's face flushes bright as the burner lights up with the strike of a matchstick, and she safely prepares the next meal for her family.