Girls Burn Brighter, Shobha Rao, is a love story about two girls who grow up together in a small village called Indravalli in Karnataka, India, and their epic quest to find each other after tragic circumstances separate them. The imaginative and confident Savitha and the sweet, chronically incredulous Poornima discover something startling together. They learn early that something is more important than marriage and more powerful than the burdens and expectations placed on them by the men in their lives: their friendship.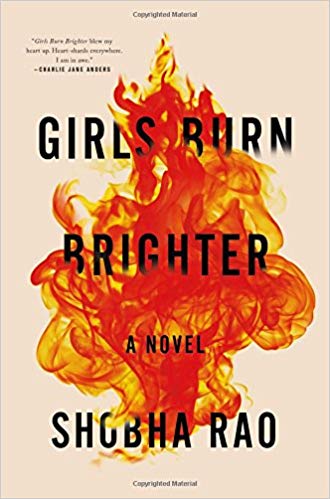 The love they share for each other is, as Savitha considers at one point in the book, the only relationship she ever had that was not tangled up in fear. As women living in poverty in India, Savitha and Poornima are abused at every turn in every way possible. The novel is a painful, frustrating read as these two guileless young women discover and strive against some of the ugliest forces this world has to offer – poverty, disease, misogyny and generalized cruelty. It is heartbreaking to hear their inner thoughts, picking through thoughts and memories for anything remotely valuable, much as Savitha spent her girlhood picking through garbage heaps for scraps that might be valuable enough to sell. Savitha thinks often of a scrap of indigo fabric she wove, and Poornima holds precious a memory of her mother brushing her hair. They come to recognize that their friendship is the only thing bringing color and vitality to lives sapped of joy by poverty. As a reader, one groans to watch the girls fall victim to those who would (and do) make them slaves.
Even though the novel is fictional, the horrible things that happen to Savitha and Poornima are all too real for thousands of girls around the world. Human trafficking is alive and well in India, preying on young girls seeking to escape poverty and abuse at home or from forced marriages. Lured by promises of jobs, these girls are forced to disappear into the black hole of the sex trade. Fearing physical punishment, rape and harm to their families, escaping these situations alone is nigh-on impossible, and corruption in law enforcement leaves little hope for help or conviction of these crimes. In 2015, almost 7,000 cases of human trafficking were recorded, according to the United Nations Office on Drugs and Crime. Of course, human trafficking is a notoriously difficult crime to track, so these numbers are in all likelihood only the tip of the iceberg.

Sex trafficking may be the most extreme expression of misogyny Poornima and Savitha experience, but the universal hatred of women both girls experience from almost every man they encounter in their lives — not only pimps, but fathers, romantic partners, husbands, brothers — is crazy-making and maddeningly realistic. Poornima is attacked with hot oil by her husband, permanently disfiguring her face. No one she encounters after the fact is surprised by this. They know it was her husband and are only idly curious whether he used oil or acid. This practice is alarmingly common in India and throughout Southeast Asia today.
While starting off at something of a slow burn, Girls Burn Brighter catches fire as you become desperate to find out whether Savitha and Poornima are reunited at last. Savitha and Poornima's friendship and love for each other, "burning brighter" than their grief and anger and pain, would be impossible with any man in their lives' context. It is only with a fellow woman that it would be possible, and is perhaps powerful enough to help them survive the unrelenting horror of being born a girl into poverty in India.

Top photo: by Russell Powell. Pooja Kumri, 12, (left) and her sister Priyanka, 18, in Shitlapur village, India.