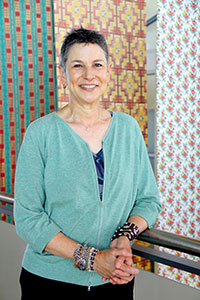 Susan Grant, Executive Vice President of CNN News Services, has been named Vice Chair of the Board of Directors of Heifer International, an international development organization whose mission is to end hunger and poverty while caring for the Earth. Grant was elected to the Heifer Board in 2011.
Grant brings more than 30 years of media leadership experience to the Board. During her tenure at CNN, CNN Digital has become the Internet's leading global news destination and, under her leadership, CNN's affiliate businesses have built exceptional, sustainable collaborations with their broadcast, radio and licensing partners.
"I'm passionate about Heifer's mission to end hunger and poverty and am honored and humbled to be named Vice Chair. I've seen first-hand the work that Heifer has done with women in Nepal, and how their lives and communities have been immeasurably improved through Heifer programs."
In her more than 20 years at CNN, Grant has served in a variety of executive management and sales/marketing roles, including President of Turner Program Services at Turner Broadcasting System. She also spent nine years in syndication sales at Sony Pictures Television Distribution.
An active community member in her adopted hometown of Atlanta, Ga., Grant serves on the Board of Directors for Internet Broadcasting, the nation's largest publisher of TV station websites; the Board of Directors for Leadership Atlanta, the oldest sustained community leadership program in the nation; the Board of Trustees for the Morehouse School of Medicine and is the Chairman of Agnes Scott College's Board of Visitors. Susan is a graduate of Vassar College.
Heifer International's Board of Directors is comprised of 19 members of diverse backgrounds in the business, agriculture, academic, faith-based and private sectors.
About Heifer International:
Heifer's mission is to end hunger and poverty while caring for the Earth. For 70 years, Heifer International has provided livestock and environmentally sound agricultural training to improve the lives of those who struggle daily for reliable sources of food and income. Heifer is currently working in more than 30 countries, including the United States, to help families and communities become more self-reliant. For more information, visit www.heifer.org, read our blog, follow us on Facebook or Twitter, or call 1-888-5HUNGER (888-548-6437).