Heifer International and The ONE Campaign Create Initiative to End Extreme Poverty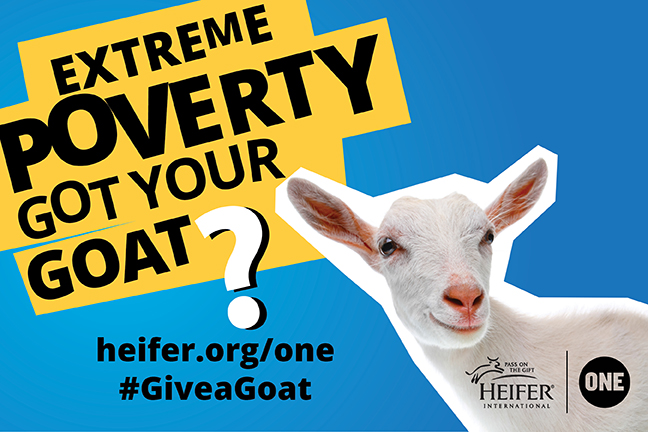 Heifer International and The ONE Campaign share similar missions – fighting to bring an end to hunger and extreme poverty. Now, Heifer and ONE have teamed up to create a unique partnership and initiative to inspire action to create sustainable change.
Combining the advocacy of The ONE Campaign and the programs and impact of Heifer International, supporters of both organizations can take action to end extreme poverty and create an even bigger voice demanding larger impact on a world in desperate need of alleviating the root causes of hunger and poverty.
With Heifer's expertise in development work with livestock and training and ONE's campaigning and advocacy efforts, the initiative includes:
Buying a limited edition ONE goat to help lift African farmers out of poverty. Buy ONE goat. Or two. Or three. All proceeds will go to Heifer International.
"Sharing your voice" on social media channels to encourage others to take action; one voice isn't enough, but many voices together are hard to ignore. Follow #GiveaGoat to join the conversation.
"With more than one billion people – one-seventh of the world's population – living in extreme poverty and on less than $1.25 a day, we have much work to do," said Pierre Ferrari, Heifer International's President and CEO. "We can create meaningful, positive change in the world, but it takes all of us working together. Each of us has a part to play in ending poverty and hunger for good."
To partner with Heifer and ONE, visit heifer.org/one, and together our voices will create a louder call to action.
About Heifer International:
Heifer's mission is to end hunger and poverty while caring for the Earth. Since 1944, Heifer International has provided livestock and environmentally sound agricultural training to improve the lives of those who struggle daily for reliable sources of food and income. Heifer is currently working in 40 countries, including the United States, to help families and communities become more self-reliant. For more information, visit www.heifer.org or call 1-888-5HUNGER (888-548-6437).
About ONE:
ONE is a campaigning and advocacy organization of more than 3.5 million people taking action to end extreme poverty and preventable disease, particularly in Africa. Cofounded by Bono and strictly nonpartisan, we raise public awareness and work with political leaders to combat AIDS and preventable diseases, increase investments in agriculture and nutrition, and demand greater transparency in poverty-fighting programs. ONE is not a grant-making organization and does not solicit funding from the public or receive government funding. ONE is funded almost entirely by a handful of philanthropists and foundations. We achieve change through advocacy. Our teams in Washington, D.C., London, Johannesburg, Brussels, Berlin, and Paris educate and lobby governments to shape policy solutions that save and improve millions of lives. To learn more, go to ONE.org.
***