LITTLE ROCK, Ark. (Aug.3, 2016) – Heifer International's Mahendra Lohani, Senior Vice President of International Programs, received Ascend's inaugural Humanitarian Award at the organization's National Convention on Aug. 1.
"The Humanitarian Award recognizes a Pan-Asian executive who epitomizes the values of Ascend and promotes social responsibility to improve the welfare of millions of people worldwide," Jeff Chin, President of Ascend, said.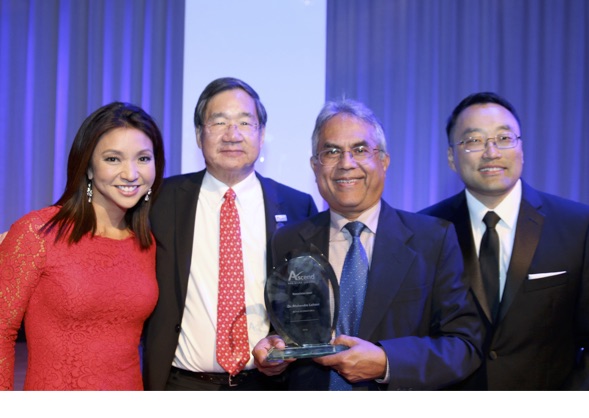 Ascend is the largest nonprofit Pan-Asian membership organization for business professionals in North America. With an emphasis on professional development, Ascend offers leadership development programs designed to cultivate Pan-Asian talent.
Lohani's service with Heifer began as a volunteer in Nepal in 1993. Now he leads the Asia and Africa programs, which represents part of the nonprofit's overall work on four continents with projects in about 30 countries.
"We educate and train smallholder farmers in both technical and non-technical skills," Lohani said. "With the support we provide, our farmers are able to unleash their potential to achieve sustainable socio-economic transformation. Despite obstacles, these farmers are strong and resilient."
Thomas Phelps IV, President of Ascend Los Angeles Metro and Vice President of Laserfiche, an enterprise content management software company, presented the award to Mahendra at the annual Ascend National Convention in Anaheim, California.
"Mahendra's story—where he personally experienced extreme hunger and poverty growing up in Nepal while living in a small hut that provided shelter for his 11 siblings—has inspired all of us," Phelps said. "Since those early years, his leadership has empowered others. His keen desire to provide positive change has impacted the global community we all live in—lifting countless families out of poverty."
"I am incredibly fortunate to be part of such a great mission at Heifer," Lohani said. "The joy I have felt over the years goes far beyond my contributions. The greatest reward is being able to see thousands of women, men and children in communities around the world enjoy better lives. When I return home to Nepal, I always find them with open arms, joyful hearts and smiling faces. They have so few physical possessions, yet so much love to share. They feel empowered to change their world. In turn, I feel inspired to continue the cycle of creating positive change."
In the 23 years since Lohani started working with Heifer Nepal, the program has grown to support more than 138,000 families.
City National Bank was proud to sponsor the award and supports Heifer's mission to lift families out of hunger and poverty while caring for the Earth.
ABOUT HEIFER INTERNATIONAL?
Heifer's mission is to end hunger and poverty while caring for the Earth. For more than 70 years, Heifer International has provided livestock and environmentally sound agricultural training to improve the lives of those who struggle daily for reliable sources of food and income. Heifer is currently working in nearly 30 countries, including the United States, to help families and communities become more self-reliant. Heifer's 2020 goal is to help 4 million families achieve living incomes, which will allow them to feed their families daily; educate all their children; and have proper housing, water, hygiene and other essential resources. For information, visit Heifer.org, read our blog, follow us on Facebook, on Twitter @Heifer or call 888.5HUNGER (888.548.6437).

ABOUT ASCEND
Ascend (@AscendLeader) is the largest, non-profit Pan-Asian membership organization for business professionals in North America. Established in 2005, Ascend's reach includes 60,000+ senior executives, professionals and MBA/undergraduate students involved in its 50+ chapters in the United States and Canada. As a career lifecycle organization, it offers robust leadership and professional development programs designed to cultivate Pan-Asian talent by supporting its members in reaching their career potential and by supporting its corporate partners to develop a strong, diverse, and inclusive workforce to achieve business growth. Visit Ascendleadership.org for more information.