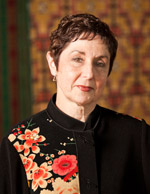 Arlene Falk Withers has been named Chair of the Board of Directors of Heifer International, an international development organization whose mission is to end hunger and poverty while caring for the Earth.
Withers has served the Heifer Board for seven years in various roles including as Board Vice Chair and Chair of the Audit Committee. She has experienced Heifer International's work on the ground in several countries including Cambodia, Viet Nam, Rwanda, Nepal and the United States.
Professionally, Withers currently serves as the National Director of Organizational and Employee Development for SAG-AFTRA, the union representing 165,000 performers and broadcasters in the entertainment industry. In that capacity, she is responsible for employee engagement, training and development, employee communications, performance management, and executive coaching.
Previously, Withers served as Chief Administrative Officer and General Counsel for the Motion Picture Industry Pension and Health Plans, a $6 billion pension and health benefits trust fund providing benefits to more than 110,000 people in the motion picture industry.
Prior to that, Withers was President of Transamerica Life's Annuities and Long-Term Care division with $6 billion of assets under management. Early in her career, she worked as an employment and labor attorney for Paul, Hastings, Janofsky & Walker in Los Angeles, was senior counsel for MGM/UA Entertainment Co., served as Vice President of Human Resources for Catholic Healthcare West, and was an adjunct professor at UCLA School of Law and at Fielding Graduate University.
Withers' interest in Heifer started with a study tour to Asia a decade ago. The primarily women-run projects were a big draw for her. "What I really saw was a sustainable means of helping people become self-reliant and independent," Withers said. "In particular, I saw first-hand the tremendous impact that it had on the lives of women who, for the most part, are the ones that do smallholder farmer work."
Withers is a certified mediator and holds coaching certifications from California State University–Long Beach and Fielding Graduate University, and is a Professional Certified Coach, or PCC, as designated by the International Coach Federation.
Through her work on a variety of boards, Withers has realized progress in social issues specifically those that affect women and children such as health care and economic empowerment. She is past vice president of California Women Lawyers Association and served for many years on the boards of the Women Lawyers Association of Los Angeles, Fielding Graduate University and the Partners in Care Foundation. Withers belongs to the Organization of Women Executives, the International Coach Federation and the California State Bar Association.
Withers received a Bachelor of Arts in Cultural Anthropology with highest honors from the University of Connecticut and a Juris Doctor from the UCLA School of Law. She has also pursued doctoral studies in anthropology on full fellowships from Yale University and the University of Rochester.
Heifer International's Board of Directors is comprised of 19 members of diverse backgrounds in the business, agriculture, academic, faith-based and private sectors.
About Heifer International:
Heifer's mission is to end hunger and poverty while caring for the Earth. For 70 years, Heifer International has provided livestock and environmentally sound agricultural training to improve the lives of those who struggle daily for reliable sources of food and income. Heifer is currently working in more than 30 countries, including the United States, to help families and communities become more self-reliant. For more information, visit www.heifer.org, read our blog, follow us on Facebook or Twitter, or call 1-888-5HUNGER (888-548-6437).