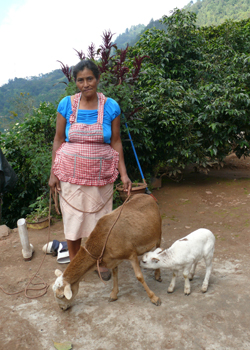 Story and Photos by Debora Martínez Valencia | Communications Coordinator | Heifer Guatemala
Representatives of project partner Green Mountain Coffee Roasters, Inc. (GMCR) and Heifer International made a field visit to the community of Villa Linda, Unión Cantinil, Guatemala. Colleen Popkin and Mary Beth Jenssen, from Green Mountain Coffee Roasters, and Ixchel Palencia, Americas program officer from Heifer International's central office, visited a group of women working in the Improving Food Security and Nutrition of Coffee Farm Workers' Families (CAFESANO) project. The project is executed with the Association of Cooperation for the Integral Development of Huehuetenango (ACODIHUE).
The visit, which took place October 26, 2012, began with a presentation from a group of women project participants followed by a series of questions and answers from a representative of the group. The women expressed their thoughts on Heifer's Passing on the Gift® model, saying it was "easy and good" because they would be providing for someone who did not have resources, and they hoped that one day everyone would benefit and enjoy the resources.
After the presentation, the visitors went on a tour of five households that were putting their Heifer training into practice. The households showed their orchards, goats, sheep and coffee plants.