Heifer Bolivia
32%Rely on agriculture for livlehood
8%Live below poverty line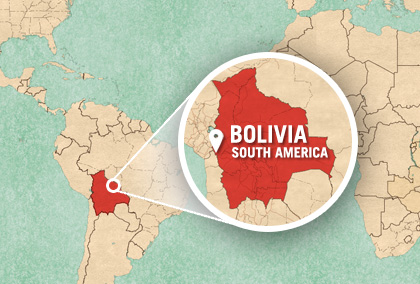 Thirty-one percent of Bolivians live in rural areas. Industrial farming is advancing into the lowlands, causing environmental deterioration, economic dependence and loss of biodiversity. It is also damaging public health among local farmers and consumers.

The World Bank reports that about 35 percent of its land area is used for agricultural purposes and 32 percent of its total population rely on agriculture for their livelihoods.

Bolivia rates 113 out of 187 countries according to the United Nation's Human Development Index (2014). Almost 8 percent of its 10 million people live below the poverty line, on $1.25 a day, and about 5 percent of children under 5 are malnourished.
Our Work In Bolivia
High levels of vulnerability are found in the central areas of Andean countries— especially with indigenous and rural populations of the Andean Basin. Heifer Bolivia is part of several regional programs that stretch across the Andean Basin.
Through these programs, Heifer Bolivia aims to diversify agricultural production with coffee, cacao, honey, amaranth and livestock. Our programs help small- scale farmers, including women, start and expand small businesses with gifts of animals, seeds, equipment and training.
We help farmers gain access to better technology, credit services and viable markets. Our farmers also receive training in political advocacy so they can lobby for access to and control of their natural resources.
Women's Empowerment

Technical Training, Leadership Training, Women-led Farmer and Self-Help Groups

Increased Income

Enterprise and Value Chain Development, Crop Diversification, Business Acquisition

Social Capital

Passing on the Gift®, 12 Cornerstones for Just and Sustainable Development

Nutrition

Animal and Crop Management, Human Health and Sanitation Practices

Environment

Natural resource management, Agroecology
Programs and Projects
PROMESA

Economic Improvement and Food Security in Coffee, Cocoa, and Other Crop Commodities

GANASOL

Livestock and Sustainable Agriculture on Latin American Hillsides

SAN SECO

Food and Nutritional Security in the Central and South American Dry Corridor

PACHA

The Andean Plateau, Paramo, Camelid and Yarn
Contact
Heifer International Bolivia
Calle Carlos Flores Quintela, Edificio No. 7, Oficina 3B, Calacoto, La Paz, Bolivia