Explore This Section
Heifer's Work in Tanzania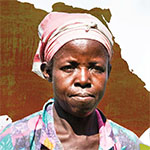 State of the African Farmer
The State of the African Farmer report has been produced as a contribution to the great debate on agriculture and food security in Africa. It is a compilation of views and voices of farmers, practitioners, policymakers and academics across Africa and beyond, each speaking from the heart and sharing their experience.
Country Overview
Tanzania is endowed with unsurpassed natural resources and is a country of geographical extremes within Africa. It is home to Africa's highest mountain, Kilimanjaro (19,341 feet above sea level), and lowest point, found at the bottom of Lake Tanganyika (1,263 feet below sea level), the largest and most abundant game parks, some of the most dramatic physical geography with Africa's three largest lakes (Victoria, Tanganyika and Nyasa), the Rift Valley and a multitude of endemic areas with unique flora and fauna. More than 25 percent of the land makes up world famous national parks and game controlled areas.
Tanzania is one of the poorest countries in the world. Roughly 39 percent of Tanzanians live below the food poverty line of less than a $1 a day.
One of Tanzania's greatest resources is its people. Its population of 34.5 million people - 16.9 million male and 17.6 million female (2002 Census), has a uniquely peaceful history in Africa since its independence in 1961. The national language is Kiswahili, but there are more than 120 local languages. Seventy-seven percent of the population lives in rural areas. Despite the increasing urbanization, about 90 percent of the population is involved in agriculture.
One of the poorest countries in the world, roughly 39 percent of Tanzanians still live below the food poverty line of less than a $1 a day. Poverty in Tanzania is more severe in rural areas compared with urban areas. Indeed, among the total poor population, the urban poor constitute about 13 percent compared to 87 percent in rural areas.
The Tanzanian economy depends largely on agriculture, contributing about 50 percent to the Gross Domestic Product (GDP) and 54 percent of the nation's Foreign Exchange earnings. The sector employs about 90 percent of the country's labor force. Agricultural development is crucial to both national economic development and poverty reduction.
Heifer Tanzania
Heifer International Tanzania has been working with resource limited families in Tanzania since 1974. Heifer Tanzania collaborates with the government of Tanzania through the Ministry of Livestock Development and Fisheries and Sub Project Holders to administer the livestock program for alleviating hunger and poverty to resource-limited communities through provision of livestock, training, veterinary services and technical expertise.

Over the last 34 years, Heifer Tanzania has been implementing various livestock projects including dairy cattle, dairy goats, camels, donkeys, pigs, fish farming and bee keeping. Through various agroecological initiatives, Heifer Tanzania has been promoting caring for the Earth to ensure sustainability.