Heifer Senegal
47%Land area used for agriculture
57%Rely on agriculture for livelihood
30%Live below poverty lin
Senegal is considered one of the most stable countries in Africa. Though its economy was once driven by slaves, gold and ivory during the 17th and 18th centuries, it is now largely driven by agriculture. Fifty-seven percent of Senegal's population live in rural areas and 47 percent of its land area is used for agricultural purposes. Fifty-seven percent of its total population relies on agriculture for their livelihoods.

Senegal rates 163 out of 187 countries according to the United Nation's Human Development Index (2014). Almost 30 percent of its 14 million people live below the poverty line, or on $1.25 a day, and 14 percent of its children under 5 are malnourished.
Our Work In Senegal
In Senegal, we envision a country where people are self-reliant and live in harmony within a healthy natural environment. We aim to sustainably improve the socio-economic situations of families in the communities where we work through dynamic partnerships, while observing practices that are respectful of the environment. Our program in Senegal emphasizes integrated crop and livestock production, enterprise development, agroecological practices, gender equity, youth entrepreneurship and HIV/AIDS awareness, prevention and voluntary counseling and testing.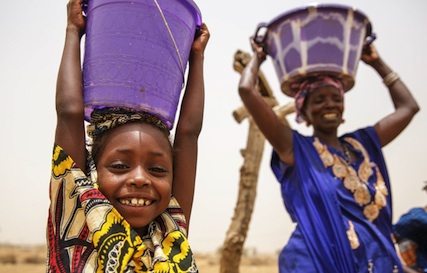 Women's Empowerment

Leadership training, Gender training

Increased Income

Livestock, Agroecology, Cooperative development, Value chain access, Basic business training

Social Capital

HIV/AIDS prevention, Youth participation Passing on the Gift®, Group leadership training, 12 Cornerstones for Just and Sustainable Development

Nutrition

Vegetable gardening, Diversified food sources, Composting

Environment

Natural resource management, Agroforestry Biogas, Improved cookstoves, Reforestation
Programs and Projects
Baback:

Baback Integrated Sheep and Crop Project

Diarrere:

Diarrere Integrated Production and Market Development Project

Fandene:

Fandene Diversified Production Initiative Project

Income and Nutrition:

Smallholder Income and Nutrition Project

USAID:

USAID Yaajeende Agricultural Development Project
Contact
Heifer International Senegal
Cite El Hadji Malick Sy, Derriere le Lycee, Thies B.P. 811, Thies, Senegal