Explore This Section
Heifer's Work in Senegal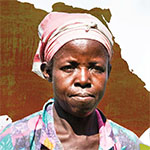 State of the African Farmer
The State of the African Farmer report has been produced as a contribution to the great debate on agriculture and food security in Africa. It is a compilation of views and voices of farmers, practitioners, policymakers and academics across Africa and beyond, each speaking from the heart and sharing their experience.
Country Overview
The former French colony gained its independence in 1960 after merging with French Sudan to form the Mali Federation. After a number of unifications and separations with neighboring nations, Senegal formed its current boundaries in 1989 and remained a socialist state until becoming a democracy in 2000. Senegal is known for being one of the most stable democracies and economies in Africa and has a long history of keeping peace in the region.
In Senegal, agriculture, fishing and animal husbandry remain extensive and unproductive due to lack of know-how and possibly lack of political interest in the Southern region.
Senegal is located on the western-most part of the bulge of Africa. The country has a tropical climate in the south and desert in the north. Though the economy was once driven by the slave trade, gold and ivory during the 17th and 18th centuries, it is now largely based on agriculture.
Fifty-eight percent of the population is rural. A large population of Europeans and Lebanese immigrants, reside mostly in the urban areas of Senegal. Though French is the official language, it is only used by a literate minority. All Senegalese speak an indigenous language, of which Wolof is most widely spoken.
Heifer Senegal
Heifer Senegal started operations in August 2007 with an office in Thiès, a small town about 47 miles from Dakar, the capital. A legally recognized NGO since December 2008, Heifer Senegal initially worked in partnership with Mission-Inter Senegal (MIS), a nationally renowned organization whose major domains of intervention include women, education, health, literacy, communication and evangelization and socio-economic issues.
Heifer Senegal is in its infant stage. It seeks to build foundations for a successful country program based on leveraging positive practices. It has currently launched its first series of projects in three geographically distinct and ethnically distinguished zones in an attempt to explore the potential and challenges of Heifer's approach in different contexts.