Explore This Section
Heifer's Work in Ghana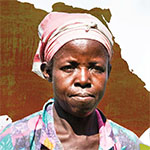 State of the African Farmer
The State of the African Farmer report has been produced as a contribution to the great debate on agriculture and food security in Africa. It is a compilation of views and voices of farmers, practitioners, policymakers and academics across Africa and beyond, each speaking from the heart and sharing their experience.
Country Overview
Like most sub-Saharan African countries, Ghana is counted among the group of low-income countries, with a per capita income of $390. Poverty in Ghana is a rural phenomenon; the incidence of poverty is high in rural areas, especially in the rural savannah. The contribution of the rural population to the incidence of poverty is 85.6 percent. Out of the seven geographical divisions or groupings under Ghana's Living Standards, the rural Savannah alone contributed as much as 45.5 percent to national poverty.
Despite various attempts by the government of Ghana and its development partners to reduce poverty, the high population growth rate and an unfavorable economic environment have negatively affected these efforts. As a result, a substantial portion of the population remains below the poverty line and suffers from malnutrition and other social problems. It is against this background that the role of Heifer Ghana is considered important and, indeed, unique. Its uniqueness lies in the fact that it is the only NGO in Ghana focusing on livestock production as part of its strategy for poverty reduction in deprived communities.
Like most sub-Saharan African countries, Ghana is counted among the group of low income countries, with a per capita income of $390.
With the country's inability to produce enough protein to meet its requirements coupled with low animal protein consumption levels, Heifer Ghana will continue to play a significant role in Ghana. This will take the form of providing communities with improved livestock and training in sustainable livestock production.
Heifer Ghana
The Heifer Ghana Program began with a rabbit project in the early 1980s. Through the 80's and 90's Heifer implemented numerous small ruminant and micro-livestock projects in the country.
Heifer developed a more permanent presence in Ghana when an Arkansas State employee, and Ghanaian by birth, met several times at HQ with the Africa Program Director to discuss his work with an NGO which he helped to form. The Arkansas/Africa Foundation (AAF) is a registered NGO in Ghana with a steering committee and special interest in health issues in Ghana. Through his contacts in Little Rock, he had heard about Heifer and wondered what potential collaboration there might be between AAF and Heifer. The AAF made contact with a group of needy people who live about 22 miles west of Accra. The AAF is interested in assisting this group and thought that a linkage between AAF and Heifer would be especially interesting and helpful. Interest in Ghana also stems from a strategy to increase Heifer's presence in West Africa.