Heifer Village Receives "Best of the Best" Landscape Award
LITTLE ROCK, AR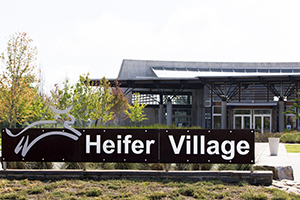 Heifer Village received one of three "Best of the Best" Landscape Awards from the Little Rock City Beautiful Commission. The awards were announced earlier this week. The two other recipients were Kitchens Pediatric Dentistry and the Village at Pleasant Valley, both in West Little Rock.
This is the second time this campus has been recognized by the commission. The first award was received in 2007 for the landscaping of Heifer International headquarters.
Heifer's campus is built on the site of a long-abandoned railroad yard and it boasts wetlands that support native species. The buildings not only complement the native landscaping, they are environmentally sensitive. An example of this is Heifer's use of gray water by collecting rainwater to supply non-consumable water.
Tracey Chesser, director of Heifer Village, who received the award on behalf of Heifer Village, said, "We believe the environment around the building, particularly the areas of restored wetlands, adheres to the part of our mission to care for the Earth. It's truly an honor to be recognized by the Little Rock City Beautiful Commission for what we see as helping to preserve our small plot of the planet."
The Landscape Awards Competition presented by the City Beautiful Commission involves commercial, institutional, multi-family or subdivision development projects and are given to businesses that go beyond the city's requirements to develop or improve their landscaping. Landscaping can increase property values, lower energy costs, improve business and sales and create positive perception for areas.
About Heifer Village:
Heifer Village, a key component of Heifer International's education programming, introduces visitors to the possibility of a world free of hunger and poverty. After experiencing the root causes of hunger and poverty as well as some real solutions, visitors learn about individual actions they can take in their own communities, resources they can utilize to learn more about specific topics and groups they can join that are already engaged. Tours of the grounds as well as Heifer Village and headquarters are available. Call 501-907-COWS (2697) for more information.
About Heifer International:
Heifer's mission is to end hunger and poverty while caring for the Earth. Since 1944, Heifer International has provided livestock and environmentally sound agricultural training to improve the lives of those who struggle daily for reliable sources of food and income. Heifer is currently working in 30 countries, including the United States, to help families and communities become more self-reliant. For more information, visit www.heifer.org or call 1-800-696-1918.
***
PHOTO: Heifer Village in Little Rock, Arkansas