Heifer International 'Calculates' Your Black Friday and Cyber Monday Savings into Power Over Poverty
LITTLE ROCK, Ark.
Pay Your Savings Forward to Build a Better World
The busiest shopping days of the year are here, and as you rack up those huge discounts on Black Friday and Cyber Monday, Heifer International can help pay your savings forward.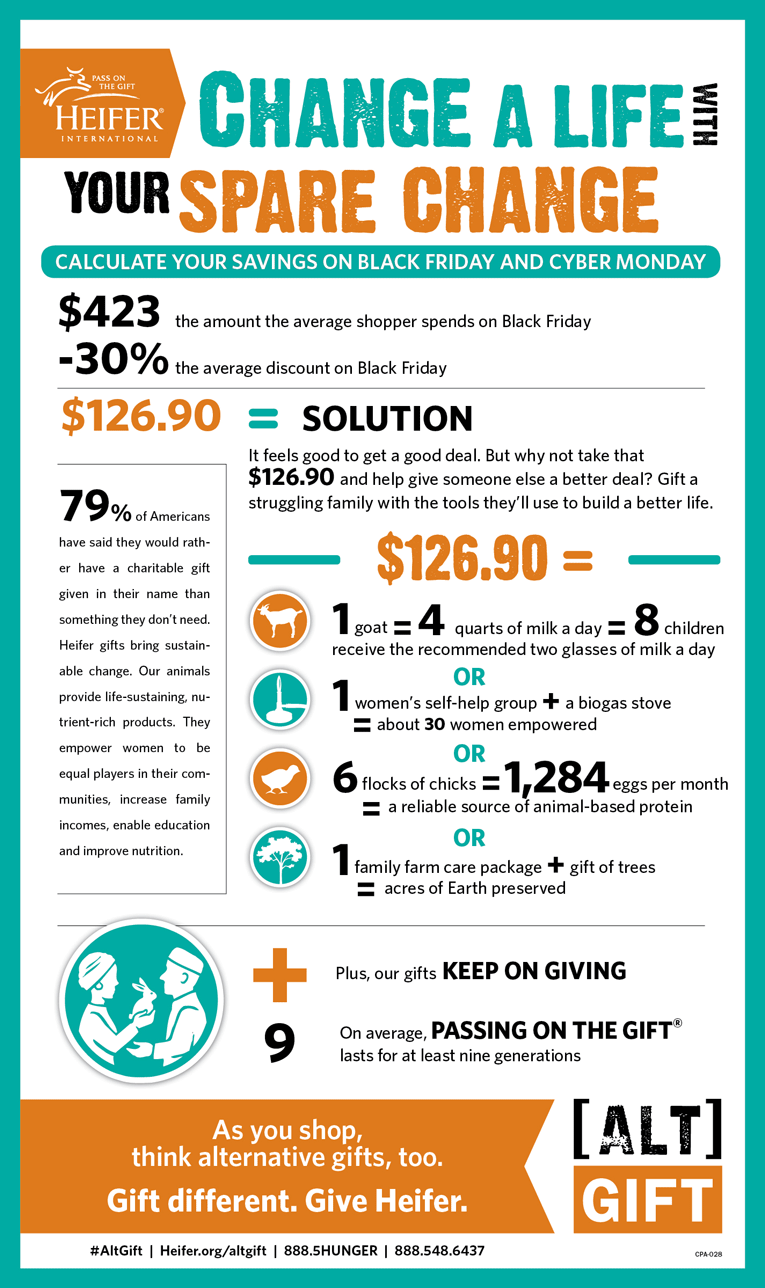 Last year, the average discount given by retailers was 30 percent while the amount an average shopper spent $423. That means the average amount saved by shoppers was more than $125. This year, why not take that savings and help us build a better world? Your savings could get you any number of Heifer gifts. You could buy one goat, providing a malnourished family with four quarts of milk a day. Or you could fund a women's group, plus buy a biogas stove for a family, feeding about 75 children. You could purchase six flocks of chicks that produce 1,284 eggs per month, which is a high source of protein.
Share our "Change a Life with your Spare Change" infographic
Nearly 80 percent of Americans say they would rather have a charitable gift given in their name than something they don't need. Heifer International gifts bring real, sustainable change. Our animals provide life-sustaining, nutrient-rich products. They empower women to be equal players in their communities, increase family incomes and enable education.
About Heifer International:
Heifer's mission is to end hunger and poverty while caring for the Earth. Since 1944, Heifer International has provided livestock and environmentally sound agricultural training to improve the lives of those who struggle daily for reliable sources of food and income. Heifer is currently working in 30 countries, including the United States, to help families and communities become more self-reliant. For more information, visit www.heifer.org call 1-888-5HUNGER (888-548-6437).
***