Heifer International Board Member Racing to End Hunger and Poverty
LITTLE ROCK, AR
LITTLE ROCK, Ark. (November 21, 2013) – Heifer International Board Member Francine Anthony is taking her cause to the streets of Oakland and San Francisco by running in not one, but three, races for Heifer this holiday season.
Anthony, elected to the Heifer International board in 2011, was inspired by a recent trip to visit Heifer projects in Nepal with other board members. "I take a lot of pride in Heifer's work. Since the Nepal experience, though, there has been an inside voice urging me to do more. Finally, I think I've found an answer. I love to run and so I've decided to run for Heifer during the November/Holiday 2013 season," Anthony said.
She is doing just that. Anthony will clock well over 150 miles (training and racing) in just under six weeks as she competes in the Berkeley Half Marathon on November 24, the Piedmont 5k Turkey Trot on November 28, and Dec 29 Golden Gate Bridge Vista 10k. She is using Heifer's online personal fundraising platform, Team Heifer, to promote fundraising for the organization as she completes her runs.

"In the U.S., we kick off our holiday season with Thanksgiving, which has become what my husband and I term, 'the foodie holiday.' What a wonderful way to start our 'foodie holiday'—by contributing to Heifer's efforts to reduce and eliminate world hunger and poverty," she said.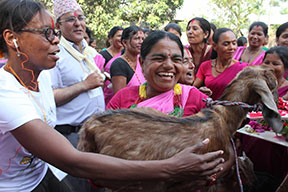 About Heifer International:
Heifer's mission is to end hunger and poverty while caring for the Earth. Since 1944, Heifer International has provided livestock and environmentally sound agricultural training to improve the lives of those who struggle daily for reliable sources of food and income. Heifer is currently working in 40 countries, including the United States, to help families and communities become more self-reliant. For more information, visit www.heifer.org or call 1-888-5HUNGER (888-548-6437)
Media Contact
Linda Meyers
Heifer International
linda.meyers@heifer.org
800-696-1918


Francine Anthony (high-res image)

Francine Anthony in Nepal (high-res image)