READERS CAN END HUNGER AND POVERTY
With Read to Feed's new app, readers have the power to make a difference in the palm of their hand. All they have to do is read. For over 20 years, kids around the world have been making a difference for families in need by reading. Now with our digital app, participating in Read to Feed will be even easier.
Home
Fight hunger and poverty by reading! At Heifer International, our mission is to end hunger and poverty in a sustainable way while caring for the Earth. By gifting livestock, training tools and resources to families in need, we instill hope, a source of income and a brighter tomorrow.
Generosity and compassion are two of the most important lessons parents can teach their children. With Read to Feed, parents can help readers make an impact, simply by reading! There are two app options: The first Read to Feed app option is for elementary students and the second option is for secondary students.
Read to Feed:
• Helpful reading alerts motivate better reading habits
• Get instant progress updates about big milestones
• Track your reader's impact around the world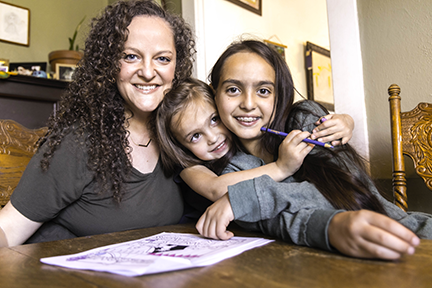 Resources
For Grades K - 6
On the Read to Feed app, the more you read, the more you feed. Reading progress will create donation opportunities, which go directly to the fight against world hunger and poverty.
In the Read to Feed app, students can unlock corporate-funded donations that help families in need by reading books and participating in "eggstra credit." To make an even bigger impact, students also have the ability to collect pledges based on the number of books read or the time they spent reading.
Join the journey by downloading our free Read to Feed app today! You can also find additional Read to Feed resources for elementary students here
• Download the app
• Parents can sign their kids up under the credentials
• Thank you to our generous sponsors
• Parents download and set up the account in the app
• Kids access the Read to Feed App
• Each time your student completes a few questions about what they're reading, they will earn eggs that equate to real impact
1. What is Read to Feed?
Read to Feed is a reading incentive and fundraising program for children that supports Heifer International. Participants obtain sponsorships from parents, friends and relatives based on the number of books (or units of time) they read. The goal is to promote reading and help Heifer assist millions of people around the world feed their families and reach self-reliance through the gifts of livestock and training.

2. How long do you recommend that a group participate in Read to Feed?
The best part about Read to Feed is that you can customize your experience according to the time you have to devote to the program. For the full curriculum experience, three weeks is recommended.

Read to Feed is great for Thanksgiving or holiday breaks, spring break or even to do as a weekly activity for a month. It is also ideal as a supplement to the post-testing time in the spring.

3. What Read to Feed materials are available?
All Read to Feed materials are free and available for download here.

4. How can I order Read to Feed materials?
Read to Feed materials are available to be downloaded on the website.

5. Are there lesson plans associated with Read to Feed?
Yes, we encourage you to partner the Read to Feed program with our free lesson plans, These lessons are aligned with Common Core Standards for English Language Arts and Mathematics, Next Generation Science Standards, c3 social studies standards and professional organization standards for visual arts and more.

6. Do you have a recommended booklist for students?
Any book is a good book for Read to Feed! Teachers might encourage students to read a certain type of book, but it is not required by the Read to Feed program.

7. Do you have recommendations on ways to do group sponsorships instead of individual student sponsorships?
Yes, many Read to Feed leaders have asked civic groups, local businesses, or community neighborhoods to sponsor their children as a group, like the local Rotary club or neighborhood bookstore. The feedback we've received is that leaders find it easy to tell Heifer's story to potential sponsors and to promote the idea of children changing the world.

8. Do you have suggestions on how to implement Read to Feed in a non-competitive way?
Yes, for a program that emphasizes collaboration, you could ask the children to turn in their reading lists and sponsor donations confidentially at the conclusion of the program. The classroom then tallies up the total reading effort (books or units of time spent reading), and funds raised, and has a celebration!

Another suggestion is to enlist older students to partner with younger students. This can be done in collaboration with a "big buddy" activity or even as a student leadership program for middle school students.

If there are classroom (rather than individual) sponsorships, the children could collectively track the number of books read or time spent reading by anonymously dropping reading slips (for each book or number of hours) into a box. At the end of the program, all slips are totaled and announced to the classroom sponsor(s).

9. Will Read to Feed sponsors receive a tax-deductible receipt?
Sponsors who donate online through a classroom's fundraising website will receive a receipt for their donation. Sponsors donating by check will receive a receipt by mail. The check must include the sponsor's current contact information. Sponsors who wish to write a check should make their check payable to Heifer International: Read to Feed.

10. How do we send our donations to Heifer?
Once your children have completed the program it's time to tally up the results and celebrate!

If your class created and used your own customized class fundraising page, it's easy! Sponsors simply donate online and the funds come directly to Heifer International.

However, some students may have had sponsors who preferred not to donate online. Ask the children to collect their pledges- checks made payable to Heifer International: Read to Feed- and return them to their Read to Feed leader.

Total all sponsor pledges and discuss with the class or group which animal(s) to give.

Use Real Kids, Real Animals for information about specific animals. You may also wish to discuss how the chosen animal benefits the geographic area where Heifer has a project.*

Fill out the Donation Form included in the Read to Feed Leader's Guide or the envelope in the Read to Feed Student Kit, and mail the form and checks (no cash please) to:

Heifer International
P.O. Box 8058
Little Rock, AR 72202-8058



*To help the greatest number of families move toward self-reliance, Heifer does not use its limited resources to track individual animals from donation to distribution to specific families. Instead, your gift supports the entire Heifer Mission. We use your gift where it can do the most good by combining it with the gifts of others to help transform entire communities. Heifer's unique community development model assisted more than 154,769 families last year with gifts of animals, training and passing on the gift. And another 1,835,643 families received significant benefits indirectly.



11. We would like to share our Read to Feed story with our local paper, is that OK?
Absolutely! We encourage you to tell your friends and the local media about your successful Read to Feed program. Kids love seeing their efforts in the newspaper. We also invite you to share your story online on When Cows Fly and through your social media accounts

12. How do the animals and people work together?
Animals provide families with draft power, financial security, manure, wool, transportation and protein from milk, eggs and meat. Our project partners take great pride in owning livestock and consider their well-being as a primary responsibility. They provide their animals with protection from predators, clean water, food, exercise space, comfortable housing and humane treatment.
For Grades 6 - 12
Our new Read to Feed platform for grades 6-12 is powered by Beanstack, an award-winning app.
This unique reading platform allows students to log in and record their reading by scanning their book ISBN and track by minutes, pages, or even number of books read. Nurture a culture of reading at your school with healthy habits and grow your literacy skills. It's a great motivator for students, where they earn digital badges for reading. The app can be used by schools, classrooms or homeschools.
• Join Our Cool Reading Challenges!
• Read, read, and read!
• See how reading lifts families out of poverty.
1. Can I access R2F at home?
Yes! R2F is a free app on the Beanstack platform that is available anywhere at any time, including a web based interface. All you need is a smart device!

2. How does the Beanstack app enhance the reading experience for students?
R2F Beanstack is a reading platform, which allows students to create reading streaks, enter books or graphic novels, and track their reading time. There are cool Heifer videos that explain our mission and digital badges and achievements.

3. What are the options available for schools or homeschools to customize the Read to Feed platform to meet their specific educational needs?
There are options for both schools and homeschools to have their own tracking module within the R2F Beanstack platform.

4. How can schools or educators assess the overall impact of the Read to Feed platform on students' reading habits and literacy skills overtime?
The R2F Beanstack platform offers robust reporting and metrics so that teachers, schools and parents can assess how much their student reads.

5. How does the tracking feature work?
Books can be scanned in using an automatic ISBN reader or by entering the book manually. Reading can be tracked using a timer, by time increments, or by book completion.
Original Programs
Read to Feed began as an offline book-based literacy program. Many schools still choose to participate this way. For over two decades, children have been making a difference for families in need by reading books. This impactful reading program allows readers to connect with others, establish better reading habits and achieve their reading goals. They are in charge, and along the way are becoming the lifelong readers and learners their parents, teachers and classmates have always known them to be.